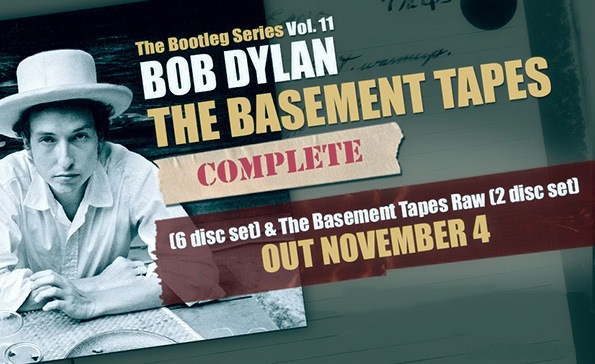 As his loy­al fans already know, Bob Dylan will release next week a six-CD col­lec­tion called The Base­ment Tapes Com­plete: The Boot­leg Series, Vol. 11, which fea­tures 139 songs record­ed dur­ing the late 1960s, when, Dylan, recov­er­ing from a motor­cy­cle acci­dent, holed him­self up in a base­ment in Sauger­ties, NY and began play­ing music casu­al­ly with The Band. The sto­ry behind the mak­ing of The Base­ment Tapes gets nice­ly told by Sasha Frere-Jones in the lat­est edi­tion of The New York­er, and over at NPR you can now stream a selec­tion of songs from the upcom­ing Base­ment Tapes release. Just thought you might want to know.…
Relat­ed Con­tent:
Bob Dylan Reads From T.S. Eliot's Great Mod­ernist Poem The Waste Land
Bob Dylan and The Grate­ful Dead Rehearse Togeth­er in Sum­mer 1987. Lis­ten to 74 Tracks.
The 1969 Bob Dylan-John­ny Cash Ses­sions: 12 Rare Record­ings