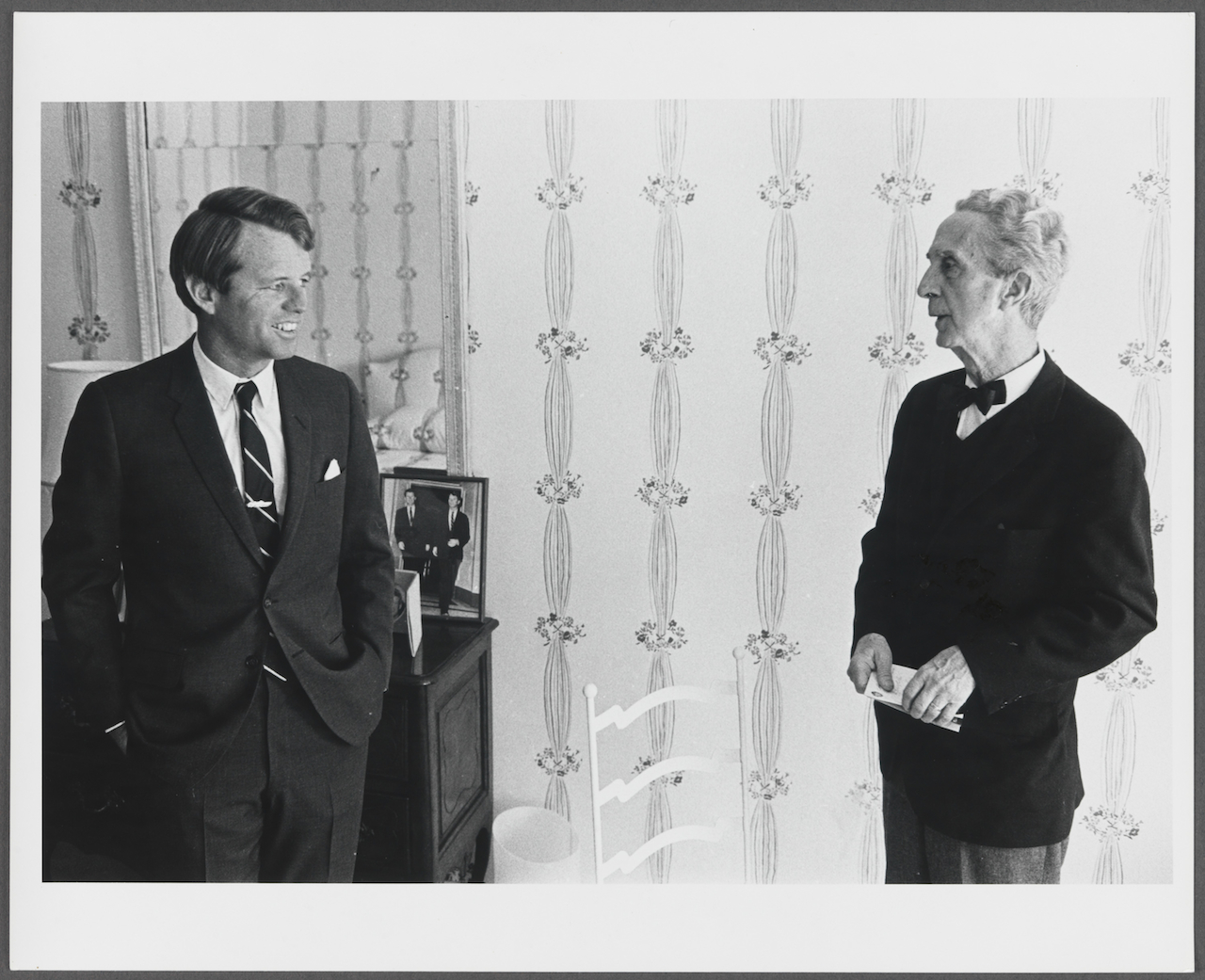 Reference photo for Norman Rockwell's portrait of Robert F. Kennedy, c. 1968. Courtesy of the Norman Rockwell Museum Collections.
Whatever you think of Norman Rockwell's paintings and illustrations, you can't deny them the status of enduring Americana. For my money, Rockwell's images certainly make for more interesting representations of the culture than those of, say, Thomas Kinkade. But even if you have little interest in the America Rockwell created on paper and canvas, you'll surely find compelling the America he captured in photographs. We now have unprecedented access to these thanks to a $150,000 grant from the Institute of Museum and Library Services that has enabled the Norman Rockwell Museum to digitize what they call the Norman Rockwell Photographic Print Collection: approximately 50,000 images that, according to archivist Venus Van Ness, "provide a unique window into Mr. Rockwell's working process, his personal life, and the times in which he lived."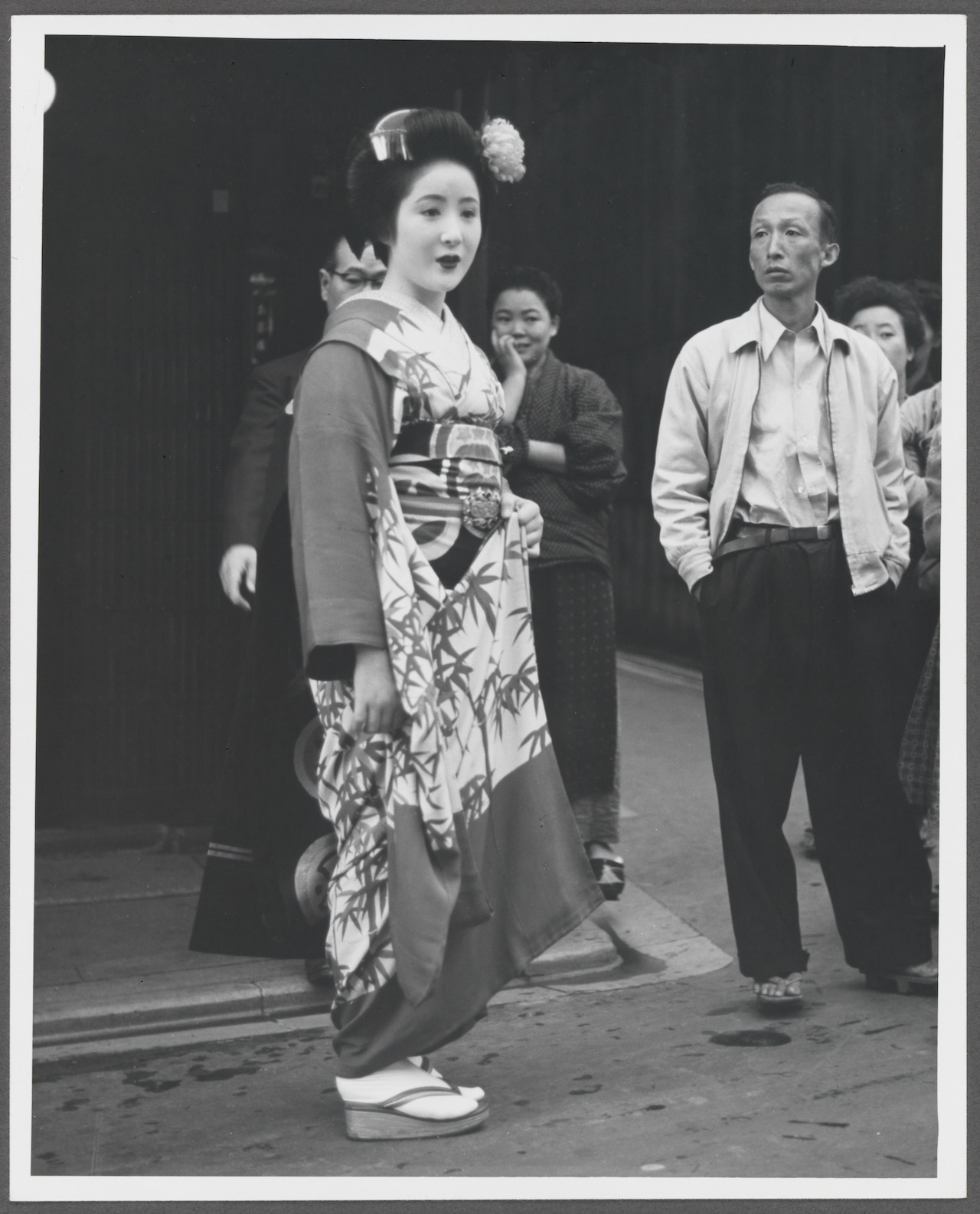 Reference photo for "Portrait of a Geisha Girl," Pan American- Japan (1956)
These images include "reference photos Rockwell used to compose his paintings, photos of work in progress, and candid shots of him working and interacting with John Wayne, Ann-Margret, Presidents Dwight D. Eisenhower and John F. Kennedy, and many other twentieth-century icons who posed for the artist in his Stockbridge studio, on location at a movie set, at the White House, or — as in the case of Kennedy — at his Hyannis Port home on Cape Cod."
You can browse them on this page, which displays the search results for the word "photograph" in the Norman Rockwell Museum's archives. And if you want to dig up those photos of Wayne, Ann-Margret, Kennedy, or other icons of what they call the American century, you can also add particular terms to search for specific subjects. Or you can even search for specific places, for instance Rockwell's many reference photos for the ads he did for flights to Japan by Pan Am — naturally, the iconically American airline.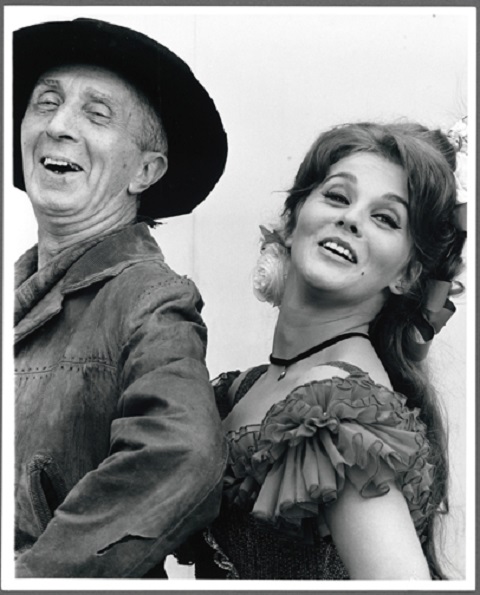 Reference photo of Norman Rockwell's Portrait of Ann-Margret, c. 1965.
"To anyone who saw the exhibition Norman Rockwell: Behind the Camera, which was organized by the Norman Rockwell Museum and opened at the Brooklyn Museum in November 2010," writes Hyperallergic's Benjamin Sutton, "the importance of photography to Rockwell's practice is not news. That show juxtaposed some of Rockwell's best known paintings like 'New Kids in the Neighborhood' (1967) and 'Boy in a Dining Car' (1946) with the many, many studio and documentary photos the artist took and spliced together before putting pencil to paper or paintbrush to canvas." But now "the public and art historians can get a better sense of the laborious preliminary photography work that went into each of Rockwell's images, and the exceptional level of access he was given to his subjects." And though the process of browsing them may remain tricky for the time being, rest assured that, according to the official site, "the Museum's new digital experiences project is getting underway with support from yet another IMLS matching grant awarded in September." And so American innovation continues, on a level Rockwell could never have imagined.
This post comes via Hyperallergic, where you can see more photos in a nice, large format.
Related Content:
Norman Rockwell's Typewritten Recipe for His Favorite Oatmeal Cookies
Yale Launches an Archive of 170,000 Photographs Documenting the Great Depression
Photography by Ludwig Wittgenstein Displayed by Archives at Cambridge
Colin Marshall hosts and produces Notebook on Cities and Culture and writes essays on cities, language, Asia, and men's style. He's at work on a book about Los Angeles, A Los Angeles Primer. Follow him on Twitter at @colinmarshall or on Facebook.