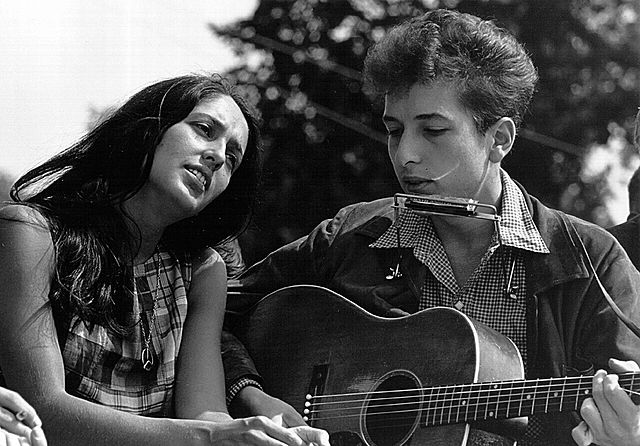 Image by Rowland Scherman, via Wikimedia Commons
If you're looking for a soundtrack for Thanksgiving, you could do worse than to let Bob Dylan create it for you.
From May 2006 until April 2009, Dylan hosted the Theme Time Radio Hour, a weekly radio show on XM Satellite Radio. Each show revolved around a different theme (e.g., "Weather," "Drinking" or "Baseball"). But the episodes all had one thing in common — they presented listeners with an eclectic mix of music, everything from LL Cool J and Chuck Berry, to They Might Be Giants, Billie Holiday, and Johnny Cash. Trying to describe the radio show, theater critic Terry Teachout wrote in The Wall Street Journal: "To listen to Theme Time Radio Hour is to rediscover the sense of musical adventure that old-fashioned disc jockeys with strongly individual personalities offered in the days before big-money stations pinned their fiscal hopes to the rigid Top 40-style playlists that took the fun out of radio."
Today we bring you Episode 30 of Season 1, "Thanksgiving Leftovers," which originally aired on November 22, 2006. The show features 18 songs, selected and introduced by Dylan. The songs (find a list below) aren't dishes cooked fresh. No, they're "leftovers" — tunes that Dylan had hoped to squeeze into previous radio shows but never quite managed to do. Yet, together, they make for a pretty good meal. You can stream them all above. And if you like what you hear, head over to the Theme Time Radio Hour Archive, where they've apparently archived all 100 episodes, audio included.
"Turkey In The Straw" — Liberace (1952)
"Hallelujah, I'm A Bum" — Harry McClintock (1926)
"Let Me Play With Your Poodle" — Tampa Red & Big Maceo (1942)
"Yard Dog" — Al Ferrier (1972)
"The Turkey Hop" — The Robins with Johnny Otis Orchestra (1950)
"Honeysuckle Rose" — Fats Waller (1934)
"Twelve Red Roses" — Betty Harris (1966)
"Don't Let The Stars Get In Your Eyes" — Skeets McDonald (1952)
"Them There Eyes" — Billie Holiday (1939)
"Angel Eyes" — Jesse Belvin (1959)
"Gunslingers" — Mighty Sparrow (1963)
"Let's Be Friends" — Billy Wright (1955)
"Whiskey Is The Devil (In Liquid Form)" — The Bailes Brothers (1947)
"Teach Me Tonight" — Dinah Washington (1954)
"Teacher Teacher" — Rockpile (1980)
"Iodine In My Coffee" — Muddy Waters (1952)
"You Eat Too Much" — Harold Burrage (1956)
"Pie In The Sky" — Cisco Houston (1960)
Related Content:
Bob Dylan Reads From T.S. Eliot's Great Modernist Poem The Waste Land
Marilyn Monroe's Handwritten Turkey-and-Stuffing Recipe
Bob Dylan and The Grateful Dead Rehearse Together in Summer 1987. Listen to 74 Tracks.