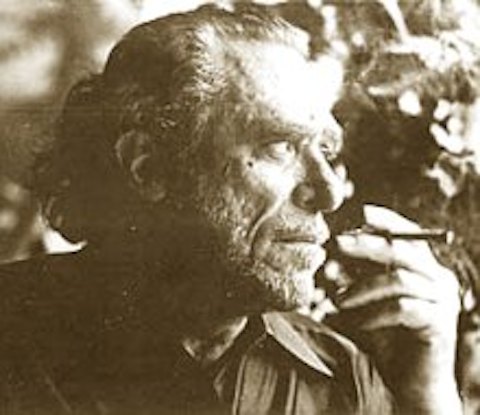 Charles Bukowski smoking by Tyrenius
We enjoy the work of Charles Bukowski here at Open Culture, but recently we've weighted our attention toward his late work. And I mean his very late work, like the last poem he ever faxed. So today we turn to the very back of Bukowski's back pages, for 130 minutes of the cantankerous yet oddly hope-filled poet and novelist's first-ever recorded readings, all available at Ubuweb. They come, as the site says, "culled from tapes made by Bukowski at his Los Angeles home in 1968 for biographer and rock critic Barry Miles, long before the author had begun regular public readings." Few would expect the behavior of a shrinking violet from the likes of Bukowski, but this occasion found him "so shy he insisted that he record alone. He reads both poetry and prose, gets thoroughly drunk during the recording, and bitches about his life, his landlord, and his neighbors."
This material all comes the album At Terror Street and Agony Way, commercially issued in 2000 but now out of print. Now that it has made its way to the internet, you can enjoy such vintage, lean Bukowski cuts  as "The State of World Affairs" ("The Hollywood hills stand there, stand there, full of drunks and insane people and much kissing and automobiles"), "I Cannot Stand Tears" ("There were several hundred fools around the goose who broke his leg, trying to decide what to do, when the guard walked up and pulled out his cannon"), and "I Wanted to Overthrow the Government" ("The weakness was not Government but Man, one at a time, that men were never as strong as their ideas, and that ideas were governments turned into men; and so it began on a couch with a spilled martini and it ended in the bedroom").
You can hear the whole thing, in all its spirited (in both senses of the word) glory on Ubuweb's Bukowski page, which also offers such choice recordings as 1969's 70 Minutes in Hell, 1973's Poems and Insults, and 1980's Hostage.
Find more of Bukowskis's 1968 recordings at Ubuweb.
Related Content:
A Reading of Charles Bukowski's First Published Story, "Aftermath of a Lengthy Rejection Slip" (1944)
Listen to Charles Bukowski Poems Being Read by Bukowski Himself & the Great Tom Waits
So You Want to Be a Writer?: Charles Bukowski Explains the Dos & Don'ts
The Last (Faxed) Poem of Charles Bukowski
1,000 Free Audio Books: Download Great Books for Free
Colin Marshall hosts and produces Notebook on Cities and Culture and writes essays on cities, language, Asia, and men's style. He's at work on a book about Los Angeles, A Los Angeles Primer. Follow him on Twitter at @colinmarshall or on Facebook.