If you want­ed to know what life was real­ly like in the Cold War Sovi­et Union, you might take the word of an émi­gré Russ­ian writer. You might even take the word of Ayn Rand, as the House Un-Amer­i­can Activ­i­ties Com­mit­tee (HUAC) did dur­ing the Red Scare, though Rand had not lived in her native coun­try since 1926. Nonethe­less, as you can see above, she tes­ti­fied with con­fi­dence about the dai­ly lives of post-war Sovi­et cit­i­zens. Rand also tes­ti­fied, with equal con­fi­dence, about the nefar­i­ous influ­ence of Com­mu­nist writ­ers and direc­tors in her adopt­ed home of Hol­ly­wood, where she had more recent expe­ri­ence work­ing in the film indus­try.
The 1947 HUAC hear­ings, writes the blog Aphe­lis, led to "the sys­tem­at­ic black­list­ing of Hol­ly­wood artists." Among the wit­ness­es deemed "friend­ly" to cap­i­tal­ism were Gary Coop­er, Walt Dis­ney, and Ayn Rand. Pri­or to her tes­ti­mo­ny, the FBI had con­sult­ed Rand for an enor­mous, 13,533-page report enti­tled "Com­mu­nist Infil­tra­tion of the Motion Pic­ture Indus­try" (find it online here), which quot­ed from a pam­phlet pub­lished by her group:
The pur­pose of the Com­mu­nists in Hol­ly­wood is not the pro­duc­tion of polit­i­cal movies open­ly advo­cat­ing Com­mu­nism. Their pur­pose is to cor­rupt non-polit­i­cal movies — by intro­duc­ing small, casu­al bits of pro­pa­gan­da into inno­cent sto­ries and to make peo­ple absorb the basic prin­ci­ples of Col­lec­tivism by indi­rec­tion and impli­ca­tion. Few peo­ple would take Com­mu­nism straight, but a con­stant stream of hints, lines, touch­es and sug­ges­tions bat­ter­ing the pub­lic from the screen will act like drops of water that split a rock if con­tin­ued long enough. The rock that they are try­ing to split is Amer­i­can­ism.
Rand and her asso­ciates helped design a "film regime" that dis­sect­ed oth­er post-war movies like William Wyler's The Best Years of Our Lives and George Cukor's Keep­er of the Flame. These McCarthy-era film crit­ics sought to root out "ide­o­log­i­cal ter­mites" in the indus­try; they were espe­cial­ly dis­trust­ful of movies that ele­vat­ed what Rand called, with con­tempt, "the lit­tle man." One of the films iden­ti­fied as par­tic­u­lar­ly per­ni­cious to the "rock" of Amer­i­can­ism was Frank Capra's clas­sic It's a Won­der­ful Life, a movie that today seems built on bedrock U.S. nation­al­ist values—commitment to fam­i­ly, redemp­tion through faith, con­tent­ment with mod­est small-town liv­ing….
Lis­ten­ing to Capra's moti­va­tion for the film—as quot­ed in The Los Ange­les Times—makes it hard to believe he had any­thing like pro­mot­ing a worker's par­adise in mind: "There are just two things that are impor­tant," he said, "One is to strength­en the individual's belief in him­self, and the oth­er, even more impor­tant right now, is to com­bat a mod­ern trend toward athe­ism."
But in the FBI's analysis—and pos­si­bly Rand's, though it's not clear how much, if any, of the report she authored directly—the tale of George Bai­ley man­i­fest­ed sev­er­al sub­ver­sive ten­den­cies. Fla­vor­wire sums up the charges suc­cinct­ly: "Writ­ten by Com­mu­nist sym­pa­thiz­ers," "Attempt­ing to insti­gate class war­fare," and "Demo­niz­ing bankers."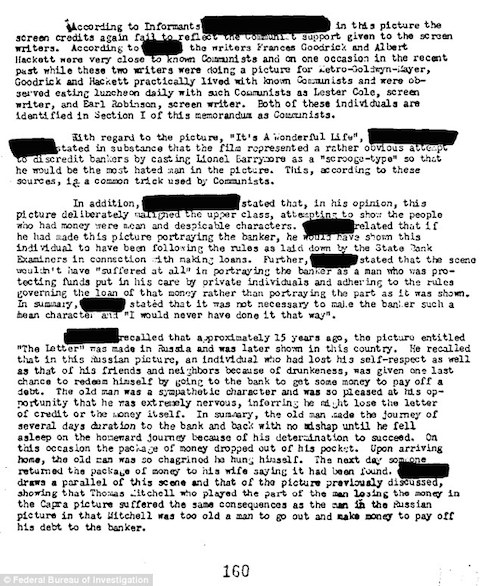 We live in odd times, such that this rhetoric—which seemed so quaint just a cou­ple short decades or so ago—sounds jar­ring­ly con­tem­po­rary again as the pol­i­tics of the mid-20th cen­tu­ry reap­pear every­where. The charges against the seem­ing­ly innocu­ous Capra film hinged in part on the alleged Com­mu­nist ties of its prin­ci­ple screen­writ­ers, Fran­cis Goodrich and Albert Hack­ett. In their report, part of which you can see above, the FBI wrote that the screen writ­ers "prac­ti­cal­ly lived with known Com­mu­nists and were observed eat­ing lun­cheon dai­ly with such Com­mu­nists as Lester Cole, screen writer, and Earl Robin­son." Palling around, as it were.
In addi­tion to nam­ing the writ­ers' acquain­tances and lunch bud­dies, the report quotes a redact­ed indi­vid­ual who "stat­ed that, in his opin­ion, this pic­ture delib­er­ate­ly maligned the upper class." Anoth­er blacked-out source "stat­ed in sub­stance that the film rep­re­sent­ed a rather obvi­ous attempt to dis­cred­it bankers by cast­ing Lionel Bar­ry­more as a 'scrooge-type' so that he would be the most hat­ed man in the pic­ture. This, accord­ing to these sources, is a com­mon trick used by Com­mu­nists." Final­ly, a third redact­ed source com­pares the plot of Capra's movie with that of a Russ­ian film called The Let­ter, screened in the U.S. fif­teen years ear­li­er.
We can­not say for cer­tain, but it's rea­son­able to assume that many of these hid­den FBI sources were asso­ciates of Rand. In any case, Rand—in vogue after the suc­cess of her nov­el The Foun­tain­head—appeared before HUAC and re-iter­at­ed many of the gen­er­al claims made in the report. Dur­ing her tes­ti­mo­ny, she focused on a 1944 film called Song of Rus­sia (you can hear her men­tion it briefly in the short clip at the top). She chiefly cri­tiques the film for its ide­al­ized por­trait of life in the Sovi­et Union, hence her enu­mer­a­tion of the many evils of actu­al life there.
Curi­ous­ly, many crit­i­cal treat­ments of It's A Won­der­ful Life have said more or less the same thing of that work, call­ing the film "sen­ti­men­tal hog­wash," for exam­ple, and a rep­re­sen­ta­tive of "Amer­i­can cap­i­tal­ist ide­ol­o­gy." These read­ings seem per­sua­sive to me, but for those like Rand and her fol­low­ers, as well as J. Edgar Hoover and his para­noid under­lings, no film it seems—no mat­ter how cel­e­bra­to­ry of U.S. nation­al­ist mythology—could go far enough in glo­ri­fy­ing hero­ic cap­i­tal­ists, ignor­ing class con­flict, and min­i­miz­ing the strug­gles of "the lit­tle man."
As Raw Sto­ry notes, tes­ti­mo­ny from oth­ers at the HUAC hear­ings brought "redemp­tion of an odd sort" for Capra's movie, which "has been more than redeemed as it slow­ly became a sen­ti­men­tal and beloved hol­i­day peren­ni­al." But even if It's A Won­der­ful Life may now look like apple pie on cel­lu­loid, Fla­vor­wire points out that it's still liable to raise sus­pi­cions among cer­tain aggres­sive pun­dits and cul­ture war­riors who push a "war on Christ­mas" nar­ra­tive and see social­ist sub­ver­sion even in acts of char­i­ty, like those dis­played so extrav­a­gant­ly in the film's mushy end­ing (above).
It's A Won­der­ful Life "is a hol­i­day movie that doesn't men­tion Christ­mas until the 99-minute mark…. It takes a most­ly sec­u­lar read­ing of the hol­i­day as a time to take stock of your life, of the true bless­ings of fam­i­ly and friends. To those obsessed with the pre­ferred hol­i­day greet­ing or the col­or of Santa's skin… this must sound like quite the Com­mu­nist sub­ver­sion indeed."
Read much more about the HUAC inves­ti­ga­tion of Hol­ly­wood at Aphe­lis, who include links to a redact­ed ver­sion of the FBI "Com­mu­nist Infil­tra­tion" report and many oth­er fas­ci­nat­ing doc­u­ments.
Relat­ed Con­tent:
How the CIA Secret­ly Fund­ed Abstract Expres­sion­ism Dur­ing the Cold War
When Ayn Rand Col­lect­ed Social Secu­ri­ty & Medicare, After Years of Oppos­ing Ben­e­fit Pro­grams
Free Audio: Ayn Rand's 1938 Dystopi­an Novel­la Anthem
The CIA's Style Man­u­al & Writer's Guide: 185 Pages of Tips for Writ­ing Like a Spy
Bertolt Brecht Tes­ti­fies Before the House Un-Amer­i­can Activ­i­ties Com­mit­tee (1947)
Josh Jones is a writer and musi­cian based in Durham, NC. Fol­low him at @jdmagness