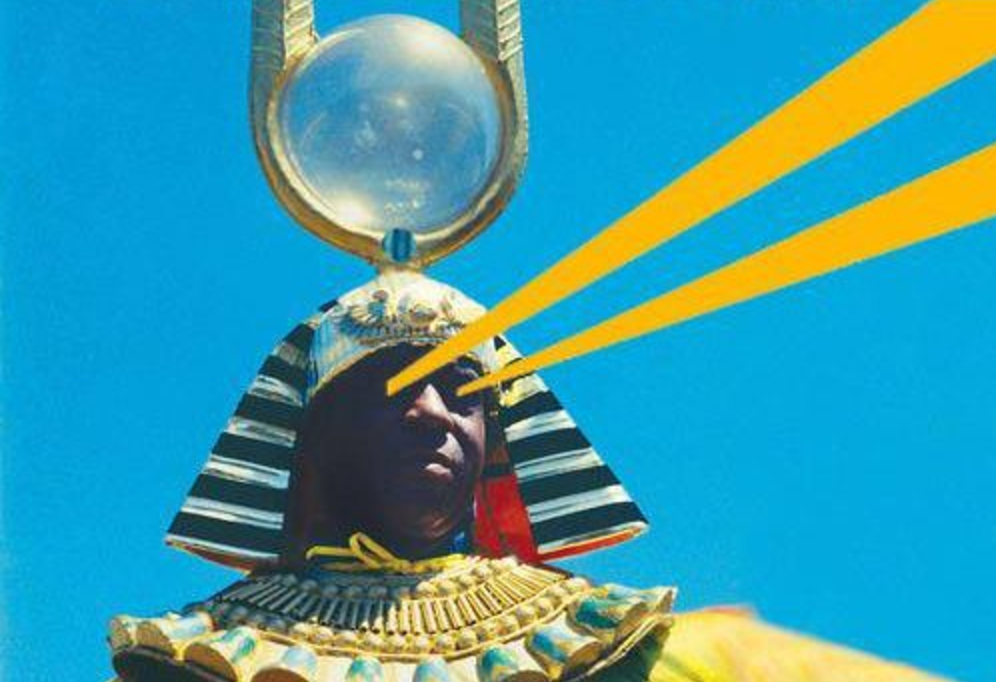 If you heard Sun Ra's Christmas-day radio broadcast of poetry and music we featured on, well, Christmas day, perhaps it inspired you to create something — music, poetry, radio — yourself. More than twenty years after his death, the flamboyant jazz visionary continues to inspire all kinds of creative acts on the part of his listeners. Surely he played no small part in motivating the production of Big Music, Little Musicians, an album by the fourth-, fifth-, and sixth-graders of music teacher Randy Porter's classes at Chabot, Montclair, and Thornhill elementary schools in Oakland, California. The album offers not just 43 (!) compositions by these elementary schoolers, but, 42 tracks in, their interpretation of Sun Ra's "Planet Earth" (in its original form the opening cut from 1966's Sun Ra and His Solar Arkestra Visits Planet Earth):
You can hear the entirety of this out-of-print 1994 release (incidentally, the year after Sun Ra took his leave of planet Earth) at Ubuweb. "With as little as a couple months of experience under their belts," say the notes there, the ten-, eleven-, and twelve-year-old students "are encouraged to improvise and compose and this disc documents it." And admittedly, "while some may cringe at some of the technical problems young, inexperienced players are bound to have, the creativity exhibited is undeniable. It is also refreshing to hear such unabashed, egoless joy as we have here. Many a seasoned player could stand to give this a listen." It puts me in the mind of not just the grade-schoolers who sang David Bowie's Space Oddity but the Portsmouth Sinfonia, an amateur orchestra at the Portsmouth School of Art that compensated for each member's shaky grasp of their instrument (including, at one point, none other than Brian Eno's on the clarinet) with its sheer size and the famousness of its selections.
Just above, you can hear a few original cuts of intriguingly named big music from these little musicians: "Ghost Train," "Tom Foolery," and "Help! I'm Drowning in a Sea of Harmony." Seeing as these kids would be the same age as me today, it would certainly interest me to hear how they've turned out; such an early and strong dose of Sun Ra certainly couldn't make one's life less interesting.
Related Content:
A Sun Ra Christmas: Hear His 1976 Radio Broadcast of Poetry and Music
Sun Ra's Full Lecture & Reading List From His 1971 UC Berkeley Course, "The Black Man in the Cosmos"
The Cry of Jazz: 1958's Highly Controversial Film on Jazz & Race in America (With Music by Sun Ra)
Elementary School Kids Sing David Bowie's "Space Oddity" & Other Rock Hits: A Cult Classic Recorded in 1976
Colin Marshall hosts and produces Notebook on Cities and Culture and writes essays on cities, language, Asia, and men's style. He's at work on a book about Los Angeles, A Los Angeles Primer. Follow him on Twitter at @colinmarshall or on Facebook.