There was once a time, if you can believe it, when Allen Ginsberg could take the poetry of William Blake, sing it in a recording studio, and then MGM Records would release it as a long-playing album. I refer to the time, of course, of "the sixties," that half-mythical era that seems to have run from around 1966 to 1972. Smack in the middle of the sixties, thus defined, came this distinctive release, Songs of Innocence and Experience by William Blake, tuned by Allen Ginsberg, recorded in December 1969 and released in 1970.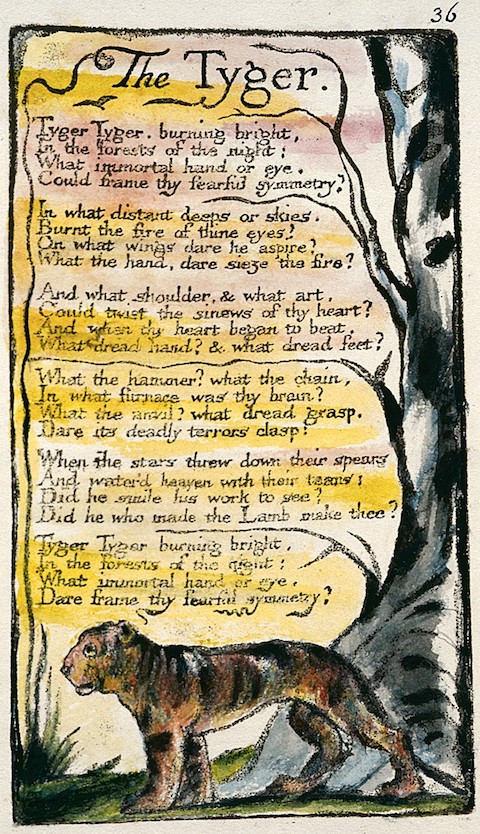 Every reader familiar with Blake, of course, knows Songs of Innocence and of Experience as a book, an illustrated collection of poems first self-published in 1789 and in 1794 re-issued and expanded as Songs of Innocence and of Experience Showing the Two Contrary States of the Human Soul. This work of an 18th-century poet captured the imagination of the 20th-century poet Ginsberg, and not just as reading material; he came to believe that not only did Blake intend his words to be sung, but that he himself could render them faithfully in song — as well as play the piano and harmonium in accompaniment.
You can hear hear the fruit of Ginsberg's musical-poetic reconstructive labors at the top of the post, at the Internet Archive, or at PennSound, which not only offers each track individually but also its lyrics and sometimes even links to the corresponding page from the original book at the William Blake Archive. When we think of sixties-defining albums, we think of Blonde on Blonde, Are You Experienced?, Sgt, Pepper's Lonely Hearts Club Band, that sort of thing, and rightly so, but a project like Songs of Innocence and Experience by William Blake, tuned by Allen Ginsberg speaks just as much to what became possible in that artistic Cambrian explosion of an era.
Related Content:
William Blake's Hallucinatory Illustrations of John Milton's Paradise Lost
Hear Allen Ginsberg's Short Free Course on Shakespeare's Play, The Tempest (1980)
Allen Ginsberg's "Celestial Homework": A Reading List for His Class "Literary History of the Beats"
Allen Ginsberg's Last Three Days on Earth as a Spirit: The Poet's Final Days Captured in a 1997 Film
Allen Ginsberg Recordings Brought to the Digital Age. Listen to Eight Full Tracks for Free
Colin Marshall hosts and produces Notebook on Cities and Culture as well as the video series The City in Cinema and writes essays on cities, language, Asia, and men's style. He's at work on a book about Los Angeles, A Los Angeles Primer. Follow him on Twitter at @colinmarshall or on Facebook.