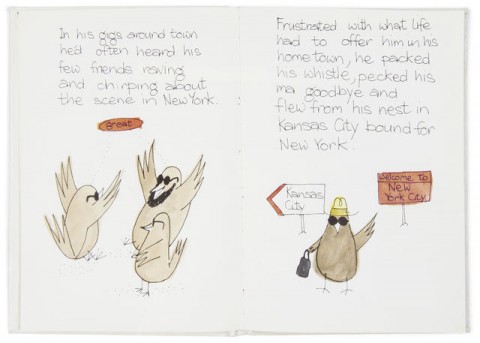 Charlie Watts's first love has always been jazz. While his Rolling Stones band mates spent their youth listening to the Blues, Watts listened to Miles Davis and John Coltrane. And something about that seems to have stuck. Mick Jagger and Keith Richards defined what a rock star should look like in the late 60s – disheveled and flamboyant. Watts always seemed to carry himself with a jazzman's sense of cool.
Back in 1960, when he was working as a graphic designer and doing drumming gigs on the side, Watts found another way to show off his love for jazz. He wrote a children's book. Ode to a Highflying Bird is about alt sax legend Charlie Parker, rendered in doodle-like fashion as a bird in shades. The hand-drawn text details Parker's life story: "Frustrated with what life had to offer him in his hometown, he packed his whistle, pecked his ma goodbye and flew from his nest in Kansas City bound for New York."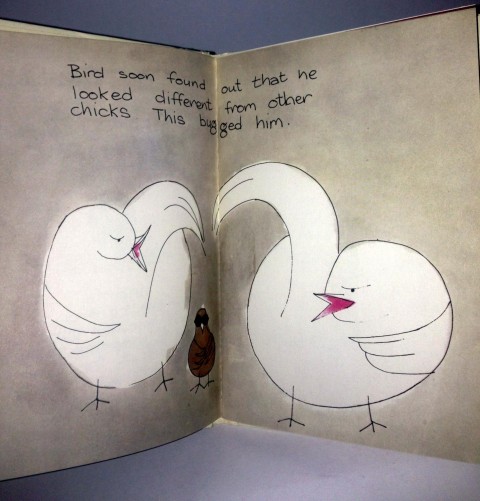 The book was originally done as a portfolio piece but, in 1964, after Watts became a member of the Stones, the book was published. As Watts recalled, "This guy who published 'Rolling Stones Monthly' saw my book and said 'Ah, there's a few bob in this!'"
This wasn't the only ode to Bird that Watts made over his long career. In 1992, his jazz band, The Charlie Watts Quintet, released an album called From One Charlie… which, as the title suggests, pays homage to Parker and his other bee-bop gods. "I don't really love rock & roll," as he told Rolling Stone magazine. "I love jazz. But I love playing rock & roll with the Stones."
A few old copies of Ode to a Highflying Bird can be found on Amazon and on Abe Books.
Related Content:
Charlie Parker Plays with Jazz Greats Coleman Hawkins, Buddy Rich, Lester Young & Ella Fitzgerald (1950)
Charlie Parker Plays with Dizzy Gillespie in Only Footage Capturing the "Bird" in True Live Performance
Watch Animated Sheet Music for Miles Davis' "So What," Charlie Parker's "Confirmation" & Coltrane's "Giant Steps"
Jonathan Crow is a Los Angeles-based writer and filmmaker whose work has appeared in Yahoo!, The Hollywood Reporter, and other publications. You can follow him at @jonccrow. And check out his blog Veeptopus, featuring lots of pictures of badgers and even more pictures of vice presidents with octopuses on their heads.  The Veeptopus store is here.