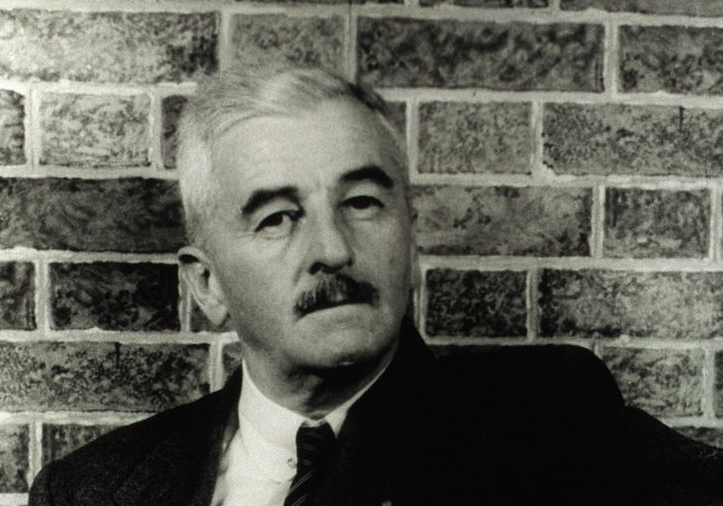 Image by Carl Van Vecht­en, via Wiki­me­dia Com­mons
There's a polite turn of phrase I've always found amus­ing, if a lit­tle sad; when some­one has too much to drink at a social func­tion and embar­rass­es him or her­self, we say the per­son has been "over­served." This euphemism gra­cious­ly lays the blame at the host's feet rather than the some­times shame­faced imbiber's, sug­gest­ing that a good host cares enough about his or her guests—whether they be light­weights or binge-drink­ing alcoholics—to mon­i­tor their intake and keep things on an even keel. In the case of one noto­ri­ous­ly hard-drink­ing guest, nov­el­ist William Faulkn­er, this respon­si­bil­i­ty became much more than the tact­ful bur­den of a few friends. Keep­ing an eye on the writer's drink­ing became a man­date of State Depart­ment offi­cers at the U.S. Infor­ma­tion Agency dur­ing Faulkn­er's offi­cial trips abroad.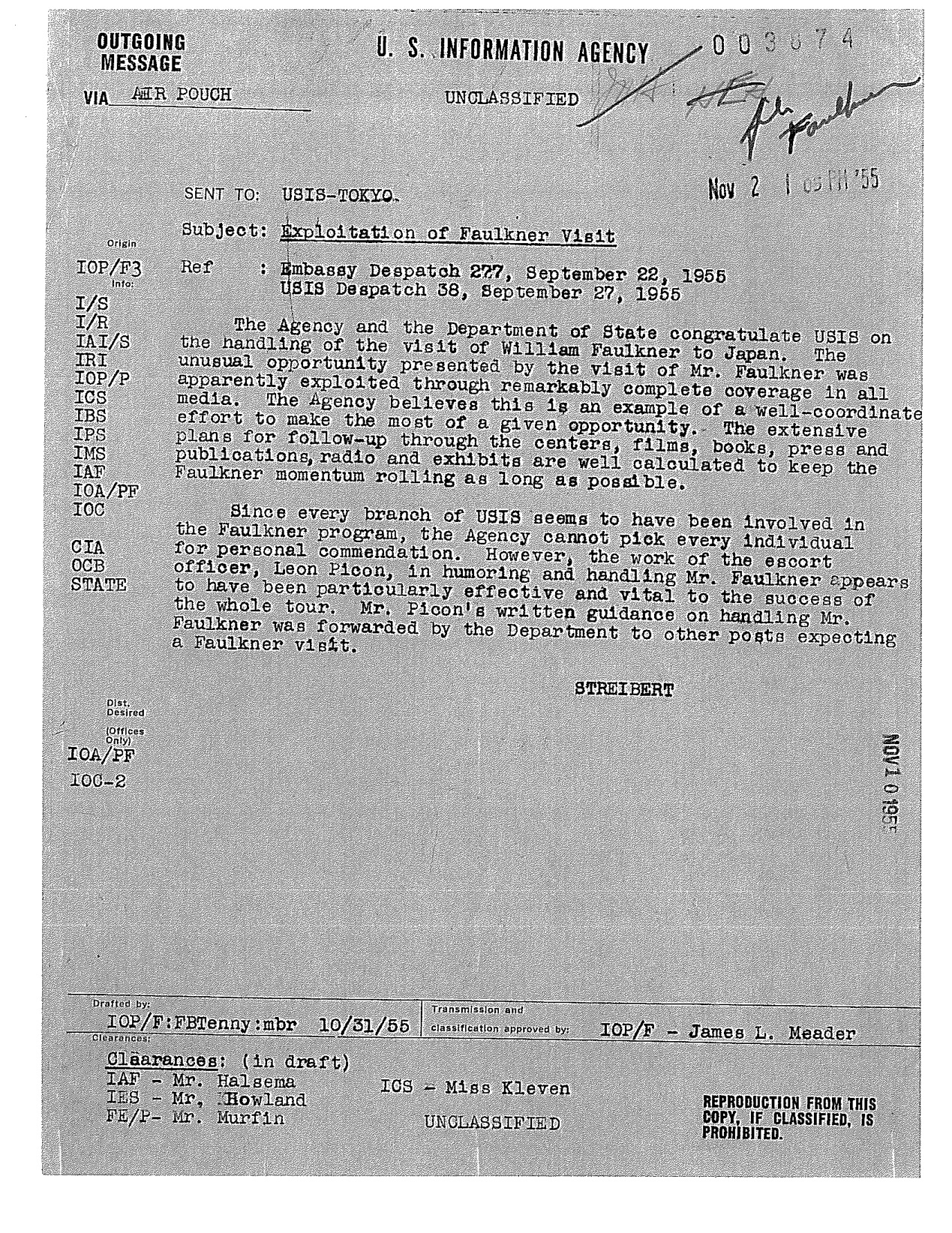 Since his 1950 Nobel win—writes Greg Barn­his­el at Slate—Faulkn­er was in high demand as a Cold War good­will ambas­sador for Amer­i­can cul­ture, along with Martha Gra­ham, John Updike, and Louis Arm­strong, all "liv­ing proof that Amer­i­ca wasn't just Mick­ey Mouse and chew­ing gum." Unfor­tu­nate­ly, as most every­one knows, "the author had a bit of a drink­ing prob­lem." Dur­ing a 1955 vis­it to Japan, for exam­ple, he got so drunk at the wel­come recep­tion "that the U.S. ambas­sador ordered he be put on the next plane back to the states." U.S. offi­cials may have been embar­rassed, but the Japan­ese, it seems, did not feel that Faulkner's drink­ing was a hin­drance. Accord­ing to Dr. Leon Picon, books offi­cer at the Tokyo embassy, the writer's hosts "didn't see any­thing wrong with the amount of drink that he had, and they under­stood when he went off com­plete­ly, and was not com­mu­ni­ca­ble again…." Rather than send Faulkn­er home, Picon found ways to make sure his guest was nev­er over­served.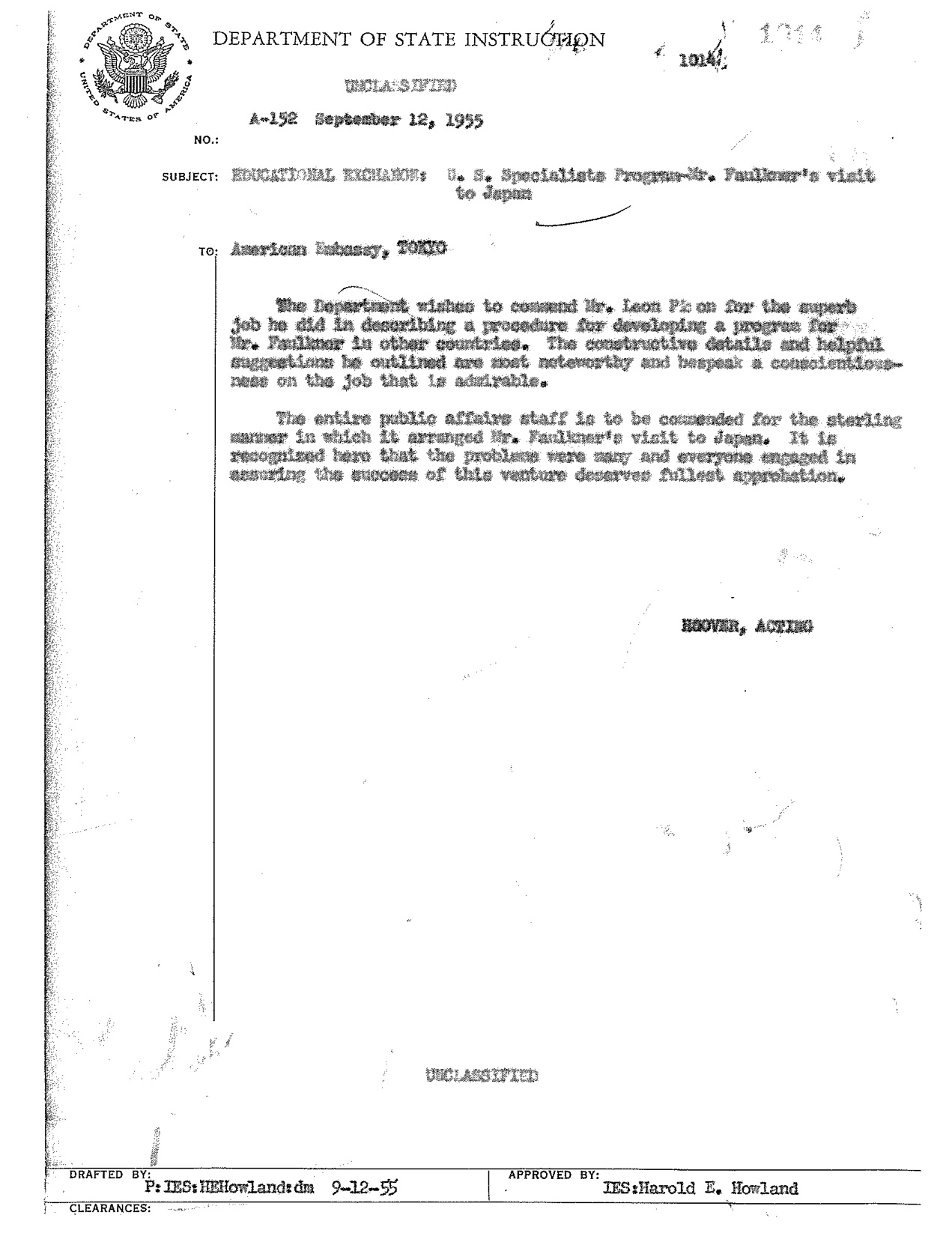 Picon—whom Faulkn­er called his "wet nurse"—composed and dis­creet­ly cir­cu­lat­ed a doc­u­ment called "Guide­lines for Han­dling Mr. William Faulkn­er on His Trips Abroad." These instruc­tions came from Picon's obser­va­tions that Faulkn­er "fared bet­ter… when there was lit­tle time for con­cert­ed drink­ing." Of the Japan­ese vis­it Faulkn­er biog­ra­ph­er David Mint­ner writes:
Giv­en shrewd­ly arranged sched­ules and care­ful­ly arranged audi­ences, Faulkn­er talked eas­i­ly about books, war, and race, hunt­ing, farm­ing, and sail­ing. Although his man­ners remained for­mal and his replies for­mu­la­ic, he seemed poised and respon­sive.
Barn­his­el quotes among Picon's guide­lines for assur­ing a smooth vis­it the fol­low­ing:
"Keep sev­er­al pret­ty young girls in the front two rows of any pub­lic appear­ance to keep his atten­tion up"
"Put some­one in charge of his liquor at all times so that he doesn't drink too quick­ly"
"Do not allow him to ven­ture out on his own with­out an escort"
As the declas­si­fied mem­o­ran­da above tes­ti­fy (click once, and then again, to view them in a larg­er for­mat), the instruc­tions helped oth­er for­eign ser­vice offi­cers to suc­cess­ful­ly nav­i­gate the writer's habits. In the memo near the top of the post with the odd­ly-word­ed sub­ject "Exploita­tion of Faulkn­er Vis­it," Dr. Picon is laud­ed for "humor­ing and han­dling Mr. Faulkn­er," and his guide­lines cred­it­ed with being "effec­tive and vital to the suc­cess of the whole tour." The memo just above—written in need­less­ly wordy bureau­cratese, appar­ent­ly by none oth­er than J. Edgar Hoover—commends Picon in more detail:
The Depart­ment wish­es to com­mend Mr. Leon Picon for the superb job he did in describ­ing a pro­ce­dure for devel­op­ing a pro­gram for Mr. Faulkn­er in oth­er coun­tries.
In his book Cold War Mod­ernists, Barn­his­el, a pro­fes­sor at Duquesne Uni­ver­si­ty, notes that Faulkn­er con­tin­ued to rep­re­sent the U.S. abroad, in trips to Greece and Venezuela, and though his drink­ing remained a chal­lenge for his gov­ern­ment han­dlers, the trips were deemed unqual­i­fied suc­cess­es.
Relat­ed Con­tent:
Drink­ing with William Faulkn­er: The Writer Had a Taste for The Mint Julep & Hot Tod­dy
Rare Audio: William Faulkn­er Names His Best Nov­el, And the First Faulkn­er Nov­el You Should Read
William Faulkn­er Reads His Nobel Prize Speech
Free Online Lit­er­a­ture Cours­es, part of our larg­er col­lec­tion, 1,700 Free Online Cours­es from Top Uni­ver­si­ties
Josh Jones is a writer and musi­cian based in Durham, NC. Fol­low him at @jdmagness