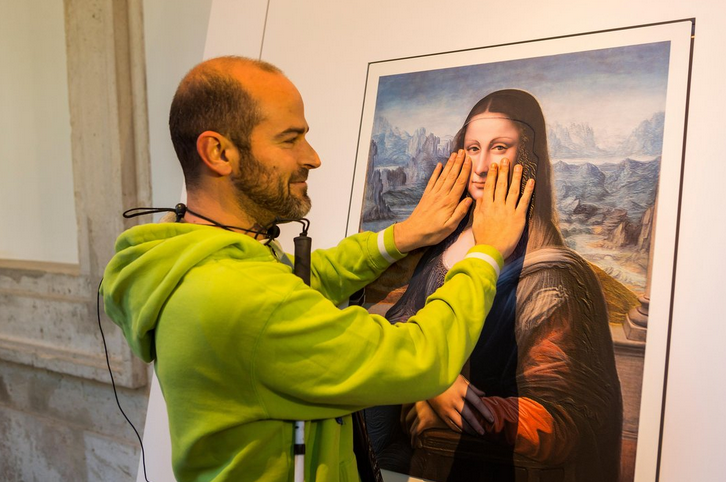 Image courtesy of The Prado
Are you one of the millions of sighted visitors who'll visit a world class institution this year only to find yourself suffering from museum fatigue a couple of hours in? You know, that moment when all the paintings start to look alike, still lifes, crucifixions, and teenage noblewomen swimming before your eyes?
If so, may we recommend closing your eyes and limiting yourself to an in-depth study of a half dozen paintings? That's the number of works on display in Hoy toca el Prado, Madrid's Museo del Prado's landmark exhibition aimed at people with visual disabilities.
The Louvre, New York's Metropolitan Museum of Art, and London's National Gallery all have touch-friendly programming that allows blind visitors to experience sculptural works with their hands. The Prado's initiative is unique in that it applies 3D printing techniques to reproductions of painted—i.e. flat—work.
Certain aspects of each painting, including textures, were selected for showcasing in the 3D reproductions. A chemical process involving ultraviolet light and special ink resulted in a few millimeters of added volume. The reproductions retained the originals' color, for visually impaired visitors with the ability to perceive it.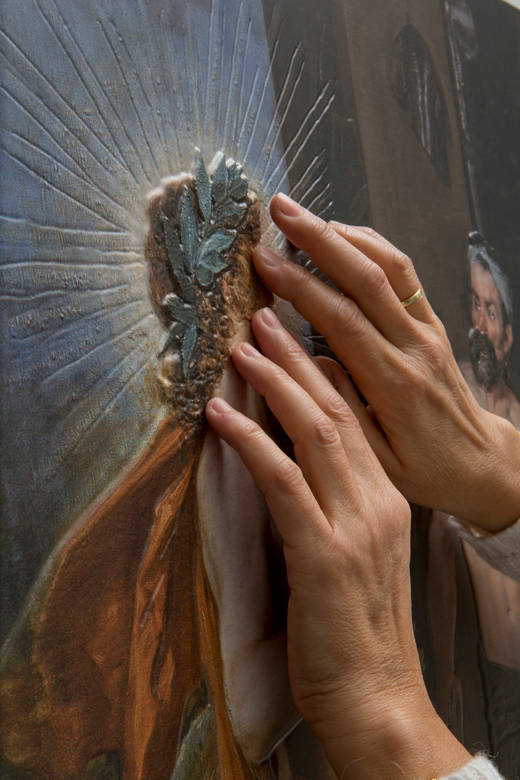 Image courtesy of The Prado
Sighted patrons can try their hands at experiencing such works as The Parasol by Goya and Velazquez's Vulcan's Forge in a non-visual way by donning opaque glasses. Texts are in braille. Audioguides are accessible to all.
According to the original's record in the museum's catalog, El Greco's The Nobleman with His Hand on His Chest is notable for the "expressive gaze its sitter directs at the viewer." The exhibit's curator reported that one of the first blind visitors to come through wanted to know the subject's eye color. He found that he could not confidently respond without double checking.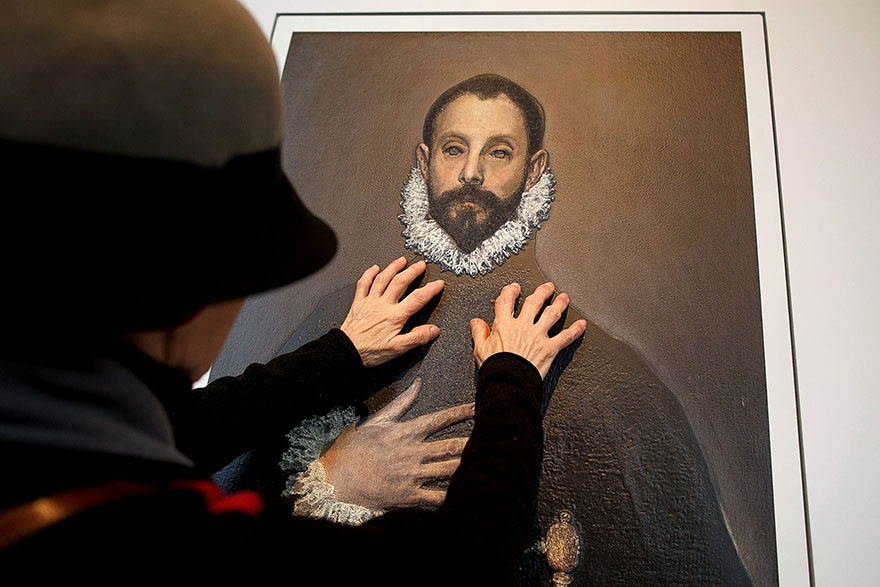 Image courtesy of ABC News
Other paintings in the collection include: Leonardo da Vinci's  "Mona Lisa;" "Don't touch me" (Noli me tangere) by Antonio da Correggio; and "Still life with Artichokes, Flowers and Glass Vessels" by Juan Van Der Hamen. See an online gallery of the exhibit, which will be up through June, here.
Related Content:
Art Lovers Rejoice! New Goya and Rembrandt Databases Now Online
100 Metropolitan Museum Curators Talk About 100 Works of Art That Changed How They See the World
The Metropolitan Museum of Art Puts 400,000 High-Res Images Online & Makes Them Free to Use
Ayun Halliday is an author, illustrator, and Chief Primatologist of the East Village Inky zine. Follow her @AyunHalliday