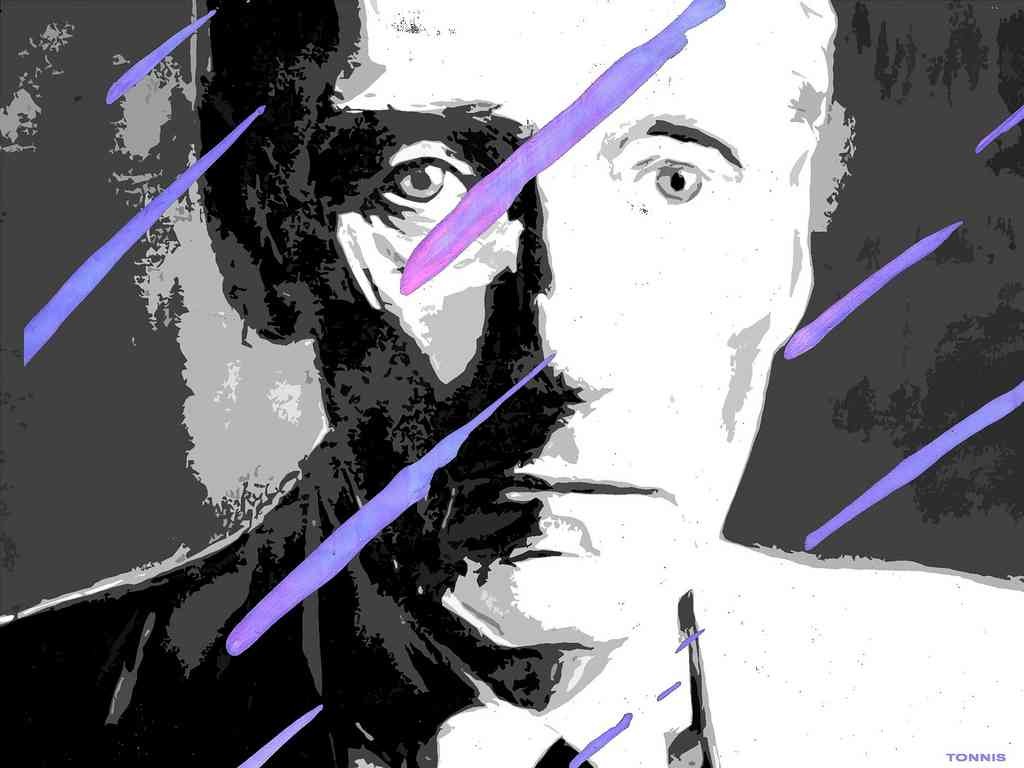 Image via Chris­ti­aan Ton­nis
Like many of the best coun­ter­cul­tur­al icons, William S. Bur­roughs had at least two sep­a­rate peri­ods of under­ground fame. The first came in the late 1950s and 60s when he wrote such clas­sics-to-be of Beat lit­er­a­ture as Junkie, Naked Lunch, and the "cut-up" tril­o­gy of The Soft Machine, The Tick­et That Explod­ed, and Nova Express. The sec­ond came in the 1980s and 90s, when a new wave of coun­ter­cul­tur­al icons, them­selves raised on Bur­roughs' writ­ing, came of age and sought out their hero for col­lab­o­ra­tion.
"How a nov­el­ist with no musi­cal back­ground who began his career in the 1940s became so pop­u­lar an alter­na­tive music fig­ure that Kurt Cobain backed him up on one of Cobain's last record­ings is one of the odd­er, more fas­ci­nat­ing foot­notes in this oth­er­wise heav­i­ly exam­ined musi­cal era," says Music for Mani­acs.
Many rock­ers who looked up to Bur­roughs attend­ed his live read­ings, but for some, "it was­n't enough to just lis­ten to Bur­roughs read his own works, with increas­ing­ly elab­o­rate musi­cal back­ings, but to hire him to per­form on record­ings. And that is what we have here: not Bur­roughs' own releas­es, but his var­i­ous mis­cel­la­neous appear­ances on oth­er bands' songs."
Above, hear Bur­roughs with Tom Waits on jazz tune "T'Ain't No Sin" and with Min­istry on "Quick Fix." You can lis­ten to all of these record­ings, in which Bur­roughs records with or cov­ers the mate­r­i­al of REM, The Doors, Lau­rie Ander­son, Mar­lene Diet­rich, Kurt Cobain, and oth­ers, at Ubuweb. The playlist runs as fol­lows. Click to lis­ten:
Not only do per­form­ers like Bur­roughs rarely enjoy a two-act career like his, they hard­ly ever put out mate­r­i­al as odd in their last act as they did in their first. But noth­ing in the life of the "rock star to rock stars," as Music for Mani­acs calls him, hap­pened in the tra­di­tion­al mat­ter. And once you get through his stint as an alter­na­tive rock star, do have a look at his stint as an alter­na­tive per­former on the sil­ver screen.
via Ubuweb
Relat­ed Con­tent:
William S. Bur­roughs "Sings" R.E.M. and The Doors, Backed by the Orig­i­nal Bands
William S. Bur­roughs Explains What Artists & Cre­ative Thinkers Do for Human­i­ty: From Galileo to Cézanne and James Joyce
Pat­ti Smith Shares William S. Bur­roughs' Advice for Writ­ers and Artists
The Mak­ing of Drug­store Cow­boy, Gus Van Sant's First Major Film (1989)
Gus Van Sant Adapts William S. Bur­roughs: An Ear­ly 16mm Short
Col­in Mar­shall writes on cities, lan­guage, Asia, and men's style. He's at work on a book about Los Ange­les, A Los Ange­les Primer, and the video series The City in Cin­e­ma. Fol­low him on Twit­ter at @colinmarshall or on Face­book.