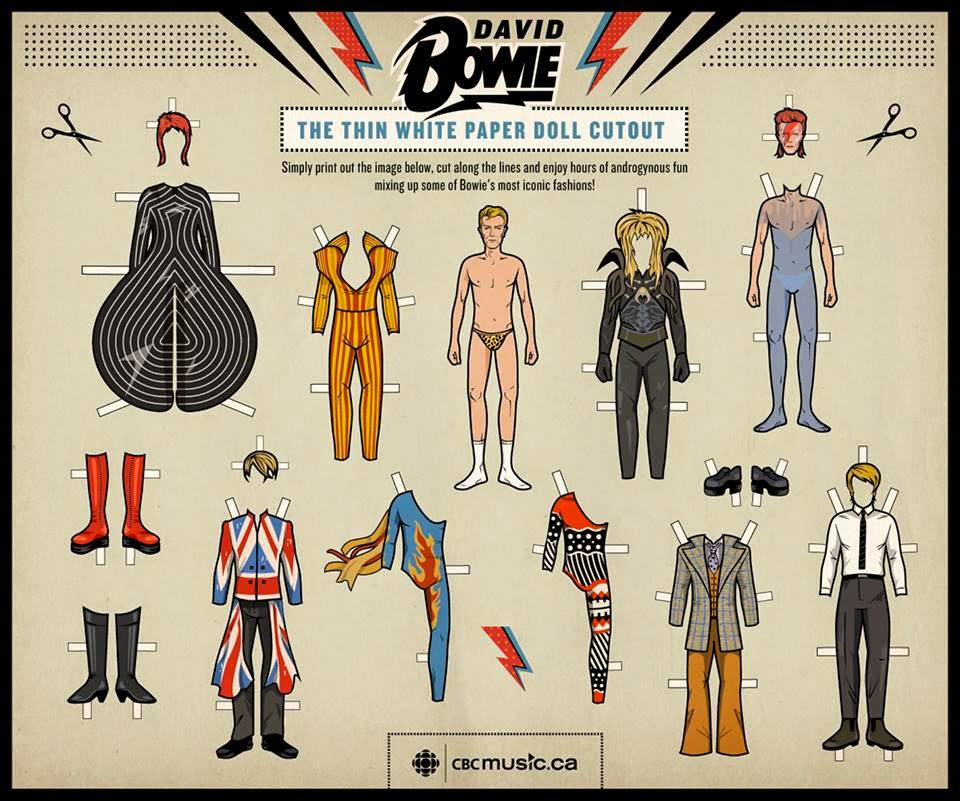 Perform an internet search on the phrase "David Bowie Paper Doll" and what do you get? Hint: it's not a cover of the Mills Brothers hit. David Bowie paper dolls are proliferating in astonishing numbers.
Sharpen your scissors and behold!
The most comprehensive career representation is the Thin White Paper Doll Cutout Heather Collett designed for the Canadian Broadcasting Corporation (above). There's even a printer friendly version for those who are serious about playing with Aladdin Sane, Ziggy Stardust, Labyrinth's Goblin King, and other Bowie alter egos.
But wait! There's more…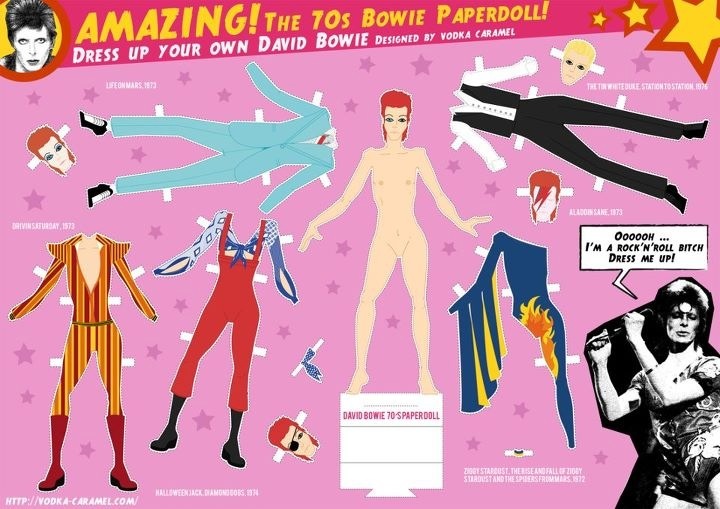 Elusive designer Vodka Caramel's Amazing 70's Bowie Paper Doll celebrates some of our hero's most glamorous looks, but saddles him with the crotch of a Ken doll and no fewer than four interchangeable heads! And we thought the Thin White Paper Doll's crew socks were an indignity.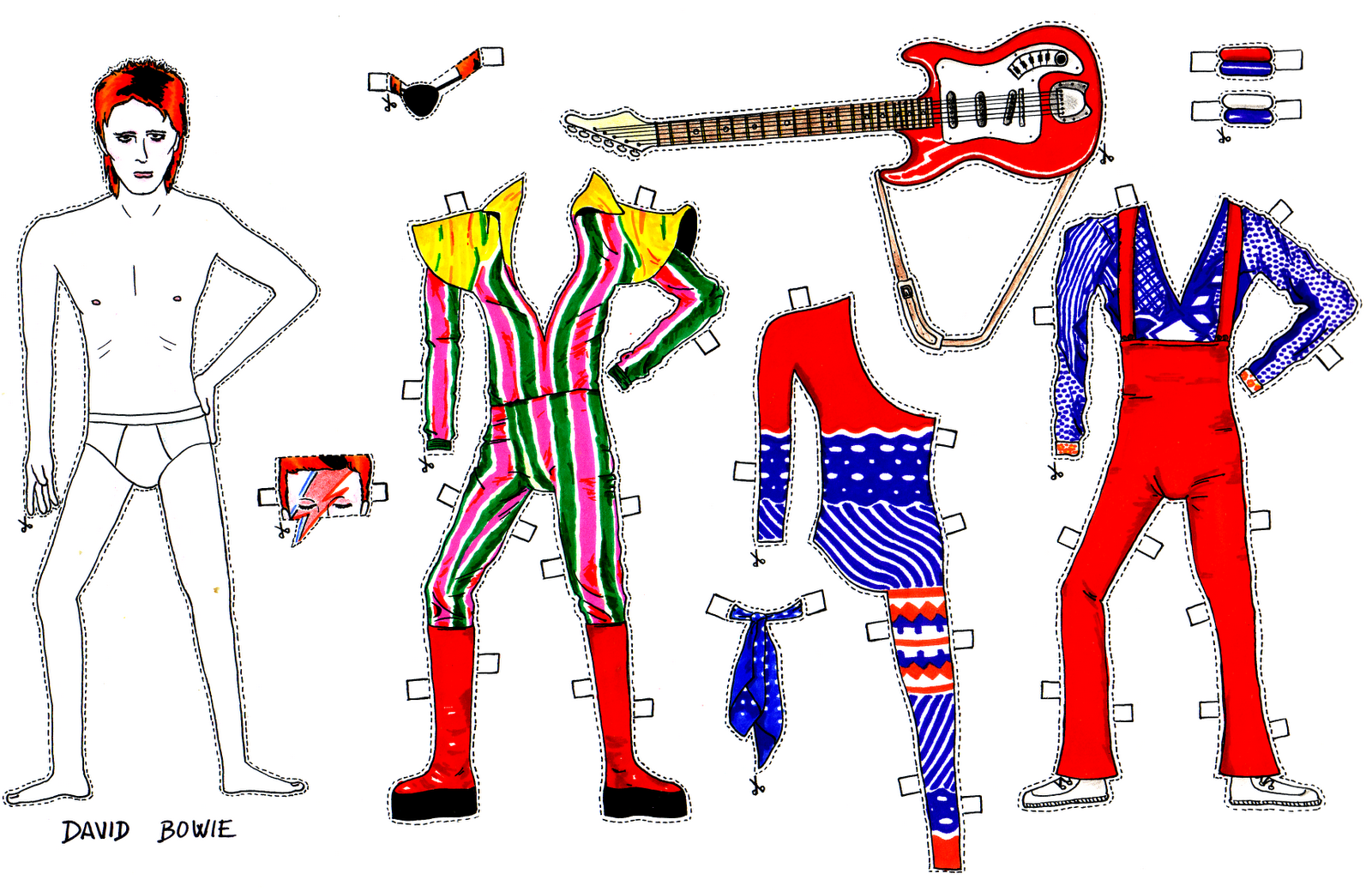 A Spanish fan observed Bowie's 65th birthday by updating the abbreviated tighty whities of a notorious 1973 photo shoot to a modest pair of standard issue Y-fronts. Interestingly, this paper doll's suspendered Halloween Jack suit arrives with bulge intact.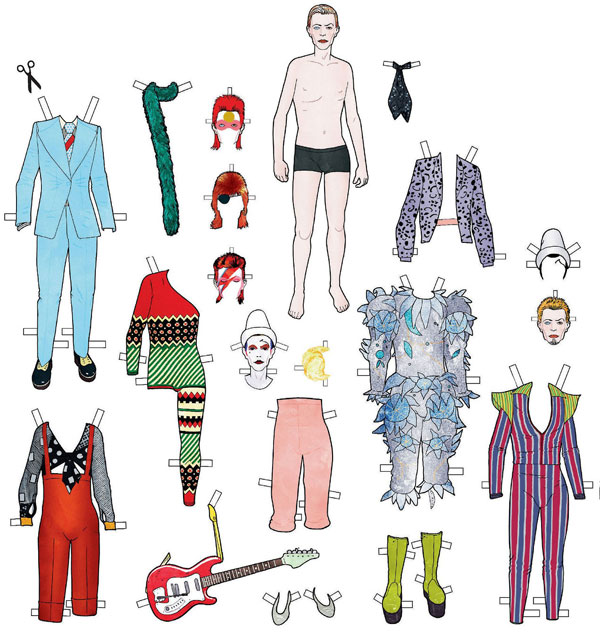 Points to Serge Baeken above for recognizing the paper doll possibilities in the Pierrot costume Bowie sported in the video for 1980's "Ashes to Ashes." (Fun fact: Bowie made his theatrical debut—and wrote the music for—a bizarre 1968 pantomime about Pierrot…. His character's name was "Cloud")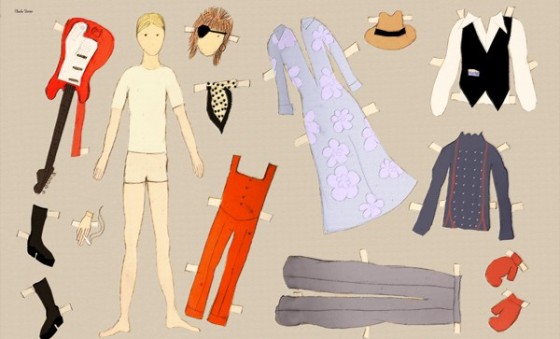 Artist Claudia Varosio's entry in the Bowie paper doll stakes could pass as illustrations for a 1970's children's book. Title? Boys Keep Swinging, after a cut from Bowie's 1979 Lodger album. Chaste young girls would love the t-shirted, non-threatening Bowie.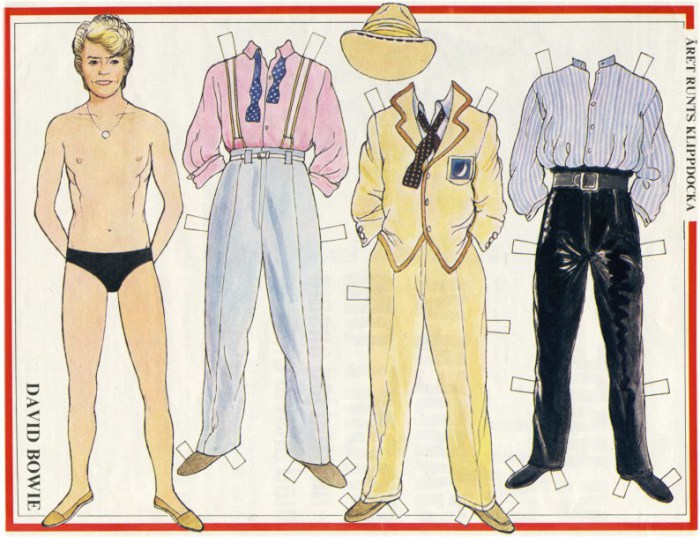 The comparatively conservative, full-faced Bowie above comes to us via Swedish family magazine Året Runt. I may never learn another word of Swedish, but thanks to David Bowie, I can now say paper doll (klippdockor). In appreciation, allow me to share another example of David Bowie klippdockor…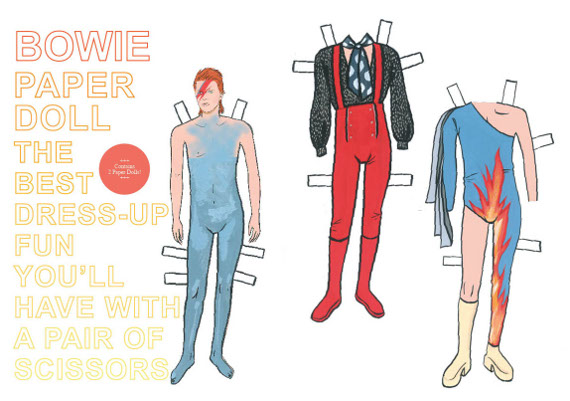 If it all starts seeming a bit rote, mix things up by having artist Mel Elliot's paper doll Bowie swap  duds with fellow pop star / style icon paper dolls, Beyonce, Debbie Harry, and Rihanna.
(image by Electric Sorbet)
There is only one David Bowie, but there can never be too many David Bowie paper dolls. Make your own today!
Related Content:
96 Drawings of David Bowie by the "World's Best Comic Artists": Michel Gondry, Kate Beaton & More
50 Years of Changing David Bowie Hair Styles in One Animated GIF
The Musical Career of David Bowie in One Minute … and One Continuous Take
Ayun Halliday is an author, illustrator, and Chief Primatologist of the East Village Inky zine. Follow her @AyunHalliday