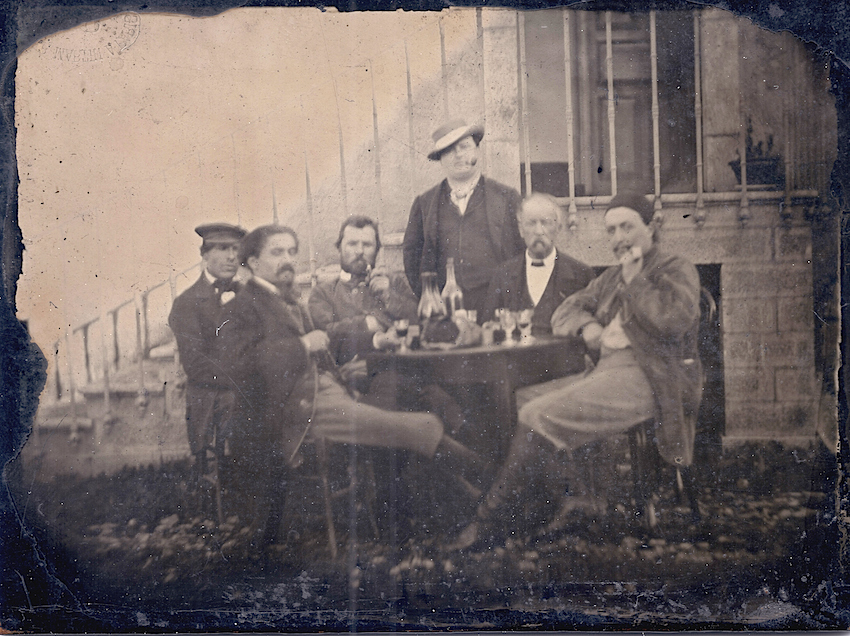 Close your eyes for a moment and pic­ture the artist Vin­cent Van Gogh. What do you see?
Prob­a­bly one of the pro­lif­ic post-Impressionist's self-por­traits. That's all well and good, but who else did you see?
Indie dar­ling (and Incred­i­ble Hulk adver­sary) Tim Roth?
Direc­tor Mar­tin Scors­ese?
Thanks to the recent­ly dis­cov­ered pho­to­graph at the top of this arti­cle, we may soon have the option of pic­tur­ing the actu­al Vin­cent Van Gogh as an adult artist. As Petapix­el tells us, he sat for por­traits at age 13, and again as a 19-year-old gallery appren­tice (below), but beyond that no pho­to­graph­ic evi­dence of the cam­era-shy artist was known to exist.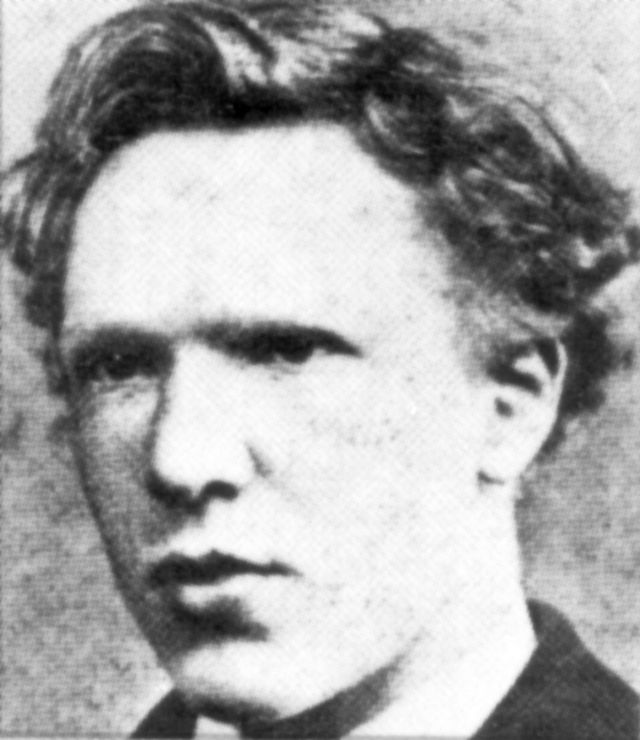 Excit­ing!
That's Paul Gau­guin on the far right. Oth­ers at the table include Emile Bernard and Arnold Kon­ing, politi­cian Felix Duval and actor-direc­tor André Antoine. But who is the beard­ed man smok­ing the pipe?
Van Gogh?
So thought the two col­lec­tors who pur­chased the small 1887 pho­to at a house sale a cou­ple of years ago. Serge Plan­tureux, an anti­quar­i­an book­seller and pho­tog­ra­phy expert who exam­ined their find was opti­mistic enough to help them with fur­ther research, as he not­ed in the French mag­a­zine, L'Oeil de la Pho­togra­phie:
I didn't want to start doing what Amer­i­cans call "wish­ful think­ing," that trap into which col­lec­tors and researchers fall, where their rea­son­ing is gov­erned only by what they want to see.
Don't ditch Dou­glas, Roth, and Scors­ese just yet, how­ev­er. Experts at Amsterdam's Van Gogh Muse­um say the beard­ed fel­low can­not be the artist. Accord­ing to them, there's not even much of a resem­blance. He wasn't so much cam­era shy, as dead­ly opposed to the pho­to­graph­ic medi­um. His refusal to be pho­tographed was an act of resis­tance.
That kind of puts a damper on things…
So.. no go Van Gogh? Oh well…vive la pho­to nou­velle­ment décou­verte de Paul Gau­guin (and friends)!
Relat­ed Con­tent:
The Unex­pect­ed Math Behind Van Gogh's "Star­ry Night"
Simon Schama Presents Van Gogh and the Begin­ning of Mod­ern Art
Van Gogh's 'Star­ry Night' Re-Cre­at­ed by Astronomer with 100 Hub­ble Space Tele­scope Images
Ayun Hal­l­i­day is an author, illus­tra­tor, and Chief Pri­ma­tol­o­gist of the East Vil­lage Inky zine. Fol­low her @AyunHalliday