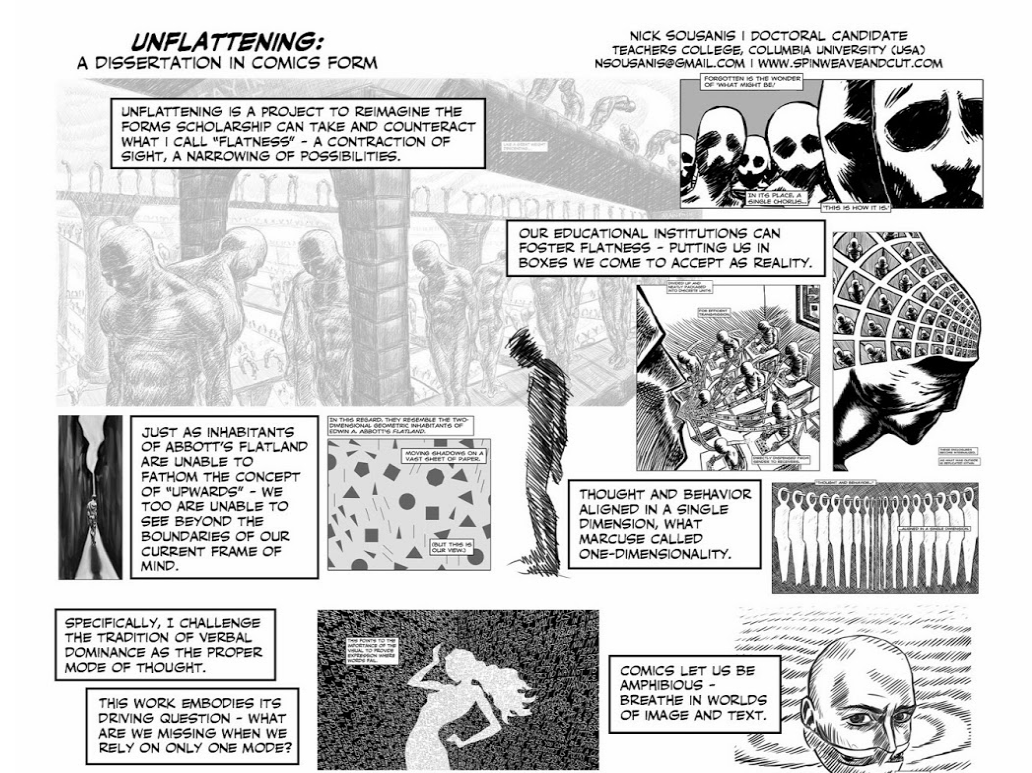 My cir­cle of friends includes more than a few grad stu­dents, but few of them seem very hap­py, espe­cial­ly those who've already put every part of the process behind them except their dis­ser­ta­tion. As they strug­gle to wres­tle that daunt­ing beast to the ground, I — as a non-aca­d­e­m­ic — try to pro­vide what­ev­er per­spec­tive I can. To my mind, a dis­ser­ta­tion, just like any oth­er major task, demands that you break it down into small pieces and frame each piece in your mind just right, so I nat­u­ral­ly think Nick Sou­sa­nis made the right choice by writ­ing his dis­ser­ta­tion, pan­el by pan­el, frame by frame, as a graph­ic nov­el.
Boing Boing's Cory Doc­torow recent­ly wrote about Unflat­ten­ing, Sou­sa­nis' "graph­ic nov­el about the rela­tion­ship between words and pic­tures in lit­er­a­ture" that dou­bled as Sou­sa­nis' dis­ser­ta­tion in edu­ca­tion at Colum­bia Uni­ver­si­ty. Doc­torow quotes Comics Grid's Matt Finch, who describes the work as one that "defies con­ven­tion­al forms of schol­ar­ly dis­course to offer read­ers both a stun­ning work of graph­ic art and a seri­ous inquiry into the ways humans con­struct knowl­edge." Unit­ing the per­spec­tives of "sci­ence, phi­los­o­phy, art, lit­er­a­ture, and mythol­o­gy, it uses the col­lage-like capac­i­ty of comics to show that per­cep­tion is always an active process of incor­po­rat­ing and reeval­u­at­ing dif­fer­ent van­tage points."
A bold claim indeed, but one you can eval­u­ate for your­self by read­ing the fif­teen-page excerpt of Unflat­ten­ing now avail­able for free, or pur­chas­ing your own copy of this ground­break­ing dis­ser­ta­tion online. It will give you an idea, mak­ing ref­er­ence along the way to astron­o­my, ancient Alexan­dria, mod­ern Man­hat­tan, Gilles Deleuze, Sou­sa­nis' dog, Ulysses, Bud­dhism, and the medi­um of the com­ic book — or the graph­ic nov­el, or sequen­tial art — itself. You can find out more about this impres­sive work of art, schol­ar­ship, or how­ev­er you pre­fer to regard it at the Har­vard Uni­ver­si­ty Press site or Sou­sa­nis' own.
Relat­ed Con­tent:
The His­to­ry of Eco­nom­ics & Eco­nom­ic The­o­ry Explained with Comics, Start­ing with Adam Smith
Read John Nash's Super Short PhD The­sis with 26 Pages & 2 Cita­tions: The Beau­ty of Invent­ing a Field
The Illus­trat­ed Guide to a Ph.D.
How to Dance Your Dis­ser­ta­tion: See the Win­ning Video in the 2014 "Dance Your PhD" Con­test
Col­in Mar­shall writes on cities, lan­guage, Asia, and men's style. He's at work on a book about Los Ange­les, A Los Ange­les Primer, and the video series The City in Cin­e­ma. Fol­low him on Twit­ter at @colinmarshall or on Face­book.