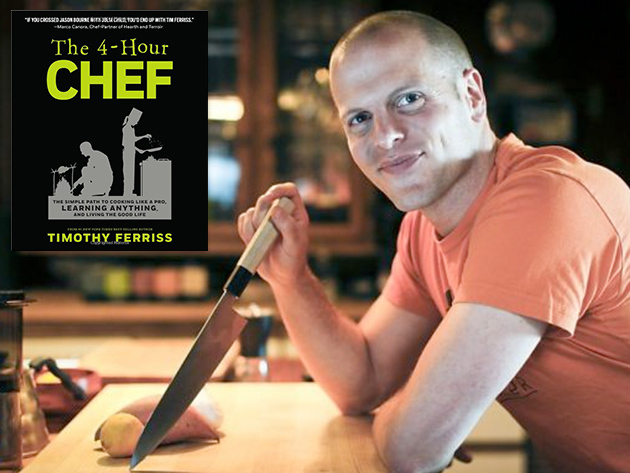 On the off chance that this kind of thing interests you, Boing Boing is making available a free audio download of Tim Ferriss' book, The 4-Hour Chef. The book pitches itself as follows:
You'll train inside the kitchen for everything outside the kitchen. Featuring tips and tricks from chess prodigies, world-renowned chefs, pro athletes, master sommeliers, super models, and everyone in between, this "cookbook for people who don't buy cookbooks" is a guide to mastering cooking and life.

The 4-Hour Chef is a five-stop journey through the art and science of learning:

1. META-LEARNING. Before you learn to cook, you must learn to learn. META charts the path to doubling your learning potential.

2. THE DOMESTIC. DOM is where you learn the building blocks of cooking. These are the ABCs (techniques) that can take you from Dr, Seuss to Shakespeare.

3. THE WILD. Becoming a master student requires self-sufficiency in all things. WILD teaches you to hunt, forage, and survive.

4. THE SCIENTIST. SCI is the mad scientist and modernist painter wrapped into one. This is where you rediscover whimsy and wonder.

5. THE PROFESSIONAL. Swaraj, a term usually associated with Mahatma Gandhi, can be translated as "self-rule." In PRO, we'll look at how the best in the world become the best in the world, and how you can chart your own path far beyond this book.
You can download it here.
If this isn't your cup of tea, feel free to dive into our meta collection, 1,000 Free Audio Books: Download Great Books for Free.
Or explore the Free Trial Programs offered by Audible.com and Audiobooks.com, both of which give you the chance to download an audiobook for free while trying out their programs.
Follow us on Facebook, Twitter, Google Plus and LinkedIn and  share intelligent media with your friends. Or better yet, sign up for our daily email and get a daily dose of Open Culture in your inbox.