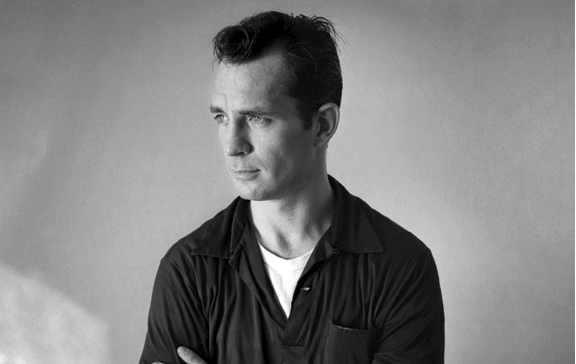 Image by Tom Palumbo, via Wikimedia Commons
A high school friend who paid me a visit last weekend said she still doesn't know whether reading Jack Kerouac saved or ruined her life. I, for one, could think of no higher praise for a writer. I believe she entered that dissolute Beat's literary whirlwind through the portal of a second-hand copy of his America-crisscrossing novel On the Road, as many young people do, but since then the internet has made it much easier to get into Kerouac through a variety of other media as well.
Long-playing records, for instance: if you happen to use Spotify (and if you don't yet, you can download the free software to get onboard here), you already have access to a good deal of material delivered in Kerouac's own voice, sometimes against music. On 1959's Poetry for the Beat Generation (above), an album he put together with Steve Allen (on whose talk show he famously appeared), he reads his work while Allen accompanies him on the piano. That same year saw the release of Blues and Haikus, featuring that same Kerouac voice and sensibility, but backed this time by jazz saxophonists Al Cohn and Zoot Sims.
On 1960's Readings by Jack Kerouac on the Beat Generation (bottom), his final spoken-word album, Kerouac goes without jazzmen entirely. But then, some of his die-hard fans might argue that he doesn't need them, that his use of the English language constitutes more than enough wild, improvisational, but somehow still disciplined music by itself. That may sound like a bit much, but Kerouac actually had a lot in common with his fellow American icons in the realm of jazz, not least a lifestyle that led him into an early grave and a legacy as a figure both tragic and inspiring in equal measure. Maybe you hear it in his prose; maybe you'll hear it in his voice.
As a final bonus, you can stream a fourth album, On the Beat Generation.
Related Content:
Download 55 Free Online Literature Courses: From Dante and Milton to Kerouac and Tolkien
An 18-Hour Playlist of Readings by the Beats: Kerouac, Ginsberg & Even Bukowski Too
Jack Kerouac Reads from On the Road (1959)
Jack Kerouac's Hand-Drawn Map of the Hitchhiking Trip Narrated in On the Road
Colin Marshall writes on cities, language, Asia, and men's style. He's at work on a book about Los Angeles, A Los Angeles Primer, and the video series The City in Cinema. Follow him on Twitter at @colinmarshall or on Facebook.