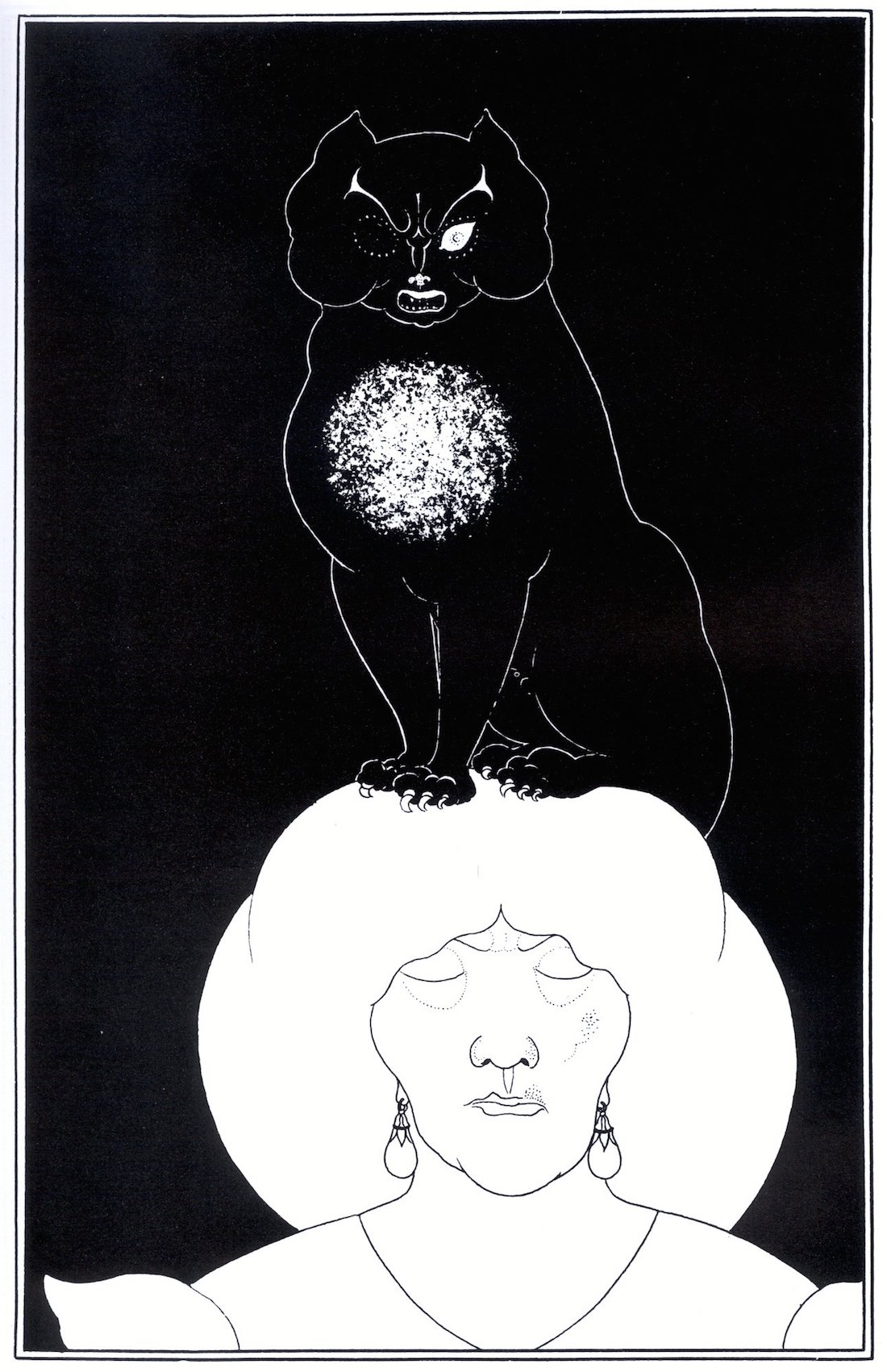 Earlier this month, we featured Oscar Wilde's scandalous play Salome as illustrated by Aubrey Beardsley in 1894. Though Beardsley's short life and career would end a scant four years later at the age of 25, the illustrator still had more than enough time to develop a clear and bold, yet elaborate and even decadent style, still immediately recognizable and deeply influential today.
He also managed to visualize an impressively wide range of material, one that includes — in the very same year — the transgressively witty writing of Oscar Wilde as well as the groundbreakingly macabre writings of Edgar Allan Poe.
"Aubrey Beardsley's four Poe illustrations were commissioned by Herbert S. Stone and Company, Chicago, in 1894 as embellishment for a multi-volume collection of the author's works," writes artist and designer John Coulthart. "The Black Cat (above) is justifiably the most reproduced of these." The Literary Archive blog argues that "what Beardsley's illustrations do tell us of is that Poe's stories are not static, but living works that each new generation gets to experience in [its] own way," and that they "give us a glimpse into a slight decadence and gothic-ness still preferred in horror at the time (a giant orangutan envelopes the girl in his arms—King Kong anyone?)"
They also remind us that "our taste for creepiness, for hearing tales about the darker side of human life, hasn't changed appreciably in over 150 years." If the American author and the English illustrator would seem to make for odd literary and artistic bedfellows, well, therein lies the appeal: when one strong creative sensibility comes up against another, things can well go off in the kind of richly bizarre directions you see hinted at in the images here.
If you'd like to own a piece of this odd chapter in the history of illustrated texts, keep your eye on Sotheby's — you'll only have to come up with between 4,000 and 6,000 pounds.
via The Paris Review
Related Content:
Oscar Wilde's Play Salome Illustrated by Aubrey Beardsley in a Striking Modern Aesthetic (1894)
Gustave Doré's Splendid Illustrations of Edgar Allan Poe's "The Raven" (1884)
5 Hours of Edgar Allan Poe Stories Read by Vincent Price & Basil Rathbone
Colin Marshall writes elsewhere on cities, language, Asia, and men's style. He's at work on a book about Los Angeles, A Los Angeles Primer, the video series The City in Cinema, and the crowdfunded journalism project Where Is the City of the Future? Follow him on Twitter at @colinmarshall or on Facebook.