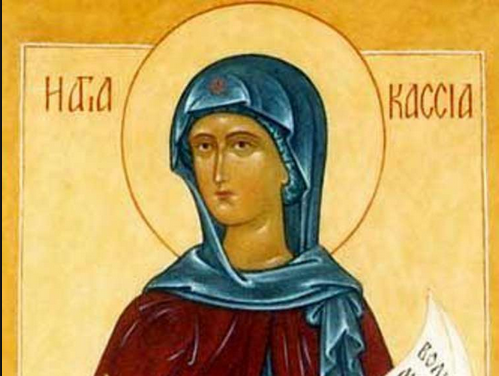 In mod­ern times, we don't regard female musi­cians as in and of them­selves unusu­al. Our ros­ters of favorite rock­ers, pop-stars, solo singer-song­writ­ers, and what have you might well fea­ture as many women as men — or, depend­ing on the sub­genre, many more women than men. But those of us who lis­ten to a great deal of clas­si­cal music might feel a tad sheep­ish about how much more heav­i­ly male our playlists slant, at least in terms of the com­posers. For a vari­ety of his­tor­i­cal and cul­tur­al rea­sons, the clas­si­cal canon can feel like a man's world indeed.
But it does­n't have to! The Spo­ti­fy playlist above, "1200 Years of Women Com­posers: From Hilde­gard To Hig­don," reveals that women start­ed shap­ing what we now know as clas­si­cal music far longer ago than most of us real­ize. (If you don't have Spo­ti­fy's free soft­ware, down­load it here.) The playlist, which con­tains over 900 pieces and will take you days to lis­ten to, begins in medieval times with the Byzan­tine abbess, poet, com­pos­er, and hymno­g­ra­ph­er Kas­sia (shown above) and ends with female com­posers from around the world not only liv­ing but (espe­cial­ly by the stan­dards of those who write orches­tral music) still young, like Mis­ato Mochizu­ki, Hele­na Tul­ve, and Lera Auer­bach.
This comes arranged by Spo­ti­fy Clas­si­cal Playlists, whose site describes how the playlist offers not just an anthol­o­gy of women com­posers, but also "a brief his­to­ry of west­ern clas­si­cal music. It's real­ly fas­ci­nat­ing to hear music con­stant­ly rein­vent­ing itself from the mono­phon­ic and deeply spir­i­tu­al medieval chant of Hilde­gard [of Bin­gen] all the way into Hig­don's lush and ultra-mod­ern per­cus­sion con­cer­to." And before you begin this epic lis­ten, bear in mind the quote from Faust that appears there: "Das Ewig Weib­liche Zieht ins hinan" — "The eter­nal fem­i­nine leads us upwards."
Relat­ed Con­tent:
Hear Sev­en Hours of Women Mak­ing Elec­tron­ic Music (1938- 2014)
Stream 58 Hours of Free Clas­si­cal Music Select­ed to Help You Study, Work, or Sim­ply Relax
Hear All of Mozart in a Free 127-Hour Playlist
Hear Clas­si­cal Music Com­posed by Friedrich Niet­zsche: 43 Orig­i­nal Tracks
Col­in Mar­shall writes else­where on cities, lan­guage, Asia, and men's style. He's at work on a book about Los Ange­les, A Los Ange­les Primer, the video series The City in Cin­e­ma, and the crowd­fund­ed jour­nal­ism project Where Is the City of the Future? Fol­low him on Twit­ter at @colinmarshall or on Face­book.