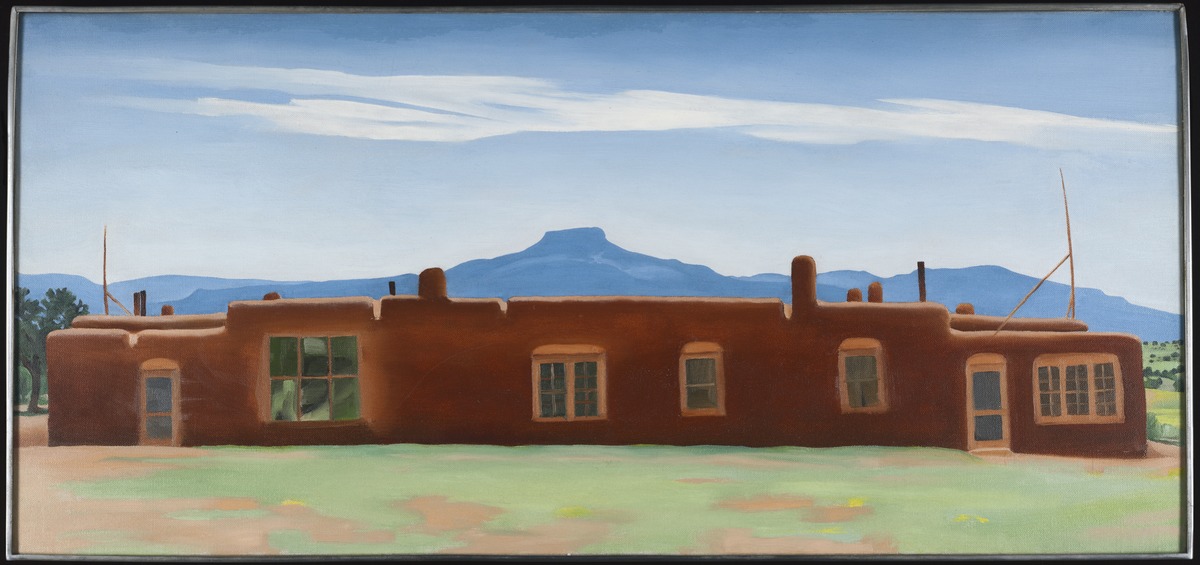 Does any couple loom larger in the world of twentieth-century American art than Alfred Stieglitz and Georgia O'Keeffe? Not if you believe the Alfred Stieglitz/Georgia O'Keeffe Archive at Yale University's Beinecke Rare Book and Manuscript Library. If you go there, you'll find "thousands of letters and hundreds of photographs in addition to a collection of literary manuscripts, scrapbooks, ephemera, fine art, and realia, primarily dating between 1880 and 1980, which document the lives and careers of the photographer/publisher/gallery owner Alfred Stieglitz and the painter Georgia O'Keeffe." But you can even view some of its material here on the internet, including photos by and of "Stieglitz and his circle of artists and writers" and "a variety of paintings and drawings, letters and ephemera, and medals and awards."
The online archive does, of course, contain some paintings from O'Keeffe, such as House I Live in 1937 at the top of the post or, more in line with her famously floral focus, Pink Roses just below. But you'll also find behind-the-work personal artifacts like the 1929 image of Stieglitz and O'Keeffe together at Lake George, New York just above. You can browse through all the material available with this list, or you can filter it down to the items pertaining specifically to O'Keeffe or those pertaining specifically to Stieglitz, though in life the two had an "instant mental and physical attraction" that kept them on some level inseparable during the course of their forty-year relationship.
They even enjoyed a kind of artistic togetherness during the long-distance stretches of that relationship, when O'Keeffe "discovered her love for the landscape of the American Southwest and spent increasing amounts of time living and working there."
And while many of us already know about her favorite subjects and the ways in which she realized them on canvas, fewer of us know about the efforts Stieglitz took to make photography into not just a legitimate but respected art form. To get a sense of what that took, start with Stieglitz's autochromes (below), some of the earliest ventures made by an American artist into the realm of color photography. Both Stieglitz and O'Keeffe, each in there own medium, made us see things differently. How many art-world power couples can say the same?
Related Content:
The Real Georgia O'Keeffe: The Artist Reveals Herself in Vintage Documentary Clips
Alfred Stieglitz: The Eloquent Eye, a Revealing Look at "The Father of Modern Photography"
Frida Kahlo Writes a Personal Letter to Georgia O'Keeffe After O'Keeffe's Nervous Breakdown (1933)
Whitney Museum Puts Online 21,000 Works of American Art, By 3,000 Artists
Colin Marshall writes elsewhere on cities, language, Asia, and men's style. He's at work on a book about Los Angeles, A Los Angeles Primer, the video series The City in Cinema, and the crowdfunded journalism project Where Is the City of the Future? Follow him on Twitter at @colinmarshall or on Facebook.