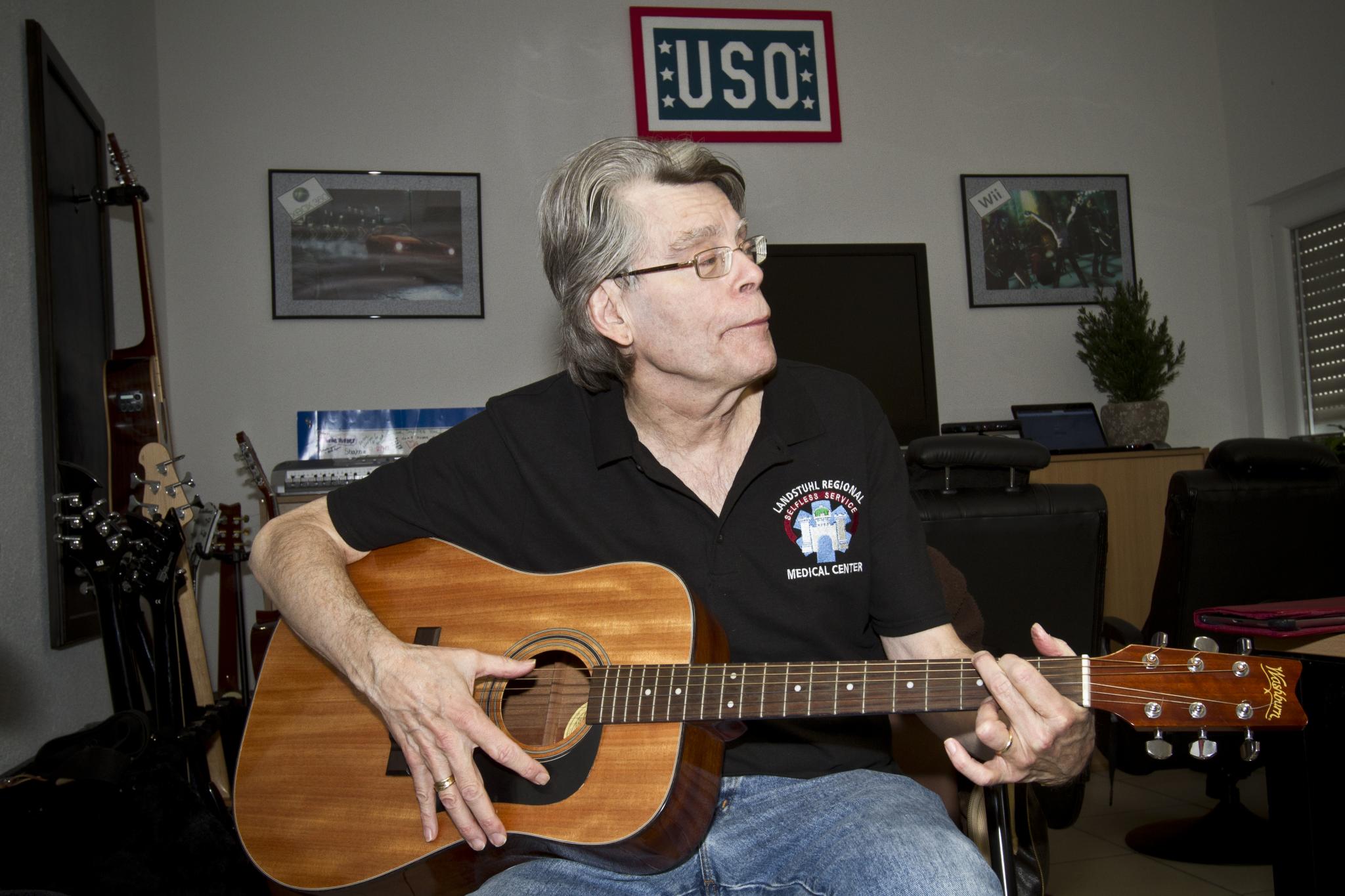 Image by The USO, via Flickr Com­mons
Stephen King has giv­en writ­ers a lot to think about these past few years in his numer­ous inter­views and in his state­ment of craft, On Writ­ing. He deems one of his most salient pieces of advice on writ­ing so impor­tant that he repeats it twice in his Top 20 Rules for Writ­ers: writ­ers, he says, "learn best by read­ing a lot…. If you don't have time to read, you don't have the time (or the tools) to write." To help his read­ers dis­cov­er the right tools, King attached a list of 96 books at the end of On Writ­ing, of which he said, "In some way or oth­er, I sus­pect each book in the list had an influ­ence on the books I wrote…. a good many of these might show you some new ways of doing your work."
King's orig­i­nal list of 96 books for aspir­ing writ­ers gen­er­at­ed a fair amount of com­ment on Aero­gramme Writer's Stu­dio, who brought it to our atten­tion last year. Lat­er, the same web site brought us anoth­er list of 82 books, which King pub­lished in the 10th anniver­sary edi­tion of On Writ­ing. With King's sec­ond list, as with the first, you'll find that best-sell­ing genre writ­ers sit com­fort­ably next to lit-class sta­ples.
In this list, the spec­trum of acces­si­bil­i­ty is a lit­tle nar­row­er. We have few­er clas­sic writ­ers like Dick­ens or Con­rad and few­er com­mer­cial nov­el­ists like Nel­son DeMille. Instead the list is most­ly twen­ti­eth cen­tu­ry lit­er­ary fic­tion by most­ly liv­ing con­tem­po­raries, with lit­tle genre fic­tion save per­haps sci-fi/­fan­ta­sy writer Neal Stephenson's Quick­sil­ver, thriller author Lee Child's Jack Reach­er series, huge­ly pop­u­lar mys­tery writer Stieg Larsson's The Girl With the Drag­on Tat­too, and Patrick O'Brian's adven­ture series. Below, we've excerpt­ed a list of 15 books King recommends—books, he says, "which enter­tained and taught me."
Kate Atkin­son, One Good Turn
Mar­garet Atwood, Oryx and Crake
Robert Bolaño, 2666
Michael Chabon, The Yid­dish Policemen's Union
Junot Diaz, The Brief Won­drous Life of Oscar Wao
Neil Gaiman, Amer­i­can Gods
Denis John­son, Tree of Smoke
Sue Monk Kid, The Secret Life of Bees
Elmore Leonard, Up in Honey's Room
Cor­mac McCarthy, No Coun­try for Old Men
Jodi Picoult, Nine­teen Min­utes
Philip Roth, Amer­i­can Pas­toral
Salman Rushdie, Midnight's Chil­dren
Don­na Tartt, The Lit­tle Friend
Leo Tol­stoy, War and Peace
King almost shrugs in his short intro­duc­tion, writ­ing, "you could do worse." I expect many read­ers of this post might have sug­ges­tions for how they think you could also do bet­ter, espe­cial­ly giv­en the five years that have passed since this list's com­pi­la­tion and some of the blind spots that seem to per­sist in King's read­ing habits. I doubt he would object much to any of us adding to, or sub­tract­ing from, his lists—or ignor­ing them alto­geth­er. It seems clear he thinks that like him, we should read what we like, as long as we're always read­ing some­thing. See the full list of 82 titles here.
Relat­ed Con­tent:
Stephen King Cre­ates a List of 96 Books for Aspir­ing Writ­ers to Read
Stephen King's Top 10 All-Time Favorite Books
Stephen King's Top 20 Rules for Writ­ers
7 Free Stephen King Sto­ries: Pre­sent­ed in Text, Audio, Web Com­ic & a Graph­ic Nov­el Video
Josh Jones is a writer and musi­cian based in Durham, NC. Fol­low him at @jdmagness