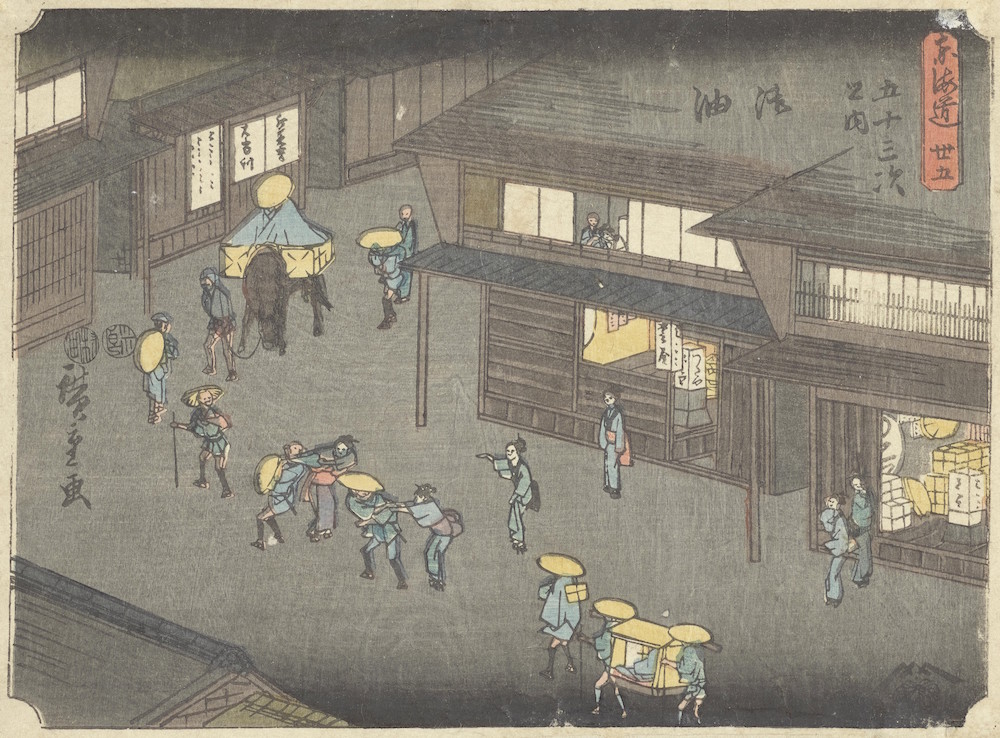 We recently featured hundreds of Van Gogh's paintings, sketches, and letters downloadable from Amsterdam's Van Gogh Museum. But despite its name, that respected institution hasn't devoted itself entirely to the work of the 19th-century post-impressionist painter; they've also got a serious stock of art from roughly the same period but the other side of the world in the form of Japanese woodblock prints. And like their Van Gogh materials, they've made them available to all of us in high resolution files, free for the downloading in their online collections.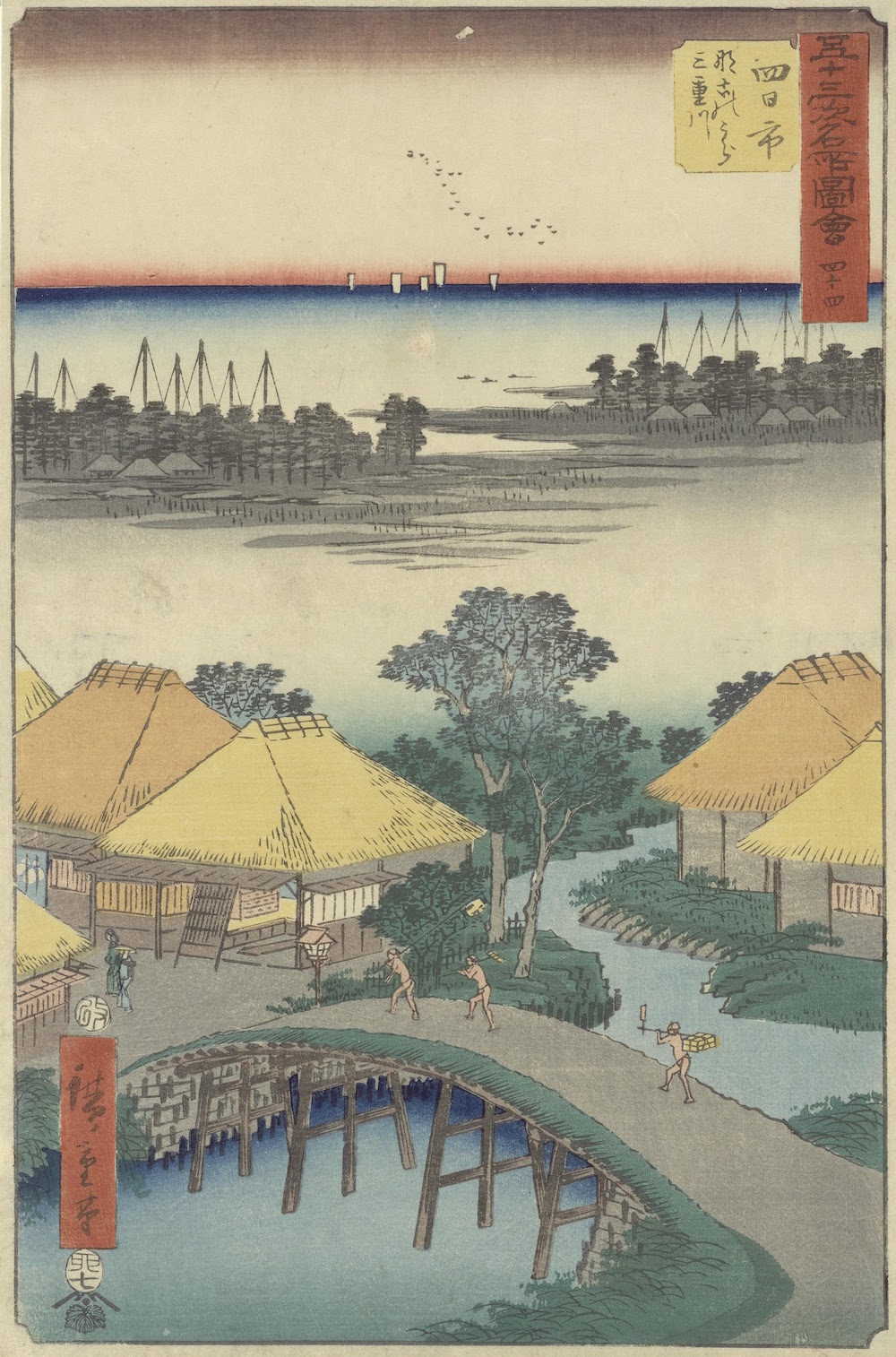 All of us will recognize this style of Japanese art, but not all of us will know its Japanese name: ukiyo-e, or "pictures of the floating world" — that is, the world of scenic travels through striking landscapes as well as urban beauties, sportsmen, actors, and ladies of the night that bloomed from the 17th to the 19th centuries.
Not only did that heady period of Japanese history provide these woodblock prints their subjects, it also provided the technology used to produce them with increasing color and complexity as well as a merchant-class audience to purchase them as home decor.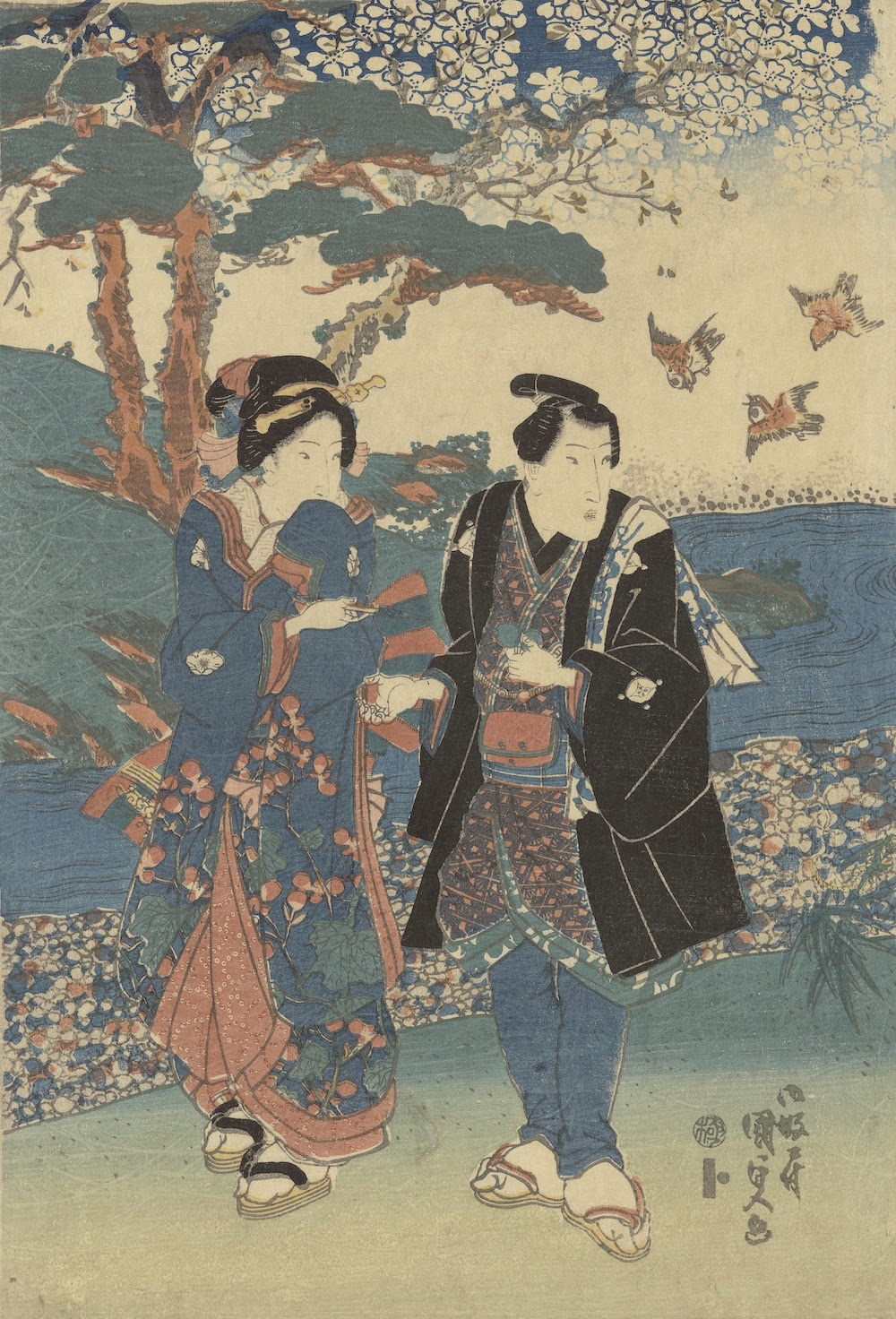 The Van Gogh Museum's selections come from a time of dominance by a few still-acknowledged ukiyo-e masters whose names you'll know, like Katsushika Hokusai and Utagawa (also known as Ando) Hiroshige, the latter of whose work the online collection has 83 pieces currently downloadable. One of them, Goyu from one series of illustrations of notable places and Yokkaichi: The Miegawa River and Nago Bay from another, appear at the top and second from the top. But the Van Gogh Museum has amassed even more work by Utagawa Kunisada, the most prolific and bestselling ukiyo-e artist of the day, whose On the Riverbank, one sheet of a triptych, we have just above.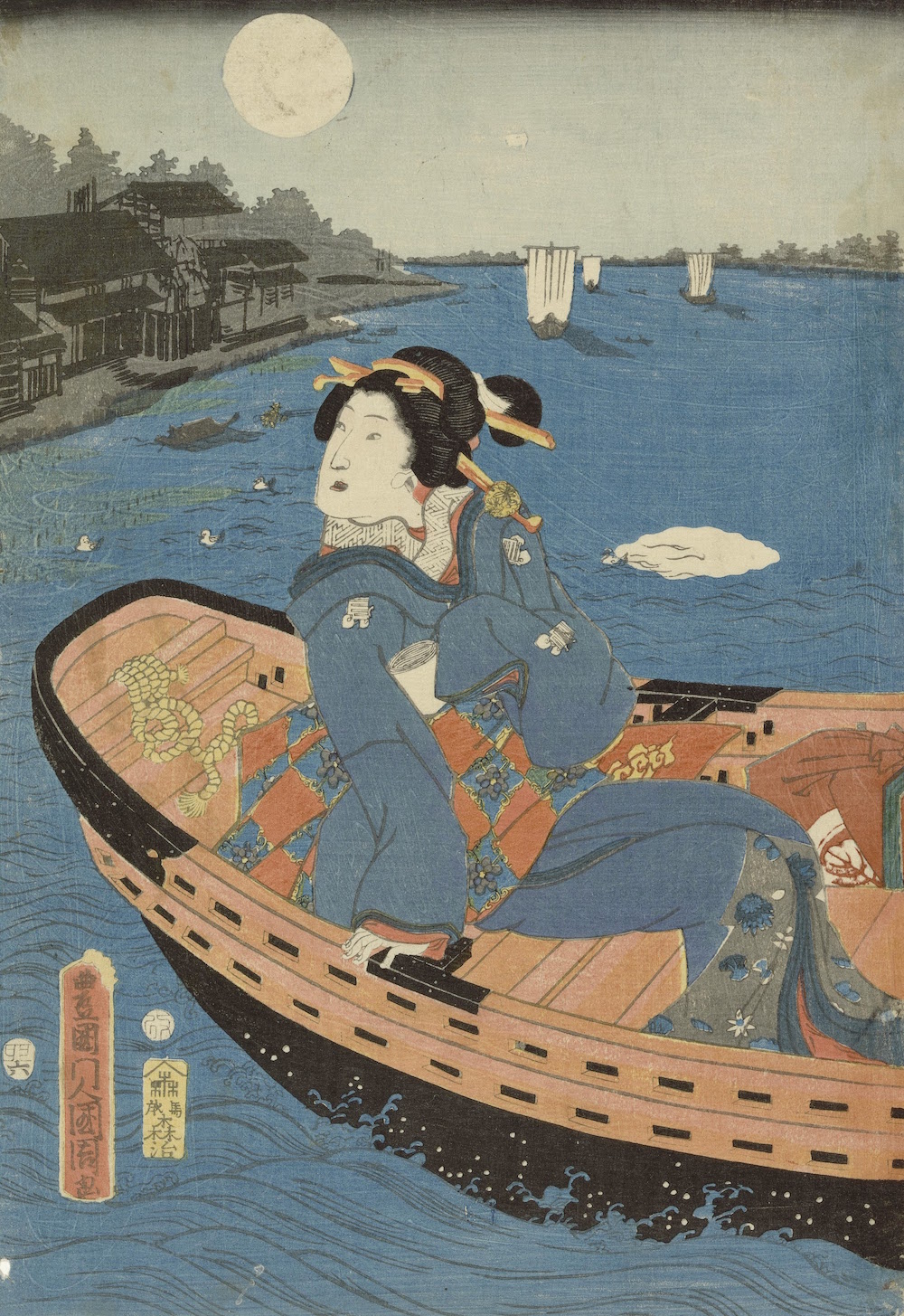 You can download any of the more than 500 pieces in the online collection by these and dozens of other ukiyo-e artists (such as Toyohara Kunichika, whose Illustration of Crossing the Sumida River in the Evening appears just above) by clicking on the down arrow that appears in the lower right when you view an individual image. Having just returned from a trip to Japan a couple weeks ago, I can report that the country has changed dramatically and in many ways from the one Hokusai, Hiroshige, Kunisada and their colleagues captured, but still, some durable part of their aesthetic essence remains. Besides, these prints must even at the time have had something of the elegiac about them, itself an enduring quality of Japanese art. "Even in Kyoto," as the poet Matsuo Masho wrote two centuries before that, "I long for Kyoto."
Related Content:
Hayao Miyazaki's Beloved Characters Reimagined in the Style of 19th-Century Woodblock Prints
A Wonderfully Illustrated 1925 Japanese Edition of Aesop's Fables by Legendary Children's Book Illustrator Takeo Takei
Download Hundreds of Van Gogh Paintings, Sketches & Letters in High Resolution
Based in Seoul, Colin Marshall writes and broadcasts on cities, language, and style. He's at work on a book about Los Angeles, A Los Angeles Primer, the video series The City in Cinema, the crowdfunded journalism project Where Is the City of the Future?, and the Los Angeles Review of Books' Korea Blog. Follow him on Twitter at @colinmarshall or on Facebook.