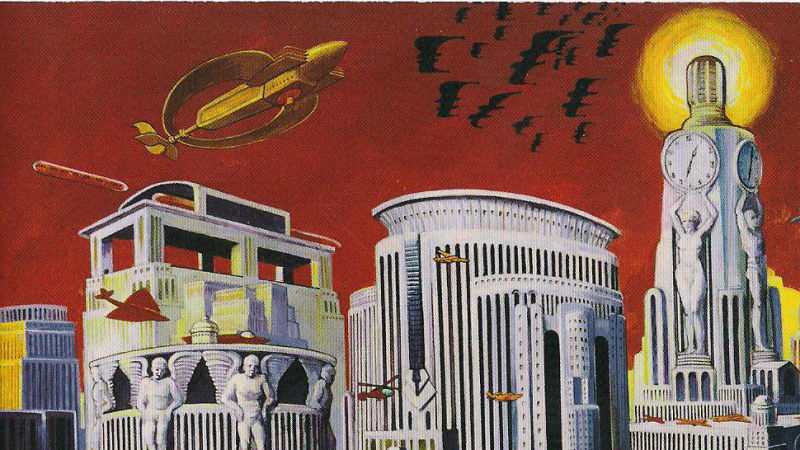 While not all science fiction is dystopian—far from it—a question does arise when the subject of that most pessimistic of genres comes up: is all dystopian literature science fiction? In a post a couple days ago, we brought you five of Anthony Burgess's favorite dystopian novels, a list that would seem to answer with a resounding No. For one thing, Burgess includes what we might count as historical fiction on his list—Norman Mailer's The Naked and the Dead. Is Orwell's 1984 science fiction? It makes more sense, perhaps, to call it political satire, or "speculative fiction," the term dystopian novelist Margaret Atwood prefers.
In the introduction to her essay collection In Other Worlds, Atwood defines "speculative fiction" as "realistic and plausible" whereas science fiction contains more fantastic elements. Hairsplitting maybe, but for Atwood it means that dystopias—at least her dystopias—are not simply philosophical thought experiments divorced from lived reality, like much utopian fiction. They are projections, and at times imaginative transcriptions, of the present, showing us what may already be happening right under our noses, or what might be right around the corner.
As Burgess wrote of 1984, "It is possible to say that the ghastly future Orwell foretold has not come about simply because he foretold it: we were warned in time." In other words—the totalitarian future Orwell foresaw was entirely possible in England and America, and needless to say, already largely a reality in places like Stalin's Soviet Union and current-day North Korea. In our Burgess post, we asked our readers to name their favorite dystopian novels (or films). However we define dystopia—as dark futurist fantasy, sci-fi, or "speculative fiction" about nasty things on the verge of coming to pass, we'll never lack for examples.
The list of novels below below offers a range of futuristic tales, some more realistic and plausible, some more fantastic. Like Burgess, readers had a broad definition of "dystopian" as a genre. I was surprised, however, that no one mentioned any of Atwood's excellent novels, so I'll throw in both Oryx and Crake and The Handmaid's Tale as my picks.
Related Content:
A Clockwork Orange Author Anthony Burgess Lists His Five Favorite Dystopian Novels: Orwell's 1984, Huxley's Island & More
Huxley to Orwell: My Hellish Vision of the Future is Better Than Yours (1949)
Hear Ray Bradbury's Classic Sci-Fi Story Fahrenheit 451 as a Radio Drama
Josh Jones is a writer and musician based in Durham, NC. Follow him at @jdmagness