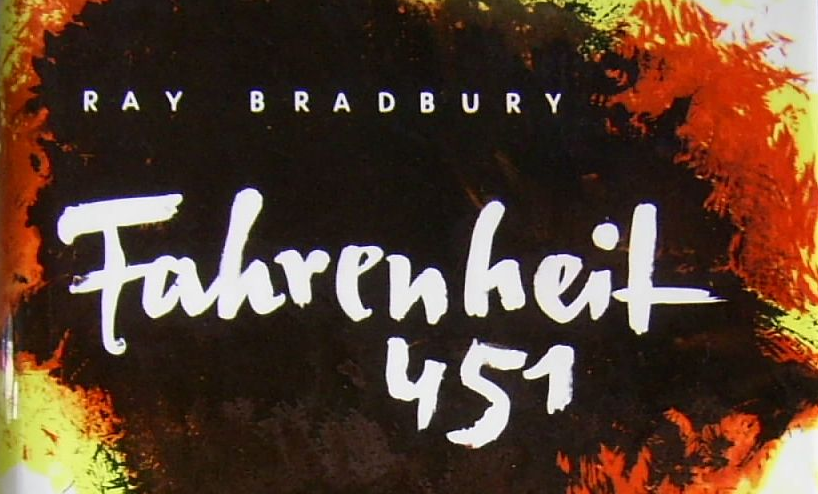 Last week we featured a list of 100 novels all kids should read before graduating from high school. Chosen by 500 English teachers from all over Britain, the list happens to have a lot of overlap with many others like it. Invariably, these kinds of young adult reading lists include Ray Bradbury's novel of dystopian censorship and anti-intellectualism, Fahrenheit 451.  Why, I've always wondered, should this novel be pitched almost exclusively at teenagers, so much so that it seems like one of those books many of us read in high school, then never read again, even if we are fans of Bradbury's work?
A strange disconnect emerges when we look at the history of Bradbury's novel as a teaching tool. Although most high school students are presented with freethinking as an ideal, and given cautionary tales of its suppression, their own educations are just as often highly circumscribed by adults who fret about the effects of various bad influences. As Villanova University journal Compass notes, in a perverse irony, Fahrenheit 451's publisher Ballantine "released an expurgated version of the novel to be used in high schools" in 1967; "Such words as 'hell,' 'damn' and 'abortion' were eliminated."
The expurgations went unnoticed because readers did not compare this version to the original. The copyright page did not indicate any edits. The expurgated version ran for ten printings. At the same time, the authentic "adult" version was sold outside of high schools to the world at large. In 1973, after six years of publishing both editions, the publisher decided to publish only the censored work, so from 1973 to 1979 only that version was sold.
Bradbury himself did not become aware of the censored version until 1979, whereafter he demanded that it be withdrawn and wrote a forceful afterward to the restored, 1980 printing.
Whether, as a student, you read the bowdlerized or the "adult" version of Bradbury's novel, perhaps it's time to revisit Fahrenheit 451, particularly now that freedoms of thought, belief, and expression have again come under intense scrutiny. And in addition to re-reading Bradbury's novel, you can listen to the 1971 radio play above. Produced in Vancouver by the CBC (and re-broadcast in recent years by the Radio Enthusiasts of Puget Sound podcast), the abridged, one-hour adaptation by necessity changes the source material, though for dramatic purposes, not to expressly soften the message. Ray Bradbury's reputation may have been tamed over the decades. He became late in life an avuncular sci-fi master, primarily known as a writer of books for high school students. But at one time, his work—and science fiction in general—were so subversive that the FBI kept close tabs on them.
If you like the Fahrenheit 451 adaptation, you can hear many more Bradbury stories adapted into classic radio plays at our previous post.
Also note: Tim Robbins has narrated a new, unabridged audio version of Fahrenheit 451. It's available via Audible.com. You can get it for free with Audible's 30-day free trial. Get more details on that here.
via SFF
Related Content:
Who Was Afraid of Ray Bradbury & Science Fiction? The FBI, It Turns Out (1959)
Sci-Fi Legend Ray Bradbury Creates a Visionary Plan to Redesign Los Angeles
Ray Bradbury: "The Things That You Love Should Be Things That You Do." "Books Teach Us That"
700 Free Audio Books: Download Great Books for Free
Josh Jones is a writer and musician based in Durham, NC. Follow him at @jdmagness