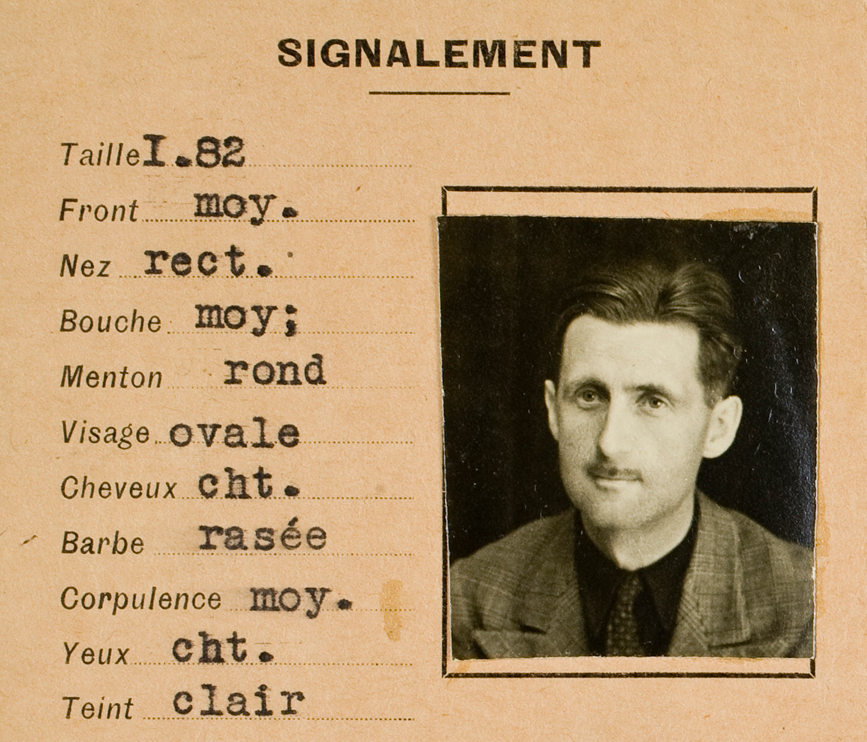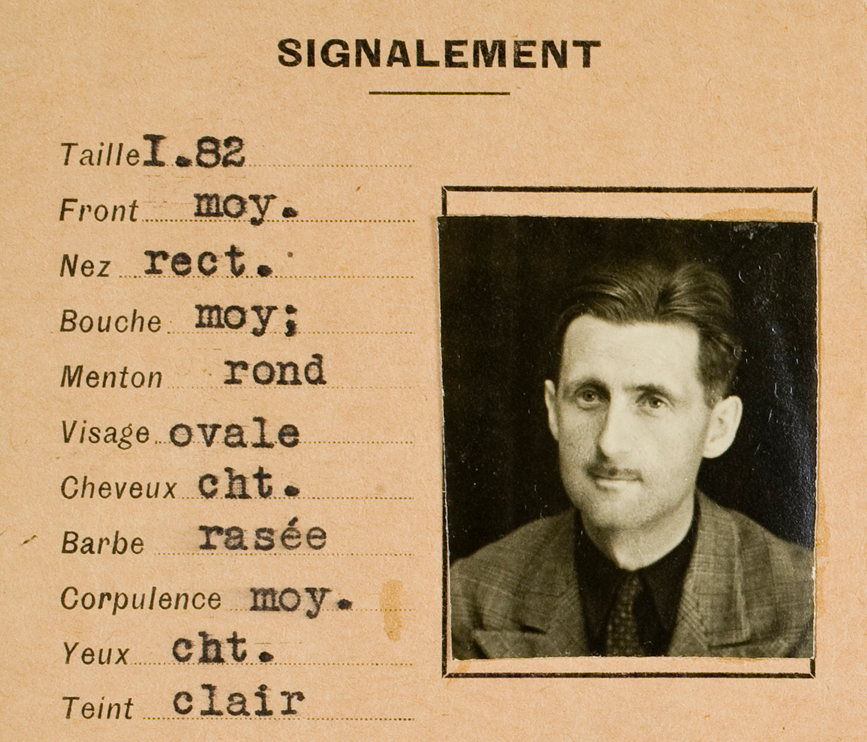 Jour­nal­ist, essay­ist, and nov­el­ist Eric Blair, bet­ter known as George Orwell, has the dis­tinc­tion of writ­ing not just one, but two of the most well-known cau­tion­ary nov­els about total­i­tar­i­an gov­ern­ments: 1984 and Ani­mal Farm. You've like­ly read at least one of them, per­haps both, and you've like­ly seen either or both of the film adap­ta­tions based on these books. Were this the total­i­ty of Orwell's lega­cy, it would sure­ly be secure for many decades to come—and per­haps many hun­dreds of years. Who knows how our descen­dants will remem­ber us; but whether they man­age to ful­ly tran­scend author­i­tar­i­an­ism or still wres­tle with it many gen­er­a­tions lat­er, the name of Orwell may for­ev­er be asso­ci­at­ed with its threat­en­ing rise.
And yet, had Orwell nev­er writ­ten a word of fic­tion­al prose, we would prob­a­bly still invoke his name as an impor­tant jour­nal­is­tic wit­ness to the 20th century's blood­i­est con­flicts over fas­cism. He direct­ly par­tic­i­pat­ed in the Span­ish Civ­il War, fight­ing with the Marx­ist resis­tance group POUM (Par­tido Obrero de Unifi­cación Marx­ista). The hor­rif­ic takeover of Spain by Fran­cis­co Fran­co, with help from Hitler's Luft­waffe, par­al­leled the Nazi's grad­ual takeover of West­ern Europe, and the expe­ri­ence changed not only Orwell's out­look, but that of Euro­peans gen­er­al­ly. As he wrote in his per­son­al account of the war, Homage to Cat­alo­nia, "Peo­ple then had some­thing we haven't got now. They didn't think of the future as some­thing to be ter­ri­fied of…."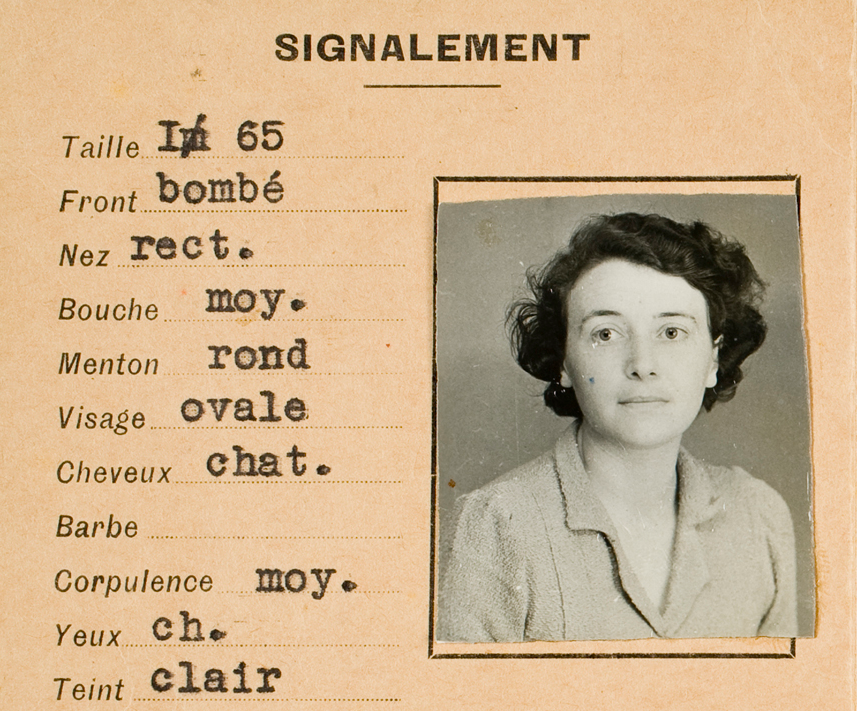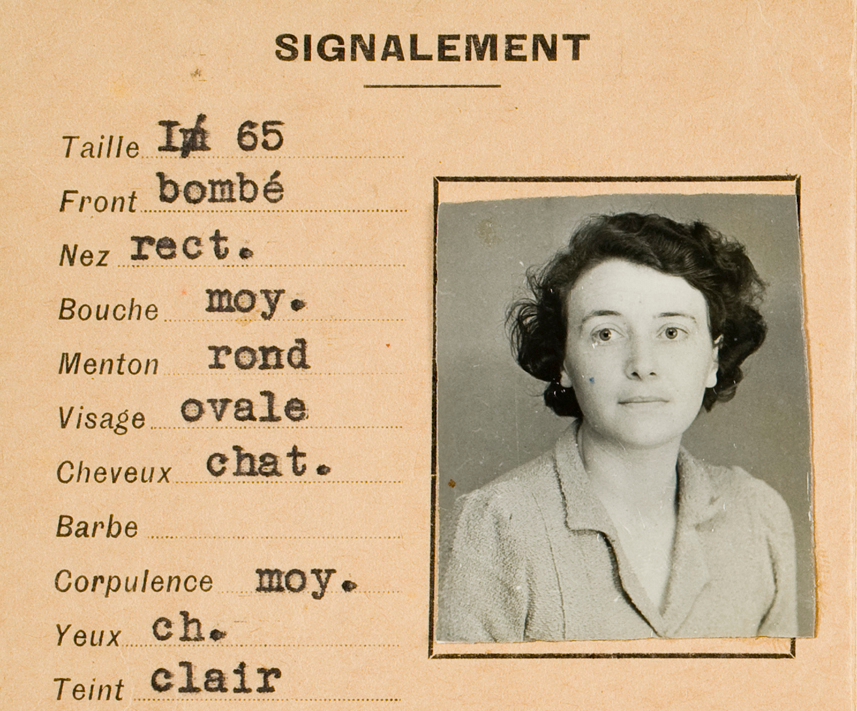 Orwell's tour of duty in Spain end­ed in 1937 when he was shot in the throat; lat­er he and his wife Eileen were charged with "rabid Trot­sky­ism" by pro-Sovi­et Span­ish com­mu­nists. The Orwells retired to Moroc­co to recu­per­ate. There, Orwell began keep­ing a diary, which he main­tained until 1942, chron­i­cling his impres­sions and expe­ri­ences through­out the war years as he and Eileen made their way out of Moroc­co and back to Eng­land. You can fol­low their jour­neys in a Google Maps project here. And you can read all of Orwell's diary entries at the web­site of The Orwell Prize, "Britain's most pres­ti­gious prize for polit­i­cal writ­ing." The Prize site began blog­ging Orwell's entries in 2008—70 years to the day after the first entry—and con­tin­ued in "real time" there­after until 2012.
The first entries reveal lit­tle, show­ing us "a large­ly unknown Orwell, whose great curios­i­ty is focused on plants, ani­mals, wood­work," and oth­er domes­tic con­cerns. Then, from about Sep­tem­ber, 1938 on, we see "the Orwell whose polit­i­cal obser­va­tions and crit­i­cal think­ing have enthralled and inspired gen­er­a­tions since his death in 1950. Whether writ­ing about the Span­ish Civ­il War or sloe gin, gera­ni­ums or Ger­many, Orwell's per­cep­tive eye and rebel­lion against the 'gramo­phone mind' he so despised are obvi­ous." These diaries—post­ed with explana­to­ry footnotes—preserve a keen eye­wit­ness to his­to­ry, one who had been test­ed in war and seen first­hand the dan­ger fas­cism posed. Orwell's expe­ri­ences gave him mate­r­i­al for the nov­els for which we best remem­ber him. And his per­son­al and jour­nal­is­tic accounts give us a grip­ping first­hand por­trait of life under the threat of Nazi vic­to­ry.
Start read­ing Orwell's War Diaries, begin­ning with the last one, at the Orwell Prize site. Along with the diaries them­selves, you'll find con­tex­tu­al arti­cles and an image gallery with scanned clip­pings and doc­u­ments like the 1938 ID cards for George and Eileen Orwell, above.
Orwell's War Diaries will be added to our col­lec­tion, 800 Free eBooks for iPad, Kin­dle & Oth­er Devices.
Relat­ed Con­tent:
George Orwell's Five Great­est Essays (as Select­ed by Pulitzer-Prize Win­ning Colum­nist Michael Hiltzik)
George Orwell Explains in a Reveal­ing 1944 Let­ter Why He'd Write 1984
George Orwell's Final Warn­ing: Don't Let This Night­mare Sit­u­a­tion Hap­pen. It Depends on You!
Clock­work Orange Author Antho­ny Burgess Lists His Five Favorite Dystopi­an Nov­els: Orwell's 1984, Huxley's Island & More
Josh Jones is a writer and musi­cian based in Durham, NC. Fol­low him at @jdmagness