Prince didn't cover a song, he possessed it. He took over its limbs and made it do things it had never done before—dance wildly down the aisles, scream, shout, and fall to the ground. When he covered a song, it got religion the way people only do in the movies. And if you had the privilege to see it happen, you too became a believer in every word and note. As the producer Fafu, a onetime member of his army of players and techs, testified yesterday: "I never saw Prince make a mistake—in anything." It may sound like a musician who fits that description would have to be some kind of robot; Prince was precisely the opposite, the apotheosis of what a human being could do with voice, guitar, and virtually every other instrument.
Unsurprisingly, Prince's all-powerful control over his musicianship extended to most other areas of his life. He "was hard on people," Fafu remembered, "I don't want to paint an ugly picture, but he was tough. You wanted to please daddy." He was equally hard on people who disseminated his recordings and performances in unauthorized ways. But in at least one case, Radiohead's Thom Yorke fought back, forcing Prince to unblock access to Youtube footage of his 2008 Coachella version of "Creep." And wow, are we glad he did. See it above (especially poignant is his gospel delivery of the line, "you just want to have controoool."), and be reborn.
Prince reminds us that every hard rock ballad since the early '80s owes him a royalty check, and that just one of his screams, one of his explosive guitar fills, even one of his pregnant pauses, had more power and beauty in it than some entire albums. Prince didn't have to want to be special. He just was.
As I shared yesterday, he was without a doubt the most incredible live performer I have ever experienced, so much so that I generally prefer his live recordings—bootlegged or otherwise—to his studio stuff. Millions of people feel likewise, and thanks to one fan, we have the full audio of that headlining Coachella show. Hear it all here (and see the setlist further down)—the ridiculously catchy funk/soul hits, the between-song inspirational patter, the soaring, snarling guitar solos, and the covers: including "Creep," "Come Together," Sarah Mclachlan's "Angel," songs by Santana, The Time, Sheila E., and, no kidding, The B-52's "Rock Lobster."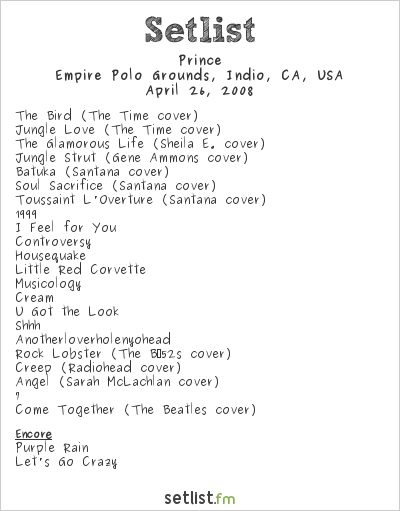 Related Content:
See Prince (RIP) Play Mind-Blowing Guitar Solos On "While My Guitar Gently Weeps" and "American Woman"
Prince (RIP) Performs Early Hits in a 1982 Concert: "Controversy," "I Wanna Be Your Lover" & More   
Josh Jones is a writer and musician based in Durham, NC. Follow him at @jdmagness