Keep copy­ing those Sun­day fun­nies, kids, and one day you may beat Al Jaf­fee's record to become the Longest Work­ing Car­toon­ist in His­to­ry.
You'll need to take extra good care of your health, giv­en that the Guin­ness Book of World Records noti­fied Jaf­fee, above, of his hon­orif­ic on his 95th birth­day.
Much of his leg­endary career has been spent at Mad Mag­a­zine, where he is best known as the father of Fold-ins.
Con­ceived of as the satir­i­cal inverse of the expen­sive-to-pro­duce, 4‑color cen­ter­folds that were a sta­ple of glossier mags, the first Fold-In spoofed pub­lic per­cep­tion of actress Eliz­a­beth Tay­lor as a man-eater. Jaffe had fig­ured it as a one-issue gag, but edi­tor Al Feld­stein had oth­er ideas, demand­ing an imme­di­ate fol­low up for the June 1964 issue.
Jaffe oblig­ed with the Richard Nixon Fold-in, which set the tone for the oth­er 450 he has hand ren­dered in sub­se­quent issues.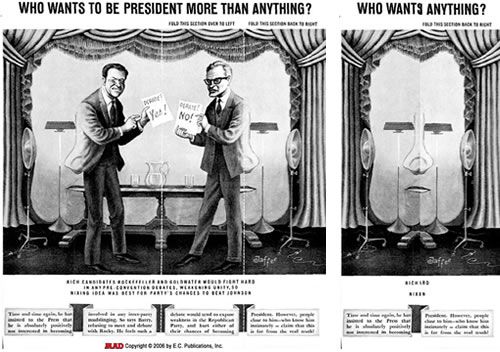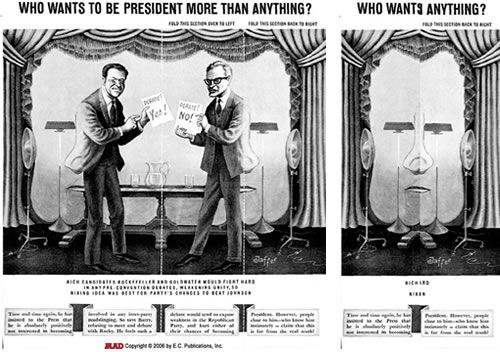 For those who made it to adult­hood with­out the sin­gu­lar plea­sure of creas­ing Mad's back cov­er, you can dig­i­tal­ly fold-in a few sam­ples using this nifty inter­ac­tive fea­ture, cour­tesy of The New York Times.
With all due respect, it's not the same, just enough to give a feel for the thrill of draw­ing the out­er­most pan­el in to reveal the visu­al punch­line lurk­ing with­in the larg­er pic­ture. The print edi­tion demands pre­ci­sion fold­ing on the reader's part, if one is to get a sat­is­fac­to­ry answer to the rhetor­i­cal text posed at the out­set.
Jaffe must be even more pre­cise in his cal­cu­la­tions. In an inter­view with Sean Edgar of Paste Mag­a­zine, he described how he turned a Repub­li­can pri­ma­ry stage shared by Nel­son Rock­e­feller and Bar­ry Gold­wa­ter into a sur­prise por­trait of the man who would become pres­i­dent five years hence:
The first thing I did was draw Richard Nixon's face, not in great detail, just a very rough estab­lish­ment of where the eyes, nose and mouth would be, and the gen­er­al shape. I did an exag­ger­at­ed car­i­ca­ture of Nixon and then I cut it in half, and moved it apart. Once the face was cut in half, it didn't have the integri­ty of a face any­more — it was sort of a half of face. Then I looked at what the eyes were like, and I said, 'what can I make out of the eyes?' He had these heavy eye­brows. I played around with many things, but I had to keep in mind all the time what the big pic­ture was. So there they (Gold­wa­ter and Rock­e­feller) were up on a stage some­where, doing a debate, and I thought, 'What kind of stage prop can I put along­side these guys that would seem nat­ur­al there?' I decid­ed that I could make eyes out of the lamps, and as far as the nose was con­cerned, that could come out of the fig­ures — their cloth­ing. Then I fig­ured the mouth; I could use some sort of table that could give me those two sides. That's how it all came about. You have to have some kind of visu­al imag­i­na­tion to see the pos­si­bil­i­ties. I had to con­cen­trate on stuff that looked nat­ur­al on a stage.
Each Fold-In is a reflec­tion of the zeit­geist. Past pre­oc­cu­pa­tions have includ­ed Viet­nam, fem­i­nism, ille­gal drug use and, more recent­ly, the Jer­sey Shore.
via Gothamist
Relat­ed Con­tent:
A Gallery of Mad Magazine's Rol­lick­ing Fake Adver­tise­ments from the 1960s
Watch Mad Magazine's Edgy, Nev­er-Aired TV Spe­cial (1974)
A Look Inside Char­lie Heb­do, Their Cre­ative Process & the Mak­ing of a Fate­ful Car­toon
Chuck Jones' 9 Rules For Draw­ing Road Run­ner Car­toons, or How to Cre­ate a Min­i­mal­ist Mas­ter­piece
Car­toon­ists Draw Their Famous Car­toon Char­ac­ters While Blind­fold­ed (1947)
Ayun Hal­l­i­day is an author, illus­tra­tor, and Chief Pri­ma­tol­o­gist of the East Vil­lage Inky zine. Fol­low her @AyunHalliday