Since Prince's death in April, writers have been trying to sum up a life lived that was both very private and yet also felt like it existed in our DNA. Much like Bowie, the Prince we knew was the one we shared and we saw and we sang. So how to get that life into a 24 page comic book?
Released June 7th on Prince's birthday, Tribute: Prince is a primer on the musician's life and passing written by Michael L. Frizell and illustrated by Spanish artist Ernesto Lovera. The comic actually dates from 2013, when it was released as Fame: Prince, but Italian illustrator Vincenzo Sansone has concluded the story of his life with three extra pages now added to the tale, which alludes to Prince's opioid use, his demanding schedule, and the public reaction to his passing.
Frizell starts the tale from a fan's perspective, as a teen girl in 1984, secretly enjoying his music, hiding the fact from her parents. The story then jumps back to Prince's childhood, his struggle to get a recording contract, and his explosive fame. Readers will spot numerous allusions to Prince's lyrics in the text, as well. Frizell has also written issues of Tribute about David Bowie and Motley Crüe, and said in a promo statement, "The subjects of [Prince's] songs spoke to me in ways I didn't understand until I was older, but the dark poetry of them compelled me to keep listening. To this day, my iPod is full of his work and I listen to it as I write."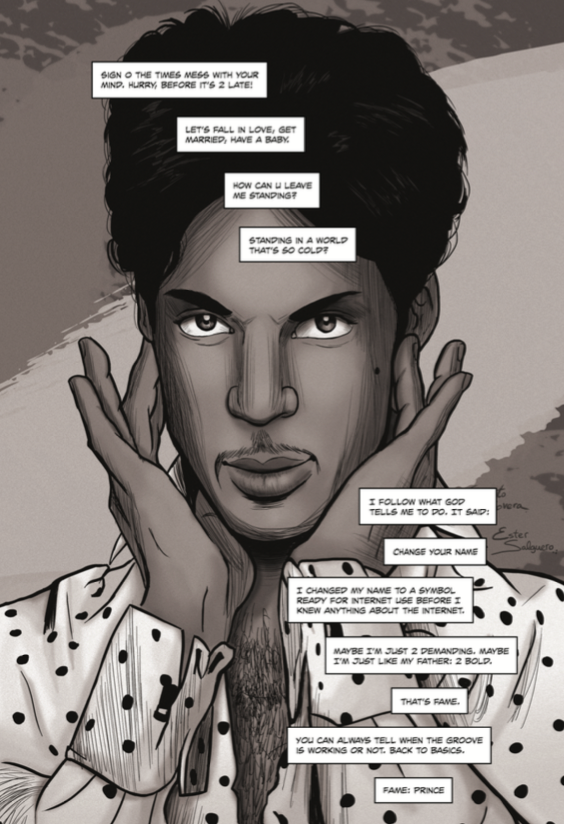 The single issue comic is available online and in stores and comes with three different covers by David Frizell, Vincenzo Sansone, and Pablo Martinena. It runs $3 or $4. If you have Kindle Unlimited plan, you can get it for free.
Related content:
See Prince (RIP) Play Mind-Blowing Guitar Solos On "While My Guitar Gently Weeps" and "American Woman"
Hear Amanda Palmer's Cover of "Purple Rain," a Gorgeous Stringfelt Send-Off to Prince
Prince (RIP) Performs Early Hits in a 1982 Concert: "Controversy," "I Wanna Be Your Lover" & More
Ted Mills is a freelance writer on the arts who currently hosts the artist interview-based FunkZone Podcast. You can also follow him on Twitter at @tedmills, read his other arts writing at tedmills.com and/or watch his films here.