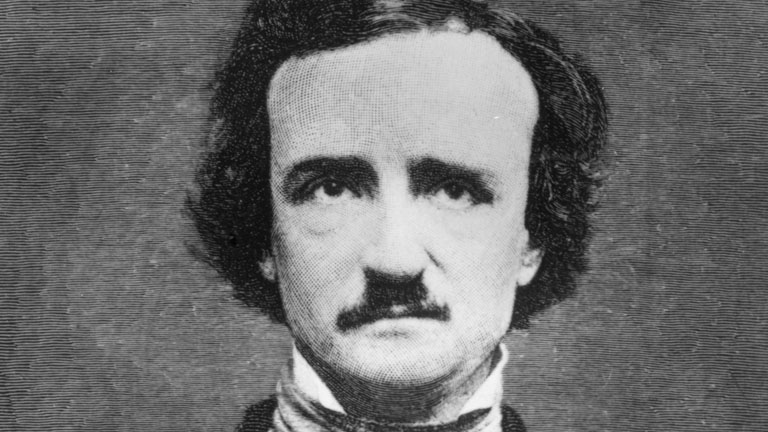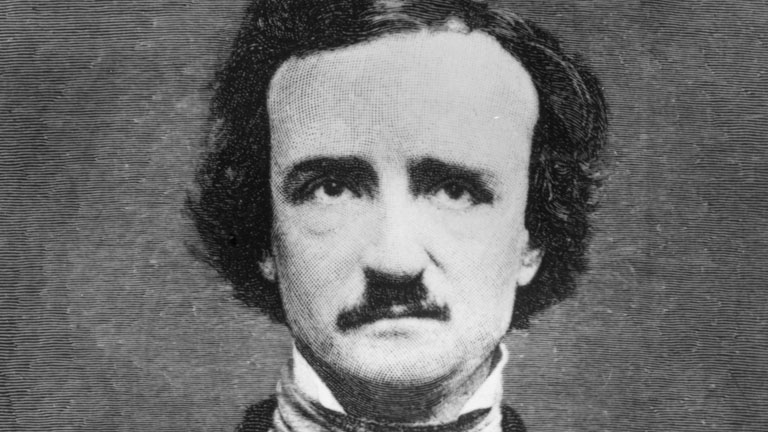 Edgar Allan Poe: any­one with an inter­est in scary stories—and not just scary, but deeply, whole-oth­er-lev­el scary stories—quickly learns the name. Pre­sum­ably they also learn the prop­er spelling of the name: "Allan" with two As, not "Allen" with an E. But despite using the incor­rect lat­ter, the good peo­ple at Spo­ti­fy have still man­aged to craft the most expan­sive Poeian playlist cur­rent­ly avail­able on the inter­net, whose four­teen hours con­sti­tute "the essen­tial Poe lis­ten­ing expe­ri­ence, from vin­tage radio ver­sions to con­tem­po­rary read­ings." (If you don't have Spo­ti­fy's free soft­ware, down­load it here.)
Though he com­posed his entire body of work in the first half of the nine­teenth cen­tu­ry, Poe lives on, for those who like their cock­tails of mys­tery and the macabre with a long-last­ing (and long-trou­bling) psy­cho­log­i­cal after­taste, as the sto­ry­teller to beat. As impres­sive a num­ber of his writ­ings—"The Tell-Tale Heart," "The Fall of the House of Ush­er," "The Cask of Amon­til­la­do," and "The Pit and the Pen­du­lum"—have tak­en a per­ma­nent place in not just the Amer­i­can but human con­scious­ness, none have attained as much uni­ver­sal­i­ty as "The Raven," the poem of lone­li­ness and the super­nat­ur­al which jus­ti­fi­ably begins the playlist.
Giv­en its sheer length, Spo­ti­fy's Essen­tial Edgar Allen Allan Poe does­n't just play the hits: even avowed Poe appre­ci­a­tors will like­ly hear a few intrigu­ing lit­er­ary B‑sides they nev­er have before. They'll cer­tain­ly hear more than a few pro­duc­tions and inter­pre­ta­tions of their favorite pieces from the Poe canon. The playlist would also make a fine, if intense, intro­duc­tion for those who have yet set­tled in with the work of the man who defined mod­ern psy­cho­log­i­cal hor­ror. If you crave more afterward—and get­ting his read­er­ship hooked ranked not least among Poe's concerns—do delve into the copi­ous amount of Poe mate­r­i­al we've pre­vi­ous­ly fea­tured here on Open Cul­ture, a few selec­tions from which appear below. You'll find it all endur­ing­ly and dread­ful­ly com­pelling, no mat­ter how you spell its author's name.
The "Essen­tial Edgar Allan Poe" Playlist will be added to our col­lec­tion, 1,000 Free Audio Books: Down­load Great Books for Free.
Relat­ed Con­tent:
Down­load The Com­plete Works of Edgar Allan Poe: Macabre Sto­ries as Free eBooks & Audio Books
5 Hours of Edgar Allan Poe Sto­ries Read by Vin­cent Price & Basil Rath­bone
Edgar Allan Poe's "The Raven," Read by Christo­pher Walken, Vin­cent Price, and Christo­pher Lee
Iggy Pop, Deb­bie Har­ry, Jeff Buck­ley & Oth­er Celebs Read Tales by Edgar Allan Poe
William S. Bur­roughs Reads Edgar Allan Poe's "The Masque of the Red Death"
Hear Orson Welles Read Edgar Allan Poe on a Cult Clas­sic Album by The Alan Par­sons Project
Edgar Allan Poe Ani­mat­ed: Watch Four Ani­ma­tions of Clas­sic Poe Sto­ries
Based in Seoul, Col­in Mar­shall writes and broad­casts on cities and cul­ture. He's at work on a book about Los Ange­les, A Los Ange­les Primer, the video series The City in Cin­e­ma, the crowd­fund­ed jour­nal­ism project Where Is the City of the Future?, and the Los Ange­les Review of Books' Korea Blog. Fol­low him on Twit­ter at @colinmarshall or on Face­book.