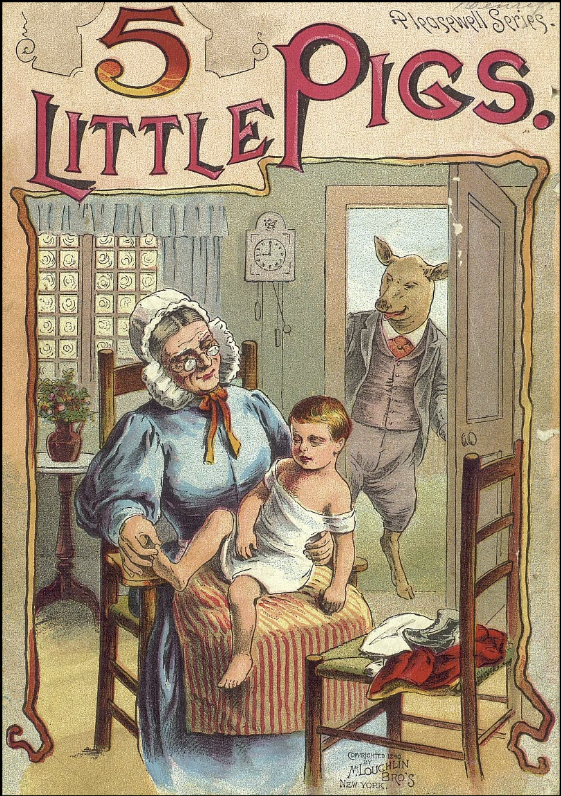 We can learn much about how a his­tor­i­cal peri­od viewed the abil­i­ties of its chil­dren by study­ing its chil­dren's lit­er­a­ture. Occu­py­ing a space some­where between the pure­ly didac­tic and the non­sen­si­cal, most children's books pub­lished in the past few hun­dred years have attempt­ed to find a line between the two poles, seek­ing a bal­ance between enter­tain­ment and instruc­tion. How­ev­er, that line seems to move clos­er to one pole or anoth­er depend­ing on the pre­vail­ing cul­tur­al sen­ti­ments of the time. And the very fact that children's books were hard­ly pub­lished at all before the ear­ly 18th cen­tu­ry tells us a lot about when and how mod­ern ideas of child­hood as a sep­a­rate cat­e­go­ry of exis­tence began.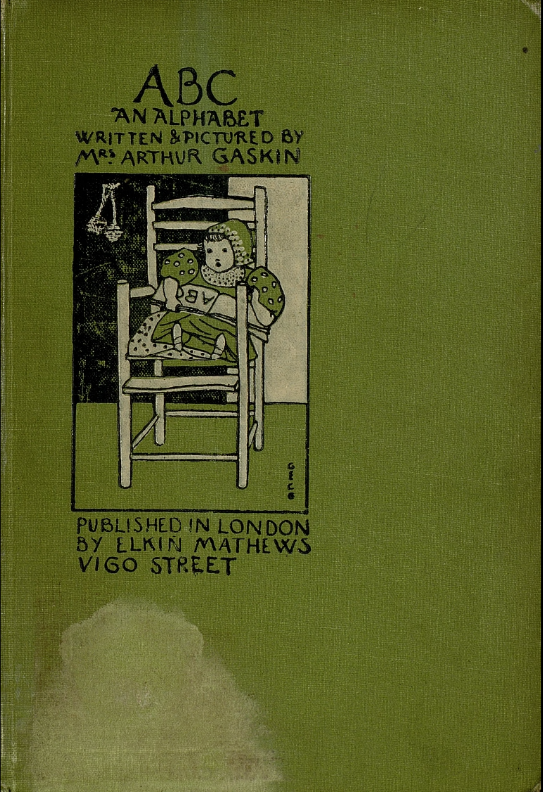 "By the end of the 18th cen­tu­ry," writes New­cas­tle Uni­ver­si­ty pro­fes­sor M.O. Gren­by, "children's lit­er­a­ture was a flour­ish­ing, sep­a­rate and secure part of the pub­lish­ing indus­try in Britain." The trend accel­er­at­ed rapid­ly and has nev­er ceased—children's and young adult books now dri­ve sales in pub­lish­ing (with 80% of YA books bought by grown-ups for them­selves).
Gren­by notes that "the rea­sons for this sud­den rise of children's lit­er­a­ture" and its rapid expan­sion into a boom­ing mar­ket by the ear­ly 1800s "have nev­er been ful­ly explained." We are free to spec­u­late about the social and ped­a­gog­i­cal winds that pushed this his­tor­i­cal change.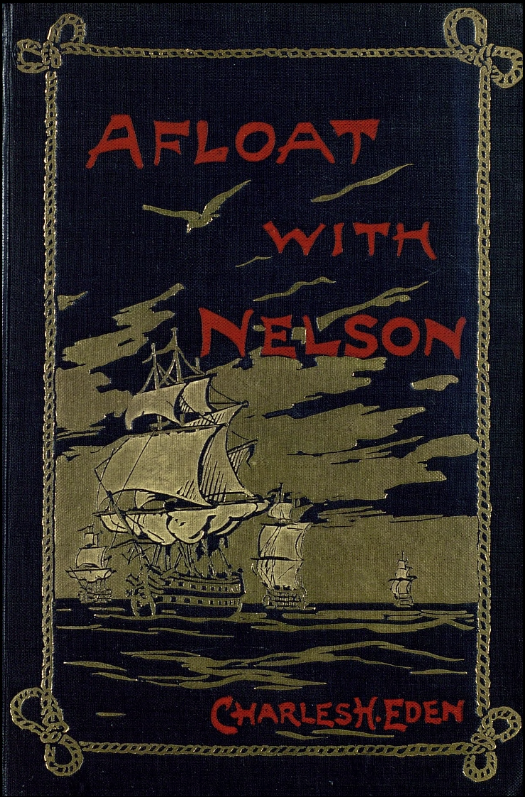 Or we might do so, at least, by exam­in­ing the children's lit­er­a­ture of the Vic­to­ri­an era, per­haps the most inno­v­a­tive and diverse peri­od for children's lit­er­a­ture thus far by the stan­dards of the time. And we can do so most thor­ough­ly by sur­vey­ing the thou­sands of mid- to late 19th cen­tu­ry titles at the Uni­ver­si­ty of Florida's Bald­win Library of His­tor­i­cal Children's Lit­er­a­ture. Their dig­i­tized col­lec­tion cur­rent­ly holds over 6,000 books free to read online from cov­er to cov­er, allow­ing you to get a sense of what adults in Britain and the U.S. want­ed chil­dren to know and believe.
Sev­er­al gen­res flour­ished at the time: reli­gious instruc­tion, nat­u­ral­ly, but also lan­guage and spelling books, fairy tales, codes of con­duct, and, espe­cial­ly, adven­ture stories—pre-Hardy Boys and Nan­cy Drew exam­ples of what we would call young adult fic­tion, these pub­lished prin­ci­pal­ly for boys. Adven­ture sto­ries offered a (very colo­nial­ist) view of the wide world; in series like the Boston-pub­lished Zig Zag and Eng­lish books like Afloat with Nel­son, both from the 1890s, fact min­gled with fic­tion, nat­ur­al his­to­ry and sci­ence with bat­tle and trav­el accounts. But there is anoth­er dis­tinc­tive strain in the children's lit­er­a­ture of the time, one which to us—but not nec­es­sar­i­ly to the Victorians—would seem con­trary to the impe­ri­al­ist young adult nov­el.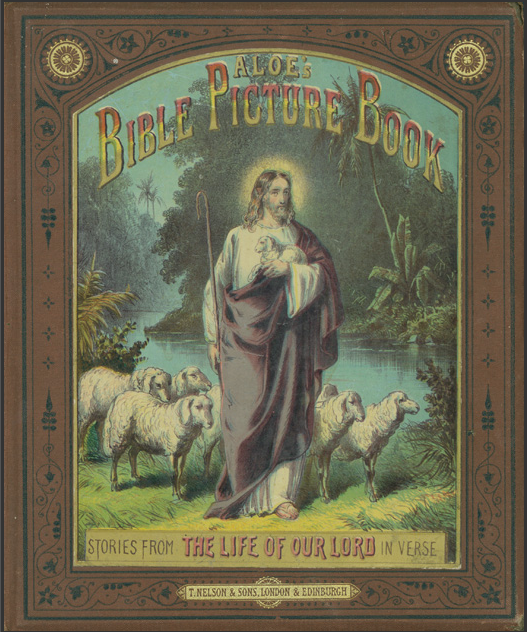 For most Vic­to­ri­an stu­dents and read­ers, poet­ry was a dai­ly part of life, and it was a cen­tral instruc­tion­al and sto­ry­telling form in children's lit. The A.L.O.E.'s Bible Pic­ture Book from 1871, above, presents "Sto­ries from the Life of Our Lord in Verse," writ­ten "sim­ply for the Lord's lambs, rhymes more read­i­ly than prose attract­ing the atten­tion of chil­dren, and fas­ten­ing them­selves on their mem­o­ries." Chil­dren and adults reg­u­lar­ly mem­o­rized poet­ry, after all. Yet after the explo­sion in children's pub­lish­ing the for­mer read­ers were often giv­en infe­ri­or exam­ples of it. The author of the Bible Pic­ture Book admits as much, beg­ging the indul­gence of old­er read­ers in the pref­ace for "defects in my work," giv­en that "the vers­es were made for the pic­tures, not the pic­tures for the vers­es."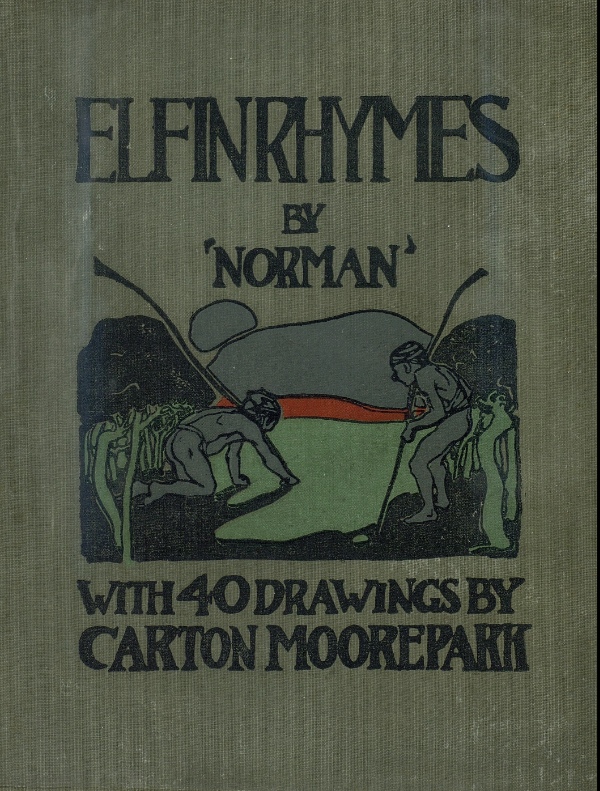 This is not an author, or per­haps a type of lit­er­a­ture, one might sus­pect, that thinks high­ly of children's aes­thet­ic sen­si­bil­i­ties. We find pre­cise­ly the oppo­site to be the case in the won­der­ful Elfin Rhymes from 1900, writ­ten by the mys­te­ri­ous "Nor­man" with "40 draw­ings by Car­ton Moorepark." Who­ev­er "Nor­man" may be (or why his one-word name appears in quo­ta­tion marks), he gives his read­ers poems that might be mis­tak­en at first glance for unpub­lished Christi­na Ros­set­ti vers­es; and Mr. Moorepark's illus­tra­tions rival those of the finest book illus­tra­tors of the time, pre­sag­ing the high qual­i­ty of Calde­cott Medal-win­ning books of lat­er decades. Elfin Rhymes seems like a rare odd­i­ty, like­ly pub­lished in a small print run; the care and atten­tion of its lay­out and design shows a very high opin­ion of its read­ers' imag­i­na­tive capa­bil­i­ties.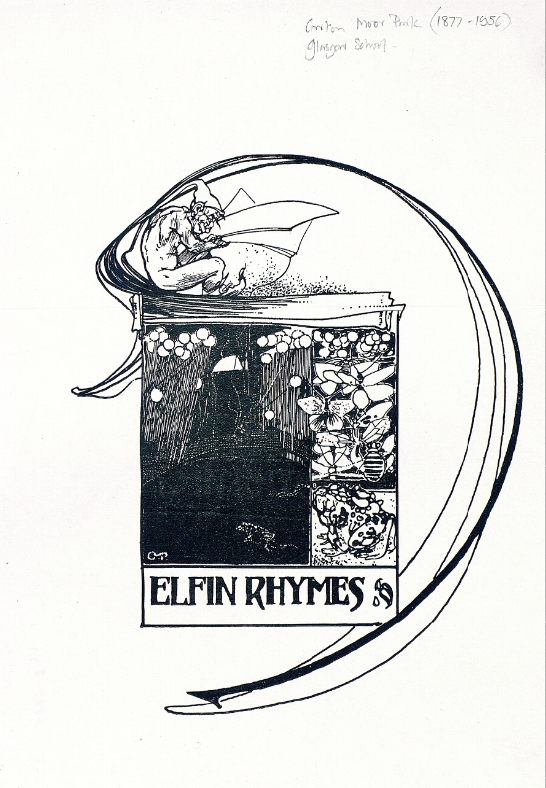 This title is rep­re­sen­ta­tive of an emerg­ing genre of late Vic­to­ri­an children's lit­er­a­ture, which still tend­ed on the whole, as it does now, to fall into the trite and for­mu­la­ic. Elfin Rhymes sits astride the fan­ta­sy boom at the turn of the cen­tu­ry, her­ald­ed by huge­ly pop­u­lar books like Frank L. Baum's Wiz­ard of Oz series and J.M. Barrie's Peter Pan. These, the Har­ry Pot­ters of their day, made mil­lions of young peo­ple pas­sion­ate read­ers of mod­ern fairy tales, rep­re­sent­ing a slide even fur­ther away from the once quite nar­row, "remorse­less­ly instruc­tion­al… or deeply pious" cat­e­gories avail­able in ear­ly writ­ing for chil­dren, as Gren­by points out.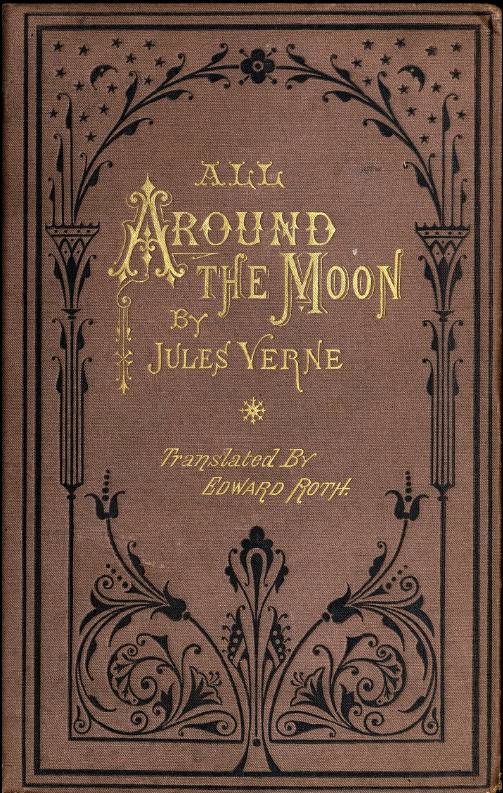 Where the bound­aries for kids' lit­er­a­ture had once been nar­row­ly fixed by Latin gram­mar books and Pilgrim's Progress, by the end of the 19th cen­tu­ry, the influ­ence of sci­ence fic­tion like Jules Verne's, and of pop­u­lar super­nat­ur­al tales and poems, pre­pared the ground for com­ic books, YA dystopias, magi­cian fic­tion, and dozens of oth­er children's lit­er­a­ture gen­res we now take for grant­ed, or—in increas­ing­ly large numbers—we buy to read for our­selves. Enter the Bald­win Library of His­tor­i­cal Children's Lit­er­a­ture here, where you can browse sev­er­al cat­e­gories, search for sub­jects, authors, titles, etc, see full-screen, zoomable images of book cov­ers, down­load XML ver­sions, and read all of the over 6,000 books in the col­lec­tion with com­fort­able read­er views. Find more clas­sics in our col­lec­tion, 800 Free eBooks for iPad, Kin­dle & Oth­er Devices.
Relat­ed Con­tent:
The First Children's Pic­ture Book, 1658's Orbis Sen­su­al­i­um Pic­tus
The Anti-Slav­ery Alpha­bet: 1846 Book Teach­es Kids the ABCs of Slavery's Evils
The Inter­na­tion­al Children's Dig­i­tal Library Offers Free eBooks for Kids in Over 40 Lan­guages
Josh Jones is a writer and musi­cian based in Durham, NC. Fol­low him at @jdmagness