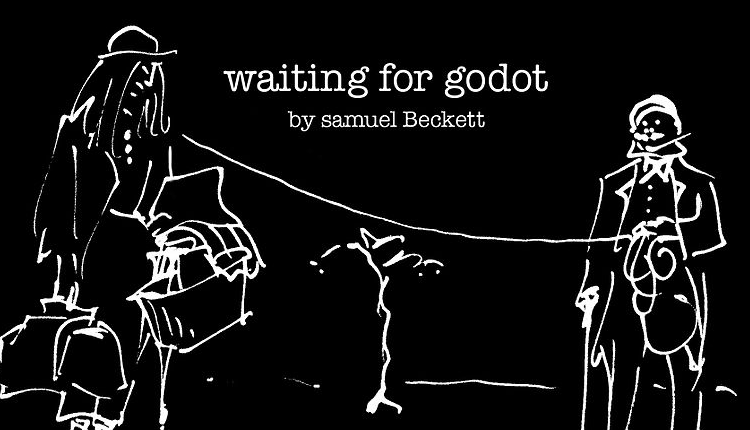 Image by Fewskul­chor, via Wiki­me­dia Com­mons
You may not know the name Bert Lahr, but you know his most beloved role: the Cow­ard­ly Lion in The Wiz­ard of Oz. And while you may not have an inti­mate famil­iar­i­ty with Wait­ing for Godot, either Samuel Beck­et­t's script or any of the count­less sub­tle vari­a­tions in its pro­duc­tions on stage, you cer­tain­ly know that it has chal­lenged many an actor look­ing to shore up his avant-garde cre­den­tials. Lahr turns out to have stood at the van­guard of this phe­nom­e­non in Amer­i­ca: sev­en­teen years after his suc­cess in Oz but well before word of Godot had spread far beyond Europe, he played Estragon at Miami's Coconut Grove Play­house. It billed this piece of min­i­mal­ist exis­ten­tial­ism as "the laugh sen­sa­tion of two con­ti­nents" — a bit of absur­di­ty itself some­how actu­al­ly wor­thy of Beck­ett.
"The play was not so much a laugh riot as a rev­o­lu­tion in the­atri­cal sto­ry­telling; inevitably, it was met with mil­i­tant incom­pre­hen­sion," writes Lahr's son, New York­er dra­ma crit­ic John Lahr. "On open­ing night, half the audi­ence walked out after the first act; the next day, there was a line at the box office—to return tick­ets." He remem­bers his father's strug­gle with the next, "the curi­ous con­tra­dic­tion between his colos­sal inse­cu­ri­ty about the mean­ing of the words that he strug­gled to learn and his adamant con­vic­tion of the emo­tion­al truth of the com­e­dy con­tained in those per­plex­ing words." He also remem­bers what came after that dis­as­trous Mia­mi pre­miere: "the thrill of the re-staged Broad­way pro­duc­tion lat­er that year, and Dad's pro­found sat­is­fac­tion at his suc­cès d'estime in New York."
You can hear a record­ing of this tri­umphant ver­sion of the Lahr-star­ring Godot, with tele­vi­sion star E.G. Mar­shall as Vladimir and famed Vien­nese the­ater direc­tor Her­bert Berghof at the helm) on Spo­ti­fy. If you don't have Spo­ti­fy's free soft­ware, you can down­load it here, or you can lis­ten to the play at the Inter­net Archive. (It's also stream­able above.) "The 1956 pro­duc­tion of Godot was Mr. Lahr's show all the way," writes Ter­ry Tea­chout, lis­ten­ing again to the record­ing, "and to hear it now is to bog­gle at his seem­ing­ly infi­nite com­ic resource­ful­ness. He whines, he whim­pers, he chor­tles, he grunts, giv­ing each line pre­cise­ly the right fla­vor. Yet nev­er for a moment does his clown­ing con­ceal the play's under­ly­ing pathos, and when­ev­er he opens his mouth, it's always Beck­ett, not Bert Lahr, that you hear."
This record­ing will be added to our col­lec­tion, 1,000 Free Audio Books: Down­load Great Books for Free.
Relat­ed Con­tent:
Samuel Beck­ett Directs His Absur­dist Play Wait­ing for Godot (1985)
Comics Inspired by Wait­ing For Godot, Fea­tur­ing Tintin, Roz Chast, and Beav­is & Butthead
Mon­ster­piece The­ater Presents Wait­ing for Elmo, Calls BS on Samuel Beck­ett
The Great Gats­by and Wait­ing for Godot: The Video Game Edi­tions
Based in Seoul, Col­in Mar­shall writes and broad­casts on cities and cul­ture. He's at work on a book about Los Ange­les, A Los Ange­les Primer, the video series The City in Cin­e­ma, the crowd­fund­ed jour­nal­ism project Where Is the City of the Future?, and the Los Ange­les Review of Books' Korea Blog. Fol­low him on Twit­ter at @colinmarshall or on Face­book.