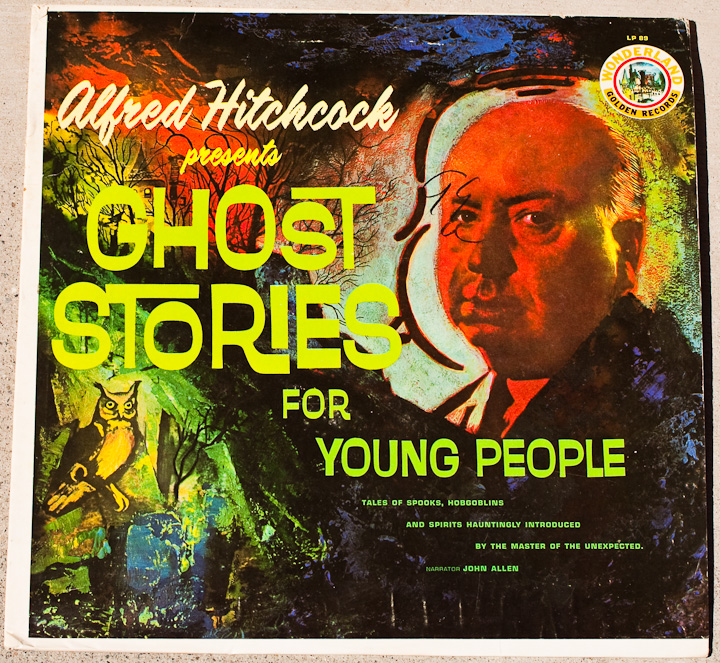 "Now of course, the best way to lis­ten to ghost sto­ries is with the lights out," says the inim­itable Alfred Hitch­cock, as he intro­duces his 1962 vinyl release Alfred Hitch­cock Presents: Ghost Sto­ries for Young Peo­ple. "There is noth­ing like a dark room to attract ghosts and you may like to have some of our mutu­al friends come and lis­ten with you."
Just in time for Hal­loween, we are shin­ing a flick­er­ing light on this album, released once before on CD and now on Spo­ti­fy. (You can also find it on YouTube.) It will either take lis­ten­ers back to when they were kids, or fright­en a new gen­er­a­tion of young ones for the first time.
Though Hitchcock's films toyed with spir­its-—Rebec­ca and Ver­ti­go among them-—he nev­er real­ly made straight up mon­ster movies or ghost sto­ries. (Psy­cho and The Birds are the clos­est he ever got.) But once he became a tele­vi­sion host and per­son­al­i­ty in the 1950s, his mis­chie­vous char­ac­ter and his macabre voice made him a nat­ur­al to present all sorts of ghoul­ish antholo­gies, result­ing in numer­ous paper­backs and hard­backs, most of which he had lit­tle to do with but sim­ply bore his name as a stamp of fright­en­ing author­i­ty.
And even before that, Hitch­cock was putting his name to short sus­pense sto­ry col­lec­tions, and a mys­tery mag­a­zine that was start­ed in 1956 and con­tin­ues to this day. We talk about him as one of the best film direc­tors of all time, but he was also a one-man sus­pense and ter­ror indus­try in his day, a can­ny cre­ator who knew the worth of licens­ing his name.
Of the six sto­ries here, the two giv­en writer's cred­it are "Jim­my Takes Van­ish­ing Lessons" by Wal­ter R. Brooks (a chil­dren's author who cre­at­ed the talk­ing horse char­ac­ter Mr. Ed) and "The Open Win­dow" by Edwar­dian writer Saki.
Judg­ing from the YouTube com­ments for the crack­ly record­ing post­ed there, these sto­ries have haunt­ed these lis­ten­ers since their child­hood. Kids these days might pre­fer a dish of creep­y­pas­ta, but there's no deny­ing the pow­er of a voice, creepy music, and sud­den sound effects, all deliv­ered by way of headphones…with the lights off.
Relat­ed Con­tent:
Down­load Issues of "Weird Tales" (1923–1954): The Pio­neer­ing Pulp Hor­ror Mag­a­zine Fea­tures Orig­i­nal Sto­ries by Love­craft, Brad­bury & Many More
Stephen King's Top 10 All-Time Favorite Books
Alfred Hitchcock's Rules for Watch­ing Psy­cho (1960)
Ted Mills is a free­lance writer on the arts who cur­rent­ly hosts the FunkZone Pod­cast. You can also fol­low him on Twit­ter at @tedmills, read his oth­er arts writ­ing at tedmills.com and/or watch his films here.