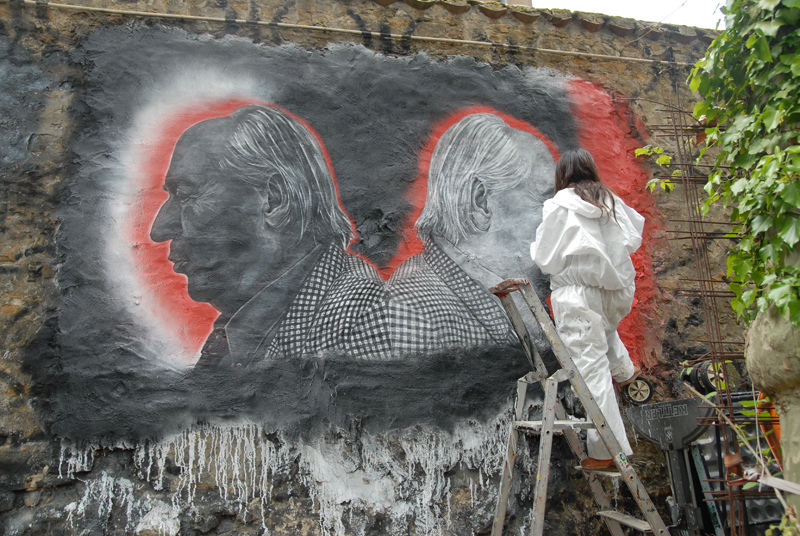 Image by Thier­ry Erhmann via Wiki­me­dia Com­mons
"This enor­mous nov­el we're liv­ing inside thrives on sen­sa­tion," J.G. Bal­lard once said. "It needs sen­sa­tion to sus­tain itself." The author of nov­els like High-Rise, Crash, and Empire of the Sun knew how to deliv­er a cer­tain kind of tex­tu­al sen­sa­tion, and he often under­scored (as first evi­denced by his exper­i­men­tal text col­lages) that he pos­sessed a com­mand of visu­al sen­sa­tion as well. Bal­lard's use of son­ic sen­sa­tion has tak­en longer to gain a wide appre­ci­a­tion, but the BBC has fur­thered that cause with two new radio dra­mas adapt­ing his sto­ries "Track 12" and "Venus Smiles."
These pro­duc­tions debuted togeth­er this past week­end on "Between Bal­lard's Ears," an episode of the pro­gram Between the Ears, which for twen­ty years has show­cased "inno­v­a­tive and thought-pro­vok­ing fea­tures that make adven­tur­ous use of sound and explore a wide vari­ety of sub­jects." They both make use of a tech­nol­o­gy called bin­au­r­al audio, sound record­ed just as humans hear it. The process involves an arti­fi­cial head with micro­phones embed­ded in each ear, the indus­try-stan­dard mod­el of which comes from a com­pa­ny called Neu­mann. (You can see a gallery of the cast and crew of "Between Bal­lard's Ears" using, and hang­ing out with, their own Neu­mann head here.)
All this has the effect of putting you, the head­phone-wear­ing radio-dra­ma lis­ten­er, right into not just the set­ting of the sto­ry but into the very head of the char­ac­ter — in the case of J.G. Bal­lard, as any of his fans know, a trou­bling place indeed. We hear 1958's "Track 12" from with­in the head of Maxted, a for­mer ath­lete turned com­pa­ny man invit­ed over to the home of Sher­ing­ham, the bio­chem­istry pro­fes­sor he's been cuck­old­ing. Sher­ing­ham sits Maxted, and us, down to lis­ten to his great­ly slowed and ampli­fied "microson­ic" record­ings of cells divid­ing and pins drop­ping. We won­der, as Maxted won­ders, when the inevitable con­fronta­tion will come, though none of us can fore­see what form Sher­ing­ham's revenge will take.
"Venus Smiles," which Bal­lard first wrote in 1957 and rewrote in 1971, takes place in his fic­tion­al desert resort town of Ver­mil­lion Sands. This sto­ry opens with the instal­la­tion of a new piece of pub­lic art, a "musi­cal sculp­ture" that makes me think of the Tri­fo­ri­um in Los Ange­les. But unlike the lone­ly Tri­fo­ri­um, neglect­ed and ignored for most of its his­to­ry, this sculp­ture caus­es pan­de­mo­ni­um from day one, pip­ing out quar­ter-tone com­po­si­tions pleas­ing to the ears of the Mid­dle East, but appar­ent­ly not to those of Ver­mil­lion Sands. When one com­mis­sion­er trans­plants the hat­ed sculp­ture to his back­yard, it reveals its true nature: much more com­pli­cat­ed than that of a big music box, and much more inter­est­ing to hear besides. As much as the bin­au­r­al pro­duc­tion will make you feel like you're stand­ing right there beside it, Bal­lard makes you feel relieved, as the sto­ry goes on, that you're actu­al­ly not.
Relat­ed Con­tent:
The Very First Film of J.G. Ballard's Crash, Star­ring Bal­lard Him­self (1971)
Sci-Fi Author J.G. Bal­lard Pre­dicts the Rise of Social Media (1977)
J.G. Ballard's Exper­i­men­tal Text Col­lages: His 1958 For­ay into Avant-Garde Lit­er­a­ture
Based in Seoul, Col­in Mar­shall writes and broad­casts on cities and cul­ture. He's at work on a book about Los Ange­les, A Los Ange­les Primer, the video series The City in Cin­e­ma, the crowd­fund­ed jour­nal­ism project Where Is the City of the Future?, and the Los Ange­les Review of Books' Korea Blog. Fol­low him on Twit­ter at @colinmarshall or on Face­book.