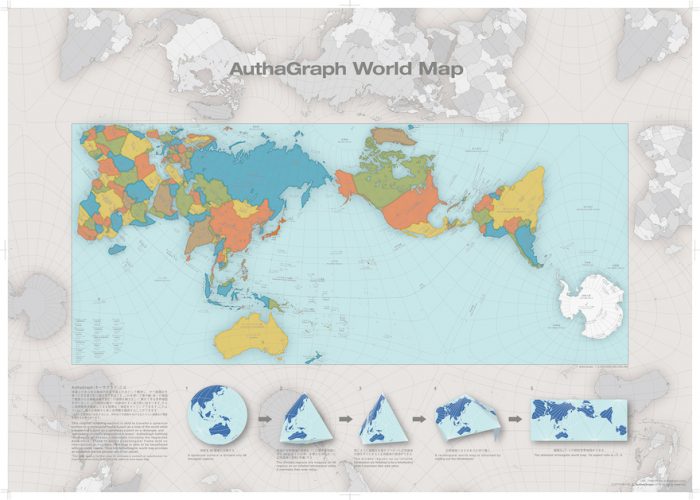 "The world is not an illu­sion," said Alfred Korzbys­ki, "it is an abstrac­tion." You may know Korzbys­ki for anoth­er famous max­im, "the map is not the ter­ri­to­ry." Jorge Luis Borges took this idea to its most absurd lengths by imag­in­ing in his sto­ry "On Exac­ti­tude in Sci­ence" a map that cor­re­spond­ed in size and scale at every point with the ter­ri­to­ry. Borges, wrote Col­in Mar­shall in a pre­vi­ous Open Cul­ture post, "illus­trat­ed the idea that all maps are wrong by imag­in­ing the pre­pos­ter­ous­ness of a tru­ly cor­rect one."
That obser­va­tion occurs in the con­text of a video from Vox that explains why it is math­e­mat­i­cal­ly impos­si­ble to cre­ate a com­plete­ly accu­rate flat world map at any scale.
We must abstract; "the sur­face of a sphere can­not be rep­re­sent­ed as a plane with­out some form of dis­tor­tion," and so car­tog­ra­phers use a tech­nique called "pro­jec­tion." The design map­mak­ers have most pop­u­lar­ly used dates to 1569, from a cylin­dri­cal pro­jec­tion by Flem­ish car­tog­ra­ph­er Ger­ar­dus Mer­ca­tor.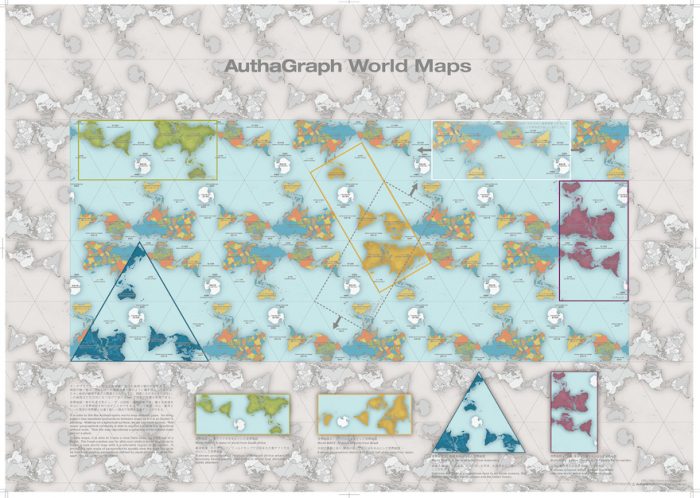 For either cul­tur­al or nav­i­ga­tion­al rea­sons, this huge­ly dis­tort­ed map inflates the size of Europe and North Amer­i­ca and makes Green­land and Africa rough­ly the same size. A long over­due update, the Peters Pro­jec­tion from 1973, improved the Mercator's accu­ra­cy, but at the cost of leg­i­bil­i­ty and pro­por­tion.
But last year, archi­tect and artist Hajime Narukawa of Keio University's Grad­u­ate School of Media and Gov­er­nance in Tokyo solved these prob­lems with his Autha­Graph World Map, at the top, which won Japan's Good Design Grand Award, beat­ing out "over 1000 entries in a vari­ety of cat­e­gories," writes Men­tal Floss. You can view it in a larg­er for­mat here.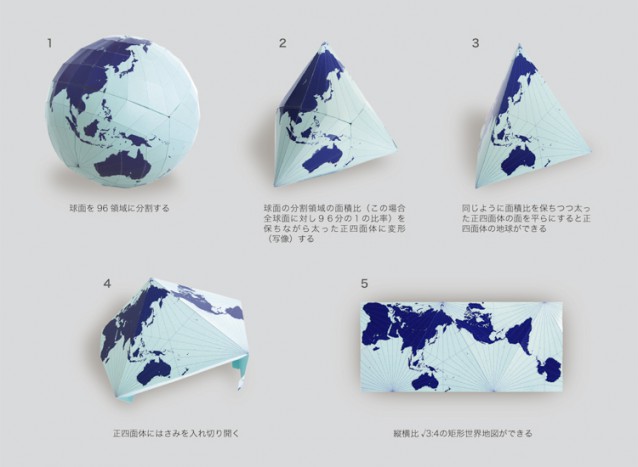 Instead of abstract­ing the globe into a cylin­der, then a plane, as the Mer­ca­tor Pro­jec­tion did, the Autha­Graph turns the earth into a tetra­he­dron, which then unfolds in any num­ber of ways, as you can see fur­ther up, and "can be tes­sel­lat­ed just like an MC Esch­er paint­ing… much in the same way that we can tra­verse the plan­et with­out ever com­ing to an end." Rather than one focal point—the North Atlantic in Mercator's case—nearly any place around the earth can be at the cen­ter. Ver­sions of the map are already being used in Japan­ese text­books, and you can pur­chase a poster or buy a paper kit that allows you to unfold your own globe-to-tetra­he­dron-to-rec­tan­gle map (see above).
The video above from Pon­der explains the Autha­Graph design, which is not—and could nev­er be—100% math­e­mat­i­cal­ly accu­rate, but can, Narukawa writes, with "a fur­ther step" in its sub­di­vi­sions "be offi­cial­ly called an equal-area map." The con­cept was impor­tant to him because of the urgent rel­e­vance of glob­al­ist think­ing. As he points out, writes Japan­ese design blog Spoon & Tam­a­go, "A large bulk of the 20th cen­tu­ry was dom­i­nat­ed by an empha­sis on East and West rela­tions. But with issues like cli­mate change, melt­ing glac­i­ers in Green­land and ter­ri­to­r­i­al sea claims, it's time we estab­lish a new view of the world." Those in the cen­ters of East­ern and West­ern pow­er ignore the rest of the world at every­one's per­il. It may help to have a much more equi­table way to visu­al­ize our shared plan­et.
Note: Sev­er­al read­ers men­tioned that this map seems obvi­ous­ly influ­enced by Buck­min­ster Fuller's Dymax­ion map. We have since writ­ten a sep­a­rate post on that. Find it here.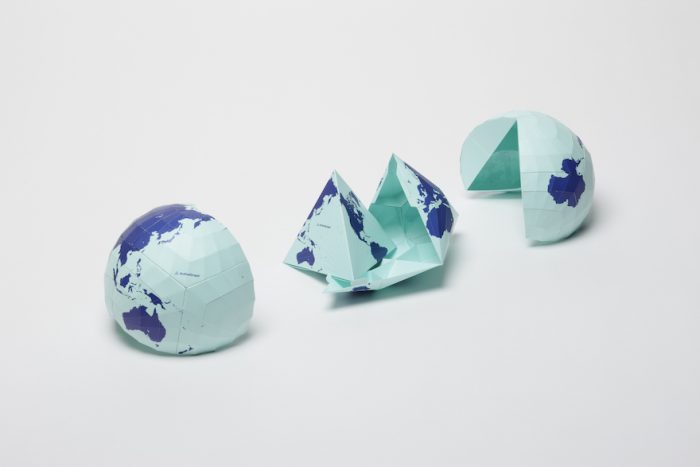 Relat­ed Con­tent:
Why Mak­ing Accu­rate World Maps Is Math­e­mat­i­cal­ly Impos­si­ble
Down­load 67,000 His­toric Maps (in High Res­o­lu­tion) from the Won­der­ful David Rum­sey Map Col­lec­tion
Browse & Down­load 1,198 Free High Res­o­lu­tion Maps of U.S. Nation­al Parks
Josh Jones is a writer and musi­cian based in Durham, NC. Fol­low him at @jdmagness