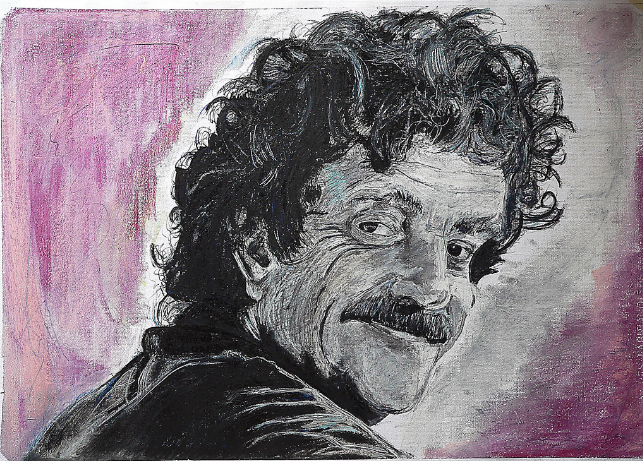 Image by Daniele Prati, via Flickr Com­mons
Many writ­ers recoil at the notion of dis­cussing where they get their ideas, but Kurt Von­negut spoke on the sub­ject will­ing­ly. "I get my ideas from dreams," he announced ear­ly in one speech, adding, "the wildest dream I have had so far is about The New York­er mag­a­zine." In this dream, "the mag­a­zine has pub­lished a three-part essay by Jonathan Schell which proves that life on Earth is about to end. I am sup­posed to go to the largest Goth­ic cathe­dral in the world, where all the peo­ple are wait­ing, and say some­thing won­der­ful — right before a hydro­gen bomb is dropped on the Empire State Build­ing."
It stands to rea­son that a such a vivid, fright­en­ing, and some­how fun­ny sce­nario would unfold in the uncon­scious mind of a man who wrote such vivid, fright­en­ing, and some­how fun­ny nov­els. (Von­negut's own inter­pre­ta­tion? "I con­sid­er myself an impor­tant writer, and I think The New York­er should be ashamed that it has nev­er pub­lished me.") As it hap­pens, he did deliv­er these words in a cathe­dral, name­ly New York City's Cathe­dral of St. John the Divine in the spring of 1982.
This was just months after Schel­l's three-part essay "The Fate of the Earth" (all three parts of it still avail­able online) real­ly ran in The New York­er, and Cold War fears about the prob­a­bil­i­ty of a hydro­gen bomb real­ly drop­ping on Amer­i­ca ran high. Von­negut's speech was one of a series of Sun­day ser­mons the Cathe­dral had lined up on the sub­ject of nuclear dis­ar­ma­ment, assem­bling the rest of the ros­ter from mil­i­tary, sci­en­tif­ic, and activist fields. The author of Cat's Cra­dle, Slaugh­ter­house-Five, and Break­fast of Cham­pi­ons—fresh off a trip to the Gala­pa­gos Islands with the St. John the Divine's Bish­op Paul Moore—presumably rep­re­sent­ed the realm of let­ters.
"At the time, NYPR Archives Direc­tor Andy Lanset cov­ered the Von­negut ser­mon as a vol­un­teer for the WNYC News Depart­ment," wrote WNY­C's William Rod­ney Allen in 2014 on the redis­cov­ery and post­ing of Lanset's record­ing. (The same pub­lic radio sta­tion, inci­den­tal­ly, would fif­teen or so years lat­er com­mis­sion Von­negut for a series of reports from the after­life.) Now we can not only read but also hear Von­negut, in his own voice, try­ing to imag­ine aloud a series of "fates worse than death." Why? Not sim­ply to indulge his famous sense of gal­lows humor, but in order to put the nuclear threat, and the anx­i­eties it gen­er­at­ed, into the prop­er con­text.
"I am sure you are sick and tired of hear­ing how all liv­ing things siz­zle and pop inside a radioac­tive fire­ball," Von­negut says, going on to assure his audi­ence that "sci­en­tists, for all their cre­ativ­i­ty, will nev­er dis­cov­er a method for mak­ing peo­ple dead­er than dead. So if some of you are wor­ried about being hydro­gen-bombed, you are mere­ly fear­ing death. There is noth­ing new in that. If there weren't any hydro­gen bombs, death would still be after you."
In any event, despite hav­ing shuf­fled through sev­er­al can­di­dates ("Life with­out petro­le­um?"), Von­negut can come up with no fate believ­ably worse than death besides cru­ci­fix­ion. But giv­en that non-cru­ci­fied human beings near­ly always and every­where pre­fer life to death, per­haps "we might pray to be res­cued from our inven­tive­ness" which gave us the abil­i­ty to destroy all life on Earth. But "the inven­tive­ness which we so regret now may also be giv­ing us, along with the rock­ets and war­heads, the means to achieve what has hith­er­to been an impos­si­bil­i­ty, the uni­ty of mankind."
Von­negut sees this promise main­ly in tele­vi­sion, whose ter­ri­bly real­is­tic sounds and images ensure that "the peo­ple of every indus­tri­al­ized nation are nau­se­at­ed by war by the time they are ten years old." A vet­er­an of the Sec­ond World War, he him­self remem­bers a very dif­fer­ent time, back when "it used to be nec­es­sary for a young sol­dier to get into fight­ing before he became dis­il­lu­sioned about war," back when "it was unusu­al for an Amer­i­can, or a per­son of any nation­al­i­ty, for that mat­ter, to know much about for­eign­ers."
Even before the 1980s, "thanks to mod­ern com­mu­ni­ca­tions, we have seen sights and heard sounds from vir­tu­al­ly every square mile of the land mass on this plan­et," and so "know for cer­tain that there are no poten­tial human ene­mies any­where who are any­thing but human beings almost exact­ly like our­selves. They need food. How amaz­ing. They love their chil­dren. How amaz­ing. They obey their lead­ers. How amaz­ing. They think like their neigh­bors. How amaz­ing."
Mod­ern com­mu­ni­ca­tions have, of course, come aston­ish­ing­ly far in the 35 years since Von­negut's Sun­day ser­mon, but our fears about nuclear anni­hi­la­tion have had a way of resur­fac­ing. In recent months, the Amer­i­can peo­ple have even heard talk of a rein­vig­o­rat­ed nuclear arms race from their new pres­i­dent, a man whose rise detrac­tors part­ly blame on mod­ern com­mu­ni­ca­tion tech­nol­o­gy — not a lack of it, but an excess.
"The glob­al vil­lage that was once the inter­net has been replaced by dig­i­tal islands of iso­la­tion that are drift­ing fur­ther apart each day," writes Mostafa M. El-Bermawy in a Wired piece on the threat social-media "fil­ter bub­bles" pose to democ­ra­cy. "We need to remind our­selves that there are humans on the oth­er side of the screen who want to be heard and can think and feel like us while at the same time reach­ing dif­fer­ent con­clu­sions." Recent devel­op­ments would prob­a­bly dis­ap­point Von­negut (not that they would sur­prise him), but he'd sure­ly get a kick, as he always did, out of the irony of it all.
Relat­ed Con­tent:
Kurt Von­negut: Where Do I Get My Ideas From? My Dis­gust with Civ­i­liza­tion
In 1988, Kurt Von­negut Writes a Let­ter to Peo­ple Liv­ing in 2088, Giv­ing 7 Pieces of Advice
22-Year-Old P.O.W. Kurt Von­negut Writes Home from World War II: "I'll Be Damned If It Was Worth It"
Hear Kurt Von­negut Vis­it the After­life & Inter­view Dead His­tor­i­cal Fig­ures: Isaac New­ton, Adolf Hitler, Eugene Debs & More (Audio, 1998)
Bene­dict Cum­ber­batch Reads Kurt Vonnegut's Incensed Let­ter to the High School That Burned Slaugh­ter­house-Five
Based in Seoul, Col­in Mar­shall writes and broad­casts on cities and cul­ture. He's at work on a book about Los Ange­les, A Los Ange­les Primer, the video series The City in Cin­e­ma, the crowd­fund­ed jour­nal­ism project Where Is the City of the Future?, and the Los Ange­les Review of Books' Korea Blog. Fol­low him on Twit­ter at @colinmarshall or on Face­book.