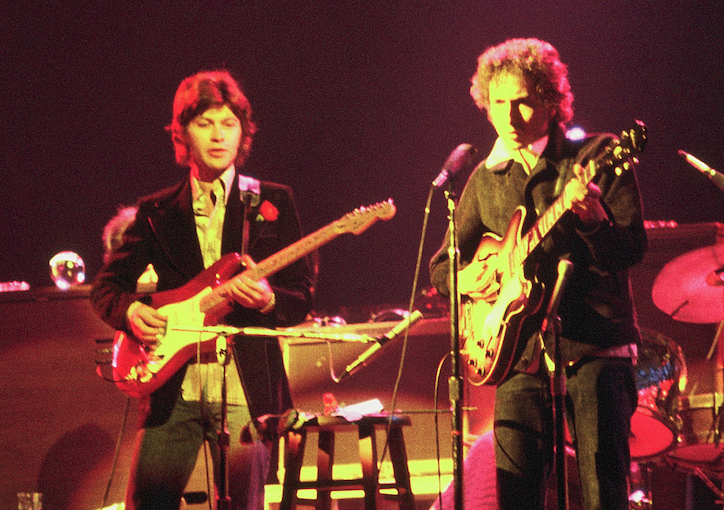 Image of Robertson (left) and Bob Dylan (right) by Jim Summaria, via Wikimedia Commons
A quick heads up: Marc Maron released this week a long, probing and quite excellent interview with The Band's Robbie Robertson. The conversation gives you:
the full lowdown on the history of The Band, from its origins as a backing group to its final bow with The Last Waltz. Robbie talks about being with Bob Dylan when he went electric and dealing with the blowback of that, and he explains how he came to have such a great working relationship with Martin Scorsese on many of the director's films.
You can stream the interview below. It's worth listening to Maron's impassioned monologue. But if you want to skip straight to the interview itself, then jump to the 15 minute mark.
Robertson recently published a new memoir called Testimony, and I should point out that you can download it as a free audiobook if you take part in Audible.com's 30 day free trial program. Get details on Audible's free trial here.
If you would like to sign up for Open Culture's free email newsletter, please find it here.
If you would like to support the mission of Open Culture, consider making a donation to our site. It's hard to rely 100% on ads, and your contributions will help us continue providing the best free cultural and educational materials to learners everywhere. You can contribute through PayPal, Patreon, Venmo (@openculture) and Crypto. Thanks!
Related Content:
Watch The Band Play "The Weight," "Up On Cripple Creek" and More in Rare 1970 Concert Footage
Martin Scorsese Captures Levon Helm and The Band Performing "The Weight" in The Last Waltz
Jeff Bridges Narrates a Brief History of Bob Dylan's Basement Tapes