You can try to dis­man­tle your e‑reader, but you can't unscrew an eBook. Despite hav­ing cast his artis­tic mind, as did his fel­low 20th-cen­tu­ry Ital­ian Futur­ists, force­ful­ly into the world to come, could For­tu­na­to Depero have imag­ined that such a ques­tion would arise in the 21st? The Trenti­no-born painter, writer, sculp­tor, and graph­ic design­er, led a high­ly cre­ative life, pro­duc­ing no work more endur­ing than the instant­ly rec­og­niz­able Cam­pari Soda bot­tle. But just last year, a group of enthu­si­asts suc­cess­ful­ly raised more than $250,000 on Kick­starter to bring back into print Deper­o's sec­ond-best-known cre­ation: Depero Futur­ista, also known as "The Bolt­ed Book."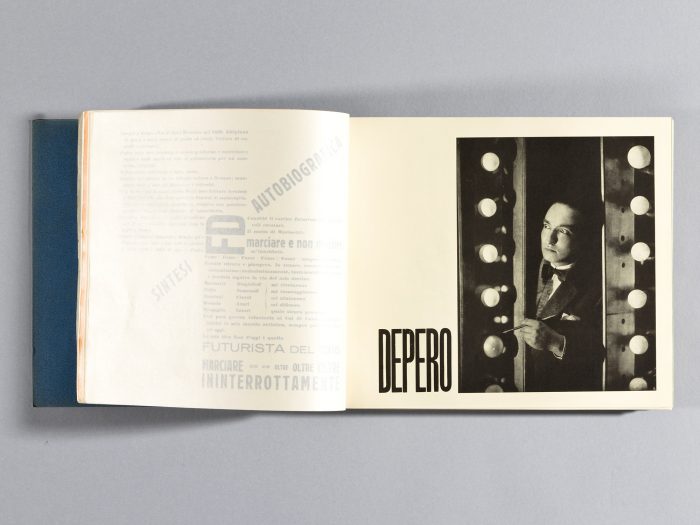 Designed by Depero as "a kind of portable muse­um or call­ing card, a port­fo­lio of his career to date — includ­ing paint­ings, sculp­tures, tex­tile and archi­tec­tur­al designs, the­ater and adver­tis­ing work, word­plays, man­i­festoes, and reviews he received in many dif­fer­ent lan­guages," Depero Futur­ista, as described by the reprint pro­jec­t's web site, also shows off his "skills as a design­er and typo­graph­i­cal wiz­ard."
These impress as much in 2017 as they must have at the time of the book's first pub­li­ca­tion nine­ty years ago in Milan, and the bind­ing method remains as dis­tinc­tive: "Com­pris­ing 240 pages, the book is secured by two large indus­tri­al alu­minum bolts that when removed allow for the pages to be removed, rearranged, or exhib­it­ed indi­vid­u­al­ly."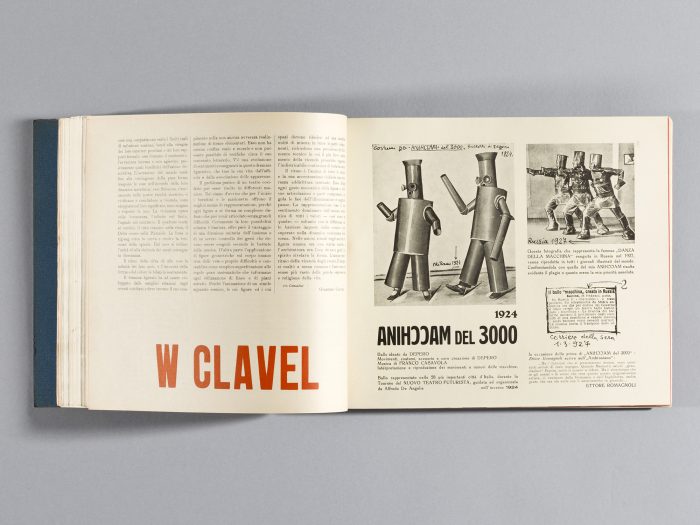 You may nev­er have heard of Depero, but today's most respect­ed design­ers cer­tain­ly have, and some of them appear in the pro­jec­t's Kick­starter pro­mo video giv­ing tes­ti­mo­ni­als not just to the impor­tance of Deper­o's aes­thet­ic achieve­ments in gen­er­al but The Bolt­ed Book in par­tic­u­lar. It offers a "bridge between the past and the future" in design, an inno­v­a­tive, iron­ic, and play­ful use of the "machine aes­thet­ic," and evi­dence that "Depero, despite his idio­syn­crasies, was one of the most cre­ative of the Futur­ists." (It also, of course, holds the title of the first-ever book "bolt­ed by two giant clasps.") But per­haps the most com­pelling comes from Ste­fan Sag­meis­ter: "This book con­tains the favorite pack­ag­ing of my favorite drink, Cam­pari Soda. For this alone, it should be con­tributed at prop­er­ly — Kick­start­ed."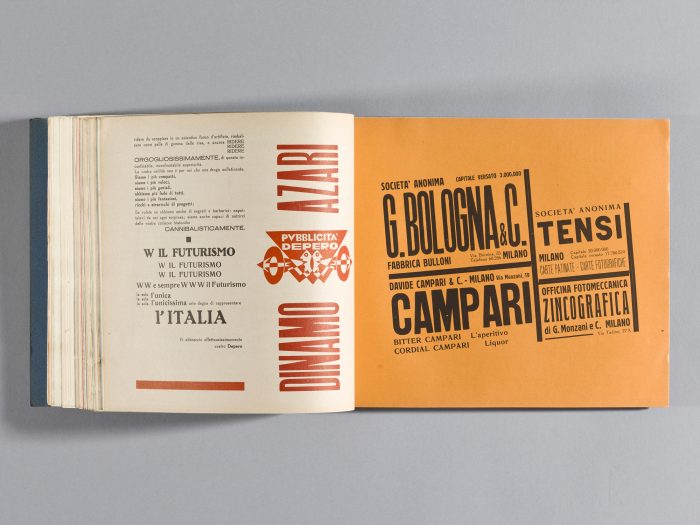 Suc­cess­ful­ly Kick­start­ed, the new and 100 per­cent faith­ful reprint of Depero Futur­ista (whose few sur­viv­ing orig­i­nals sit most­ly in insti­tu­tion­al col­lec­tions) should arrive in July of this year. Even if you can't get your hands on a real, bolt­ed copy just yet, you can view each and every one of its pages on the reprint pro­jec­t's site. All the bril­liance on dis­play does make one regret that the Futur­ist move­ment end­ed with the tar­nish of Fas­cism. But now that ref­er­ences to the lat­ter seems to have re-entered the pub­lic con­ver­sa­tion, maybe the time has come to bring back the vig­or­ous, for­ward-look­ing artis­tic inven­tive­ness of the for­mer as a kind of coun­ter­vail­ing inspi­ra­tion.
Relat­ed Con­tent:
Down­load 144 Beau­ti­ful Books of Russ­ian Futur­ism: Mayakovsky, Male­vich, Khleb­nikov & More (1910–30)
Down­load Orig­i­nal Bauhaus Books & Jour­nals for Free: Gropius, Klee, Kandin­sky, Moholy-Nagy & More
Down­load 20 Free eBooks on Design from O'Reilly Media
Based in Seoul, Col­in Mar­shall writes and broad­casts on cities and cul­ture. He's at work on a book about Los Ange­les, A Los Ange­les Primer, the video series The City in Cin­e­ma, the crowd­fund­ed jour­nal­ism project Where Is the City of the Future?, and the Los Ange­les Review of Books' Korea Blog. Fol­low him on Twit­ter at @colinmarshall or on Face­book.