What do you imagine when you hear the phrase "cat piano"? Some kind of whimsical furry beast with black and white keys for teeth, maybe? A relative of My Neighbor Totoro's cat bus? Or maybe you picture a piano that contains several caged cats who shriek along an entire scale when keys are pressed that slam sharpened nails into their tails. If this is your answer, you might find people slowly backing away from you at times, or gently suggesting you get some psychiatric help.
But then, imagine that such a perverse oddity was in use by psychiatrists, like the 18th-century German physician Johann Christian Reil, who—reports David McNamee at The Guardian—"wrote that the device was intended to shake mental patients who had lost the ability to focus out of a 'fixed state' and into 'conscious awareness.'"
So long, meds. See you, meditation and mandala coloring books…. I joke, but apparently Dr. Reil was in earnest when he wrote in an 1803 manual for the treatment of mental illness that patients could "be placed so that they are sitting in direct view of the cat's expressions when the psychiatrist plays a fugue."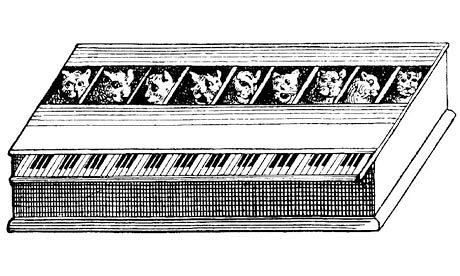 A bafflingly cruel and nonsensical experiment, and we might rejoice to know it probably never took place. But the bizarre idea of the cat piano, or Katzenklavier, did not spring from the weird delusions of one sadistic psychiatrist. It was supposedly invented by German polymath and Jesuit scholar Athanasius Kircher (1602–1680), who has been called "the last Renaissance man" and who made pioneering discoveries in the fields of microbiology, geology, and comparative religion. He was a serious scholar and a man of science. Maybe the Katzenklavier was intended as a sick joke that others took seriously—and for a very long time at that. The illustration of a Katzenklavier above dates from 1667, the one below from 1883.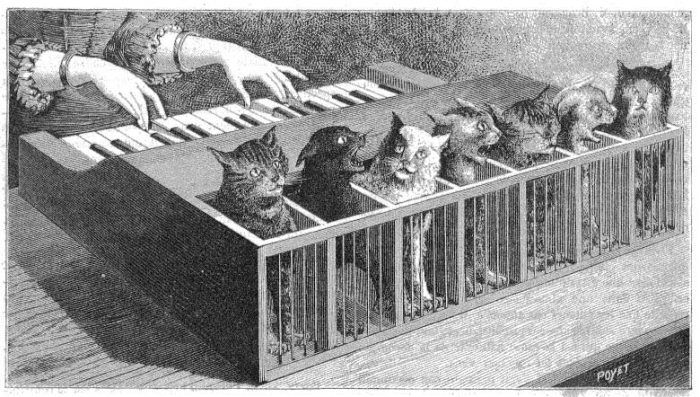 Kircher's biographer John Glassie admits that, for all his undoubted brilliance, several of his "actual ideas today seem wildly off-base; if not simply bizarre" as well as "inadvertently amusing, right, wrong, half-right, half-baked, ridiculous…." You get the idea. He was an eccentric, not a psychopath. McNamee points to other, likely apocryphal, stories in which cats were supposedly used as instruments. Perhaps, cruel as it seems to us, the cat piano seemed no crueller in previous centuries than the way we taunt our cats today to make them perform for animated GIFs.
But to the cats these distinctions are meaningless. From their point of view, there is no other way to describe the Katzenklavier than as a sinister, terrifying torture device, and those who might use it as monstrous villains. Personally I'd like to give cats the last word on the subject of the Katzenklavier—or at least a few fictional animated, walking, talking, singing cats. Watch the short animation at the top, in which Nick Cave reads a poem by Eddie White about talented cat singers who mysteriously go missing, scooped up by a human for a "harpsichord of harm, the cruelest instrument to spawn from man's gray cerebral soup." The story has all the dread and intrigue of Edgar Allan Poe's best work, and it is in such a milieu of gothic horror that the Katzenklavier belongs.
The Cat Piano narrated by Nick Cave will be added to our list of Free Animations, a subset of our meta collection, 4,000+ Free Movies Online: Great Classics, Indies, Noir, Westerns, Documentaries & More
Related Content:
Explosive Cats Imagined in a Strange, 16th Century Military Manual
Thomas Edison's Boxing Cats (1894), or Where the LOLCats All Began
Medieval Cats Behaving Badly: Kitties That Left Paw Prints … and Peed … on 15th Century Manuscripts
Josh Jones is a writer and musician based in Durham, NC. Follow him at @jdmagness