Charles Baudelaire must be a joyful corpse indeed. His work has succeeded as few others' have, to be so passionately alive 150 years after his death.
Theater Oobleck, a Chicago artistic collective dedicated to creating original affordable theatrical works, has spent the last eleven years assembling Baudelaire in a Box, a cantastoria cycle based on Les Fleurs du Mal.
Why?
Because he would be so irritated. Because he might be charmed
There is a touch of vaudeville and cabaret in Baudelaire. He tended to go big or go home. Home to his mother.
Because he invented the term "modernity" and even now no one quite knows what it means. Because he wrote a poetry of immersion perfectly suited to the transience and Now-ness of song and of the Ever-Moving scroll. Because we never had a proper goth phase. Sex and death! For all these reasons, and for the true one that remains just out of our grasp.
Each new installment features a line-up of musicians performing live adaptations of another 10 to 15 poems, as artist Dave Buchen's painted illustrations slowly spool past on hand-turned "crankies."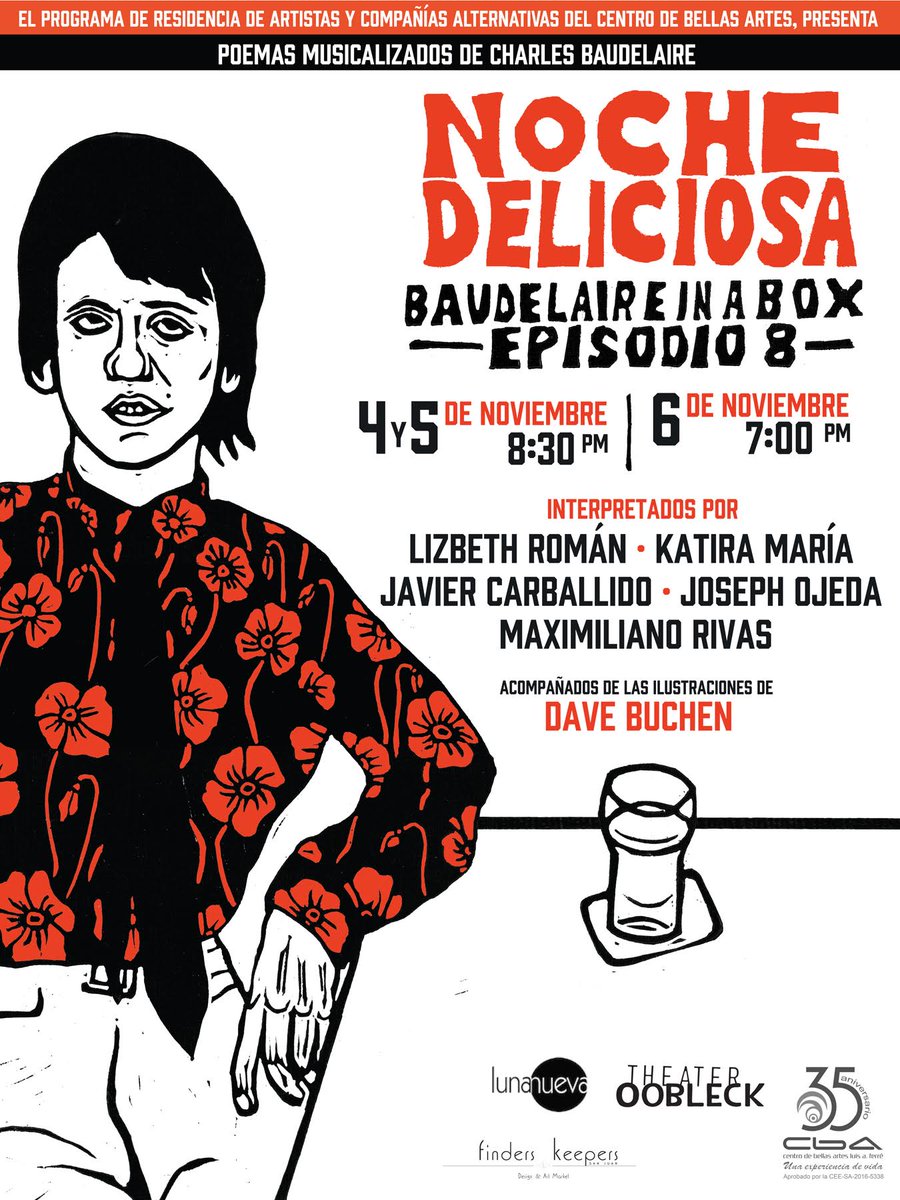 The resulting "proto music videos" are voluptuously intimate affairs, with plenty of time to reflect upon the original texts' explicit sexuality, the gorgeous urban decay that so preoccupied one of Romantic poetry's naughtiest boys.
The instruments and musical palate—klezmer, alt-country, antifolk—are befitting of the interpreters' well honed downtown sensibilities. The lyrics are drunk on their dark imagery.
The entire project makes for the sort of extravagantly eccentric night out that might lead a young poet to lean close to his blind date, mid-show, to whisper "Wouldn't it be agreeable to take a bath with me?" No word on whether that line worked for the poéte maudit, who reportedly issued such an invitation to a friend mid-sentence.
This August, Theater Oobleck intends to observe the sesquicentennial of Baudelaire's death in grand style with a marathon performance of the complete Baudelaire in a Box, a three-day effort involving 50 artists and over 130 poems.
Allow a few past examples to set the mood:
The Offended Moon From Episode 9 of Baudelaire In A Box, "Unquenched." Composed and translated by David Costanza. Emmy Bean: vocal, Ronnie Kuller: accordion, T-Roy Martin trombone, David E. Smith: clarinet, Chris Schoen: vocal, Joey Spilberg: bass.
The Denial of St. Peter Composed, translated and performed by Sad Brad Smith, with Emmy Bean (hand percussion), Ronnie Kuller (accordion), T-Roy Martin (trombone), Chris Schoen (mandolin), and Joey Spilberg (bass).
The Drag Music composed by Ronnie Kuller, to Mickle Maher's translation of "L'Avertisseur" by Charles Baudelaire. Performed by: Emmy Bean (vocal, percussion), Angela James (vocal), Ronnie Kuller (piano, percussion), T-Roy Martin (vocal), Chris Schoen (vocal), David E. Smith (saxophone), and Joey Spilberg (bass).
The Hard(-est) Working Skeleton Music by Amy Warren, Performed by Nora O'Connor, with Addie Horan, Amalea Tshilds, Kate Douglas, James Becker and Ted Day.
The Possessed Written and performed by Jeff Dorchen.
You can listen to and purchase songs from Episodes 7 (the King of Rain) and 9 (Unquenched) on Bandcamp.
Some of the participating musicians have released their own albums featuring tracks of their Baudelaire-based tunes.
Theater Oobleck is raising funds for the upcoming Closed Casket: The Complete, Final, and Absolutely Last Baudelaire in a Box on Kickstarter, with music and prints and originals of Buchen's work among the premiums at various pledge levels.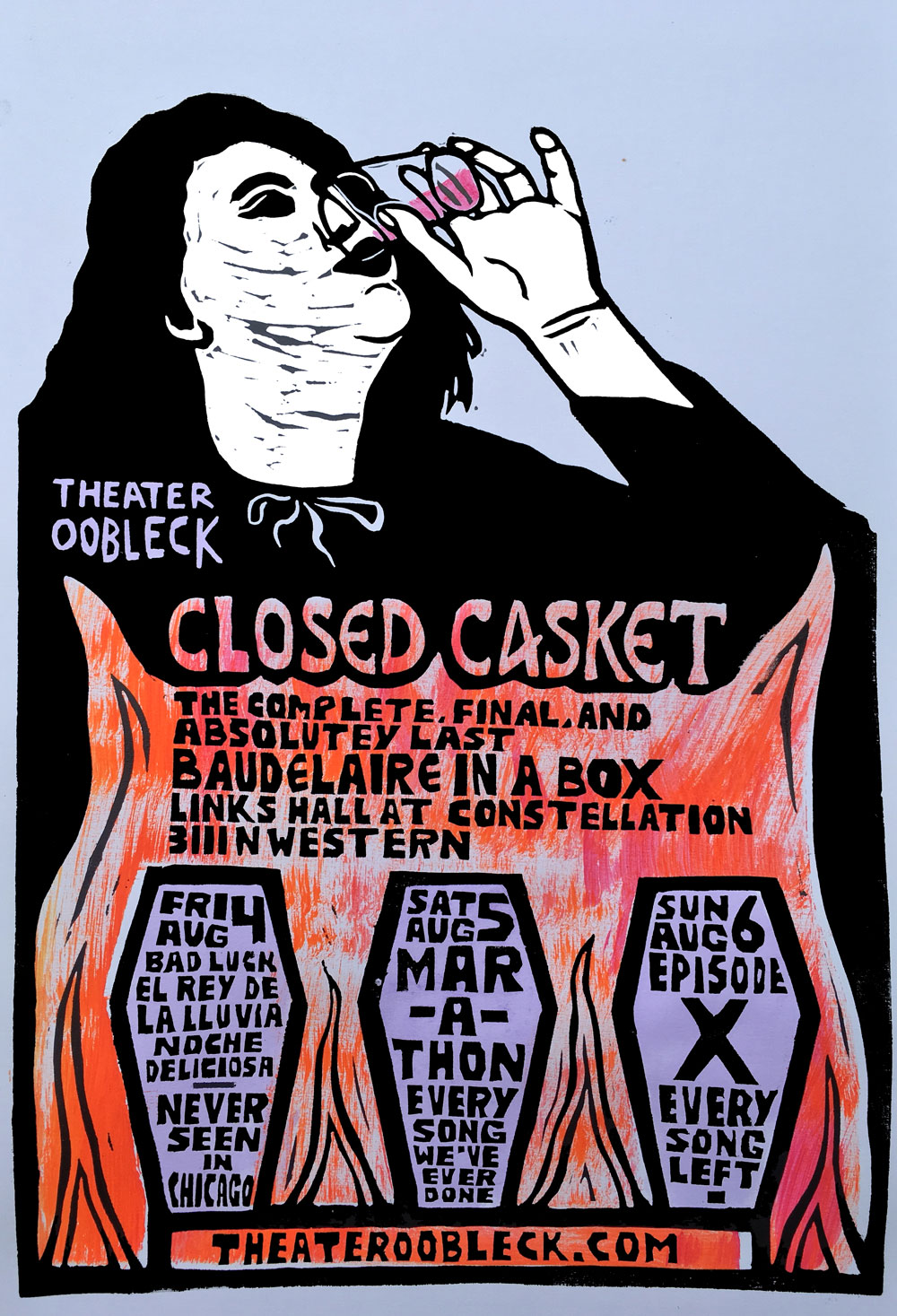 All images used with permission of artist Dave Buchen.
Related Content:
Great 19 Century Poems Read in French: Baudelaire, Rimbaud, Verlaine & More
Baudelaire, Balzac, Dumas, Delacroix & Hugo Get a Little Baked at Their Hash Club (1844-1849)
Henri Matisse Illustrates Baudelaire's Censored Poetry Collection, Les Fleurs du Mal
Ayun Halliday is an author, illustrator, theater maker and the Chief Primatologist of the East Village Inky zine.  She will be appearing in a live excerpt from CB Goodman's How to Kill an Elephant this Friday at Dixon Place in New York City. Follow her @AyunHalliday.