Philoso­phers, tech­nol­o­gists, and futur­ists spend a good deal of time obsess­ing about the nature of real­i­ty. Recent­ly, no small num­ber of such peo­ple have come togeth­er to endorse the so-called "sim­u­la­tion argu­ment," the mind-bog­gling, sci-fi idea that every­thing we expe­ri­ence exists as a vir­tu­al per­for­mance inside a com­put­er sys­tem more sophis­ti­cat­ed than we could ever imag­ine. It's a sce­nario right out of Philip K. Dick, and one Dick believed pos­si­ble. It's also, per­haps, ter­mi­nal­ly the­o­ret­i­cal and impos­si­ble to ver­i­fy.
So… where might the per­plexed turn should they want to under­stand the world around them? Are we doomed to expe­ri­ence real­i­ty—as post­mod­ern the­o­rist Jean Bau­drillard thought—as noth­ing more than end­less sim­u­la­tion? It's a lit­tle old-fash­ioned, but maybe we could ask a sci­en­tist? One like physi­cist, sci­ence writer, edu­ca­tor Dominic Wal­li­man, whose series of short videos offer to the layper­son "maps" of physics, math, and, just above, chem­istry.
Walliman's inge­nious teach­ing tools excel in con­vey­ing a tremen­dous amount of com­plex infor­ma­tion in a com­pre­hen­sive and intel­li­gi­ble way. We not only get an overview of each field's intel­lec­tu­al his­to­ry, but we see how the var­i­ous sub­dis­ci­plines inter­act.
One of the odd­i­ties of chem­istry is that it was once just as much, if not more, con­cerned with what isn't. Many of the tools and tech­niques of mod­ern chem­istry were devel­oped by alchemists—magicians, essen­tial­ly, whom we would see as char­la­tans even though they includ­ed in their num­ber such tow­er­ing intel­lects as Isaac New­ton. Wal­li­man does not get into this strange sto­ry, inter­est­ing as it is. Instead, he begins with a pre­his­to­ry of sorts, point­ing out that since humans start­ed using fire, cook­ing, and work­ing with met­al we have been engag­ing in chem­istry.
Then we're launched right into the basic build­ing blocks—the parts of the atom and the peri­od­ic table. If, like me, you passed high school chem­istry by writ­ing a song about the ele­ments as a final project, you may be unlike­ly to remem­ber the var­i­ous types of chem­i­cal bonds and may nev­er have heard of "Van der Waals bond­ing." There's an oppor­tu­ni­ty to look some­thing up. And there's noth­ing wrong with being a pri­mar­i­ly audi­to­ry or visu­al learn­er. Wal­li­man's instruc­tion does a real ser­vice for those who are.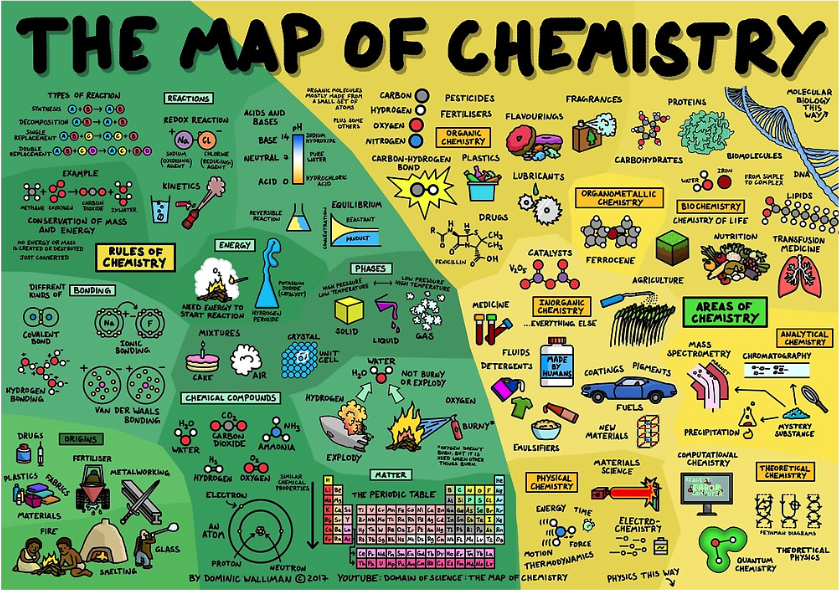 Wal­li­man moves through the basics briskly and into the dif­fer­ences between and uses of organ­ic and inor­gan­ic chem­istry. As the ani­ma­tion pulls back to reveal the full map, we see it is com­prised of two halves: "rules of chem­istry" and "areas of chem­istry." We do not get expla­na­tions for the extreme end of the lat­ter cat­e­go­ry. Fields like "com­pu­ta­tion­al chem­istry" are left unex­plored, per­haps because they are too far out­side Wal­li­man's exper­tise. One refresh­ing fea­ture of the videos on his "Domain of Sci­ence" chan­nel is their intel­lec­tu­al humil­i­ty.
If you've enjoyed the physics and math­e­mat­ics videos, for exam­ple, you should check back in with their Youtube pages, where Wal­li­man has post­ed lists of cor­rec­tions. He has a list as well on the chem­istry video page. "I endeav­our to be as accu­rate as pos­si­ble in my videos," he writes here, "but I am human and def­i­nite­ly don't know every­thing, so there are some­times mis­takes. Also, due to the nature of my videos, there are bound to be over­sim­pli­fi­ca­tions." It's an admis­sion that, from my per­spec­tive, should inspire more, not less, con­fi­dence in his instruc­tion. Ide­al­ly, sci­en­tists should be dri­ven by curios­i­ty, not van­i­ty, though that is also an all-too-human trait. (See many more maps, exper­i­ments, instruc­tion­al videos, and talks on Wal­li­man's web­site.)
In the "Map of Physics," you'll note that we even­tu­al­ly reach a gap­ing "chasm of ignorance"—a place where no one has any idea what's going on. Maybe this is where we reach the edges of the sim­u­la­tion. But most sci­en­tists, whether physi­cists, chemists, or math­e­mati­cians, would rather reserve judg­ment and keep build­ing on what they know with some degree of cer­tain­ty. You can see a full image of the "Map of Chem­istry" fur­ther up, and pur­chase a poster ver­sion here.
Find Free Chem­istry Cours­es in our col­lec­tion, 1,700 Free Online Cours­es from Top Uni­ver­si­ties.
Relat­ed Con­tent:
The Map of Physics: Ani­ma­tion Shows How All the Dif­fer­ent Fields in Physics Fit Togeth­er
The Map of Math­e­mat­ics: Ani­ma­tion Shows How All the Dif­fer­ent Fields in Math Fit Togeth­er
Isaac Newton's Recipe for the Myth­i­cal 'Philosopher's Stone' Is Being Dig­i­tized & Put Online (Along with His Oth­er Alche­my Man­u­scripts)
Josh Jones is a writer and musi­cian based in Durham, NC. Fol­low him at @jdmagness