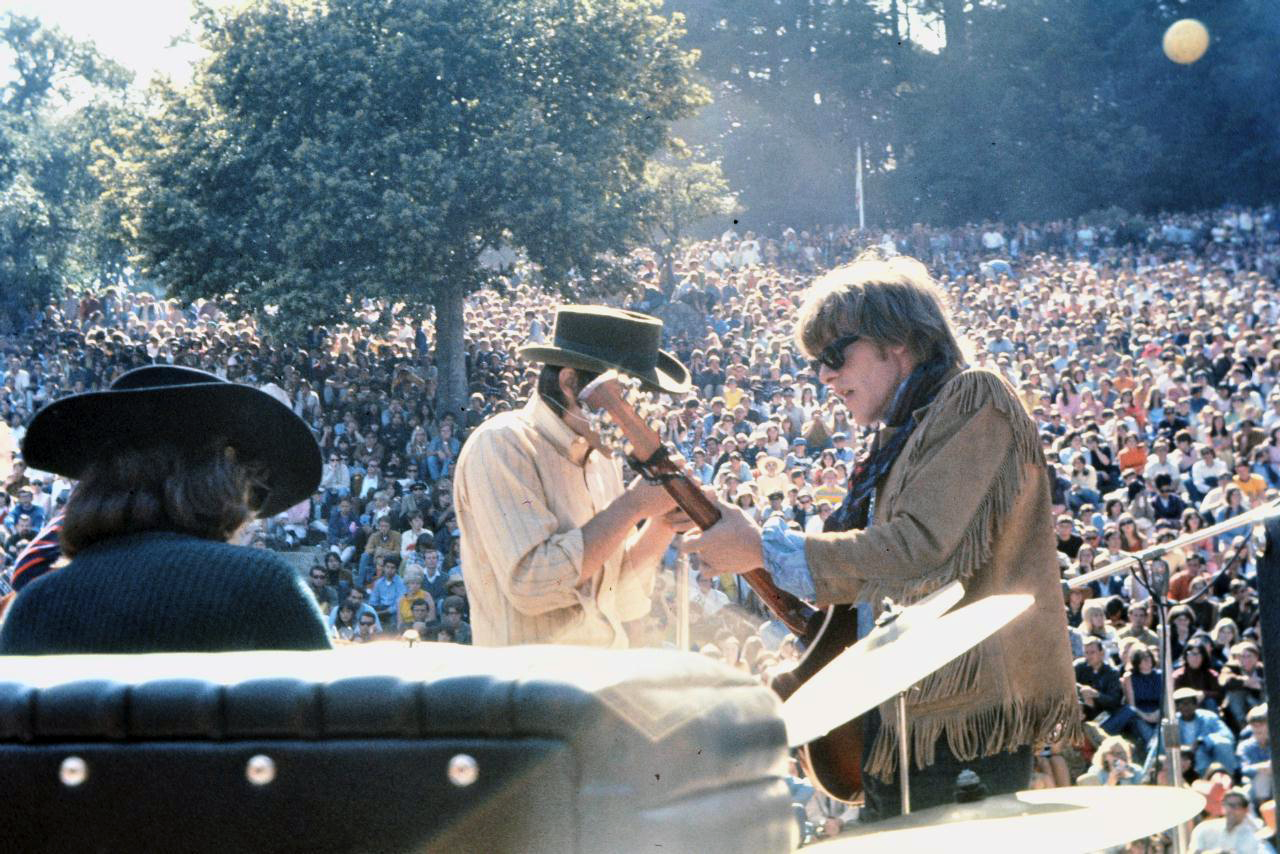 Image by Bryan Costales, via Wikimedia Commons
The Summer of Love was not just a season of great music and the zenith of the flower child, but the culmination of a movement that started back on a chillier Bay Area day, on January 14, 1967. That was the month of the Human Be-In, and what must have looked like a full on invasion of the counterculture into Golden Gate Park. The backdrop of this outpouring of good vibrations was anything but loving: Vietnam, inner city riots, Civil Rights, and a huge generation gap. The crowd size was estimated at 100,000, and everybody there suddenly realized they weren't alone. They were a force.
Joel Selvin, interviewed by Michael Krasny for this KQED segment on the Summer of Love (listen here), says that the real Summer of Love for San Franciscans at least, happened in 1966, when it was a local secret. One year later, the hippie movement had become mainstream. And that's when every band on both sides of the Atlantic had turned on to the zeitgeist, and the gates of psychedelic music opened up.
Today, we have a playlist of 89 songs to commemorate the 50th anniversary of that historic summer. (Download Spotify's free software here, if you need it.) If you are coming to this as a music fan, but not somebody who lived through that era, you might think you know all the songs from that period, having had them hammered into your brain over the years from the ubiquitous hits of classic rock radio, and nostalgic movies.
There are of course the stone cold classics from 1967, with not one but two Beatles releases, including the iconic Sgt. Pepper album; the best two songs from Jefferson Airplane; Procol Harum's "A Whiter Shade of Pale"; the Who's best psychedelic song "I Can See for Miles"; Jimi Hendrix's "Are You Experienced?" and "Hey Joe"; the Rolling Stones' move into chamber pop with "Ruby Tuesday" and their own trippy "She's a Rainbow" and "We Love You"—the last time they ever felt lovey dovey about anything; and the first releases by the Doors.
Soul and R'n'B was also at the height of its mid-60s power, with Aretha Franklin's "Respect," James Brown's "Cold Sweat," Marvin Gaye and Tammi Terrell's "Ain't No Mountain High Enough", and Sam and Dave's "Soul Man" infecting the charts.
"We were riding the crest of a high and beautiful wave," is how Hunter S. Thompson famously put it in Fear and Loathing in Las Vegas, and this playlist might just convince you of that considering how music seemed to fracture so soon after—even the Beatles would be delivering that strange and sometimes frightening trip of a White Album a year later. Vietnam would continue to drag on, and the decade's metaphorical end at Altamont was looming on the horizon, not that many could see it. (By the way, Joel Selvin just wrote a very good book on that dark, decade-ending concert.)
Enjoy the playlist and argue over what's missing in the comments. (No "Waterloo Sunset"? "I Second That Emotion"? "Gloria"? Hmmph!)
Related Content:
Rare Footage of the "Human Be-In," the Landmark Counter-Culture Event Held in Golden Gate Park, 1967
Jimi Hendrix Opens for The Monkees on a 1967 Tour; Then After 8 Shows, Flips Off the Crowd and Quits
Paul McCartney Admits to Dropping Acid in a Scrappy Interview with a Prying Reporter (June, 1967)
Ted Mills is a freelance writer on the arts who currently hosts the FunkZone Podcast. You can also follow him on Twitter at @tedmills, read his other arts writing at tedmills.com and/or watch his films here.