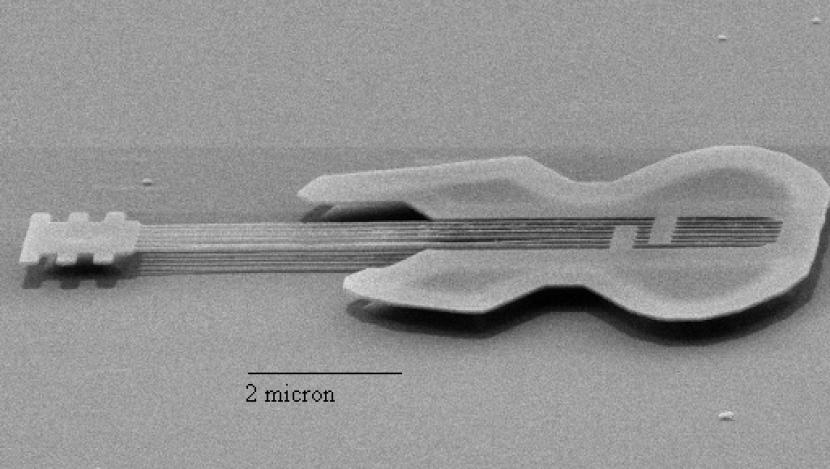 In 1997, the Cornell Chronicle announced: "The world's smallest guitar — carved out of crystalline silicon and no larger than a single cell — has been made at Cornell University to demonstrate a new technology that could have a variety of uses in fiber optics, displays, sensors and electronics."
Invented by Dustin W. Carr, the so-called "nanoguitar" measured 10 micrometers long–roughly the size of your average red blood cell. And it had six strings, each "about 50 nanometers wide, the width of about 100 atoms."
According to The Guardian, the vintage 1997 nanoguitar was actually never played. That honor went to a 2003 edition of the nanoguitar, whose strings were plucked by miniature lasers operated with an atomic force microscope, creating "a 40 megahertz signal that is 130,000 times higher than the sound of a full-scale guitar." The human ear couldn't hear something at that frequency, and that's a problem not even a good amp–a Vox AC30, Fender Deluxe Reverb, etc.–could fix.
Thus concludes today's adventure in nanotechnology.
Would you like to support the mission of Open Culture? Please consider making a donation to our site. It's hard to rely 100% on ads, and your contributions will help us continue providing the best free cultural and educational materials to learners everywhere.
Also consider following Open Culture on Facebook and Twitter and sharing intelligent media with your friends. Or sign up for our daily email and get a daily dose of Open Culture in your inbox. 
Related Content:
Richard Feynman Introduces the World to Nanotechnology with Two Seminal Lectures (1959 & 1984)
Stephen Fry Introduces the Strange New World of Nanoscience
A Boy And His Atom: IBM Creates the World's Smallest Stop-Motion Film With Atoms