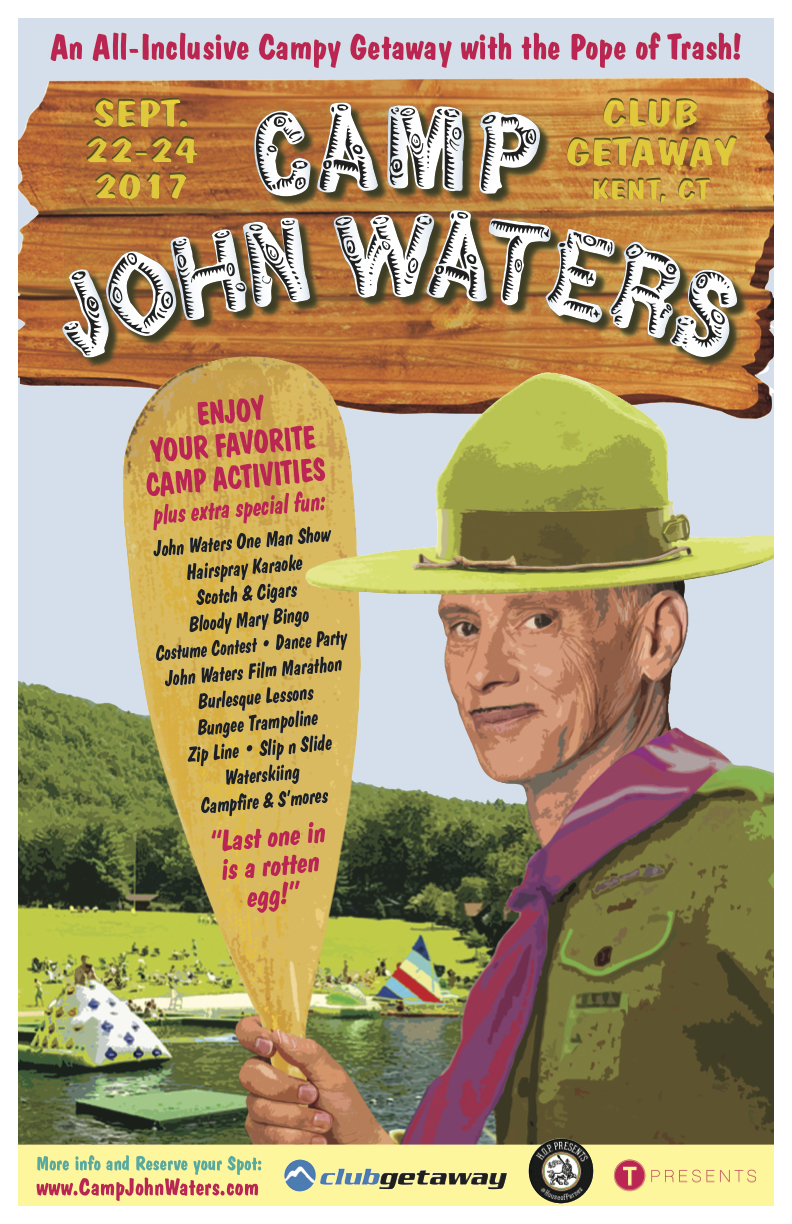 I hated sports at camp, so at this camp I think we should reward every team that loses. This would be the camp where the fat people get picked first in dodge ball. 

– Filmmaker-cum-Camp Director John Waters
I can think of many children who would scramble toward the refuge of the compassionate statement above, but Camp John Waters is a decidedly adult activity.
The Pope of Trash shares actor Bill Murray's relish for oddball settings in which he can meet the public as something close to a peer. But whereas Murray specializes in surprise drop-in appearances—reciting poetry to construction workers, crashing parties—Waters favors more immersive experiences, such as hitchhiking coast to coast.
His latest stunt brought him and 300 fellow travelers to a rustic Connecticut facility (from Sept 22-24) that normally hosts corporate team building events, family camps, and weekend getaways for playful 20-to-30-somethings keen to make new friends while zip lining, playing pingpong, and partying in the main lodge.
ARTnews pegged the inaugural session thusly:
 The Waters camp combines two of the more absurd developments in contemporary leisure: the celebrity-based getaway (see also: the Gronk Cruise) and a certain recreational aesthetic that seems to advocate for a sort of developmental purgatory.
Here,  there were no reluctant, homesick campers, weeping into their Sloppy Joes. This was a self-selecting bunch, eager to break out their wigs and leopard print, weave enemy bracelets at the arts and crafts station, and bypass anything smacking of official outdoor recreation, save the lake, where inflatable pink flamingos were available for aquatic lollygagging.
"Who really wants to go wall climbing?" the founder himself snorted in his welcoming speech, adding that he would if Joe Dallesandro, the Warhol superstar who according to Waters "forever changed male sexuality in cinema," waited up top.
Naughty references to water sports aside, certain aspects of the camp were downright wholesome. Pine trees and s'mores. Canoes and cabins. Presumably there was a camp nurse. (In Waters' ideal world, this position would be filled by Cry Baby's Traci Lords.)
Waters' recollections of his own stint at Maryland's Camp Happy Hollow seem primarily fond. It makes sense. Anyone who truly loathed summer camp would be unlikely to recreate the experience for themselves and their fellow adults.
Camp Waters harkens back to the 1950s transgressions its director merrily fesses up to having participated in: unfiltered cigarettes and short sheeted beds, circle jerks and panty raids. From here on out the subversion will be taking place in the sunlight.
Another special camp memory for Waters is regaling his cabin mates with an original, serialized horror story. He retells it on Celebrity Ghost Stories, above:
At the end there was this hideous gory thing and then all the kids had nightmares and their parents called the camp and complained — and I'm still doing that! It was the beginning of my career…. It was a wonderful lesson for me as a 10-year-old kid that I think helped me become whatever I am today. It gave me the confidence to go ahead, to believe in things, to believe in behavior I couldn't understand, to be drawn to subject matter I couldn't understand.
Registration for Camp John Waters 2018 opens today at noon, so grab the bug spray and get ready to sing along:
There is a camp in a place called Kent
It's name is Camp John Waters
For here we come to spend the night
For we all love to fuck and fight
Camp John Waters – rah rah rah!
Camp John Waters – sisboombah!
Camp John Waters – rah rah rah!
Three cheers for Camp John Waters!
Could Waters' own contribution to such camp classics as Meatballs, Little Darlings and Wet Hot American Summer be far behind?
Related Content:
John Waters' RISD Graduation Speech: Real Wealth is Never Having to Spend Time with A-Holes
John Waters Narrates Offbeat Documentary on an Environmental Catastrophe, the Salton Sea
The Philosophy of Bill Murray: The Intellectual Foundations of His Comedic Persona
Ayun Halliday is an author, illustrator, theater maker and Chief Primatologist of the East Village Inky zine. She attended Gnawbone Camp in Gnawbone, Indiana, recapturing that happy experience three decades later as the Mail Lady of Beam Camp.  Follow her @AyunHalliday.