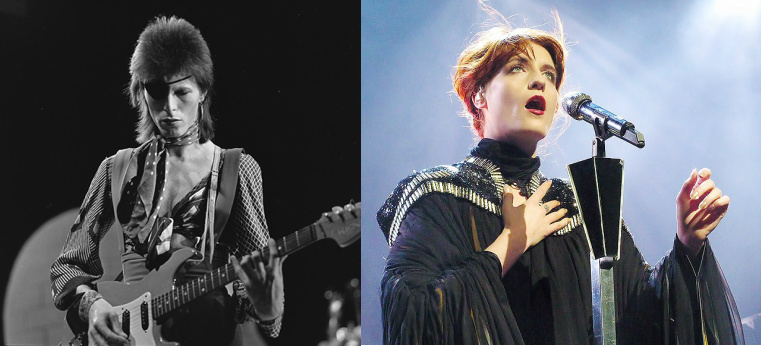 Image by AVRO and Becky Sullivan, via Wikimedia Commons
As of this moment, you have 22 days left to stream a one-hour radio documentary hosted by Florence Welch (of Florence + The Machine). It takes a close look at the making of David Bowie's landmark album Heroes, released 40 years ago. The documentary (streamable here) explores "the personal and musical factors that influenced the album's writing and recording in Berlin in 1977." It also covers,  according to the BBC, the following ground:
Florence will feature [archival material] of the late David Bowie explaining why he chose to live and work in Berlin and the impact the city's history had on the masterpiece he created. She'll also meet the album's producer Tony Visconti to get an insight to the unique recording techniques he employed to interpret Bowie's creative vision and how the characteristics of the famous Hansa Studios, which are situated in a huge former chamber music concert hall, contributed to the album's influential sounds. Iggy Pop, who was living with Bowie in Berlin during the recording of the album, recalls how a battle with drug addition, bankruptcy and a legal dispute with his ex wife for access to his son all provided inspiration for the album's lyrics and Brian Eno, who collaborated with David throughout the LP's recording, explains the unique musical structures he and David employed to compose the innovative songs.

Berlin's radical cultural diversity had always fascinated Bowie and Florence will explain how the opportunity to live and work in the city during the turbulent political period prior to the fall of `the Wall' provided the perfect austere environment for David and his collaborators to experiment with music inspired by several German techno bands of the 70's, including Neu!, Kraftwerk and Can.
When you're done listening, we'd strongly recommend watching this wonderful video where Tony Visconti, the producer of David Bowie's 1977 album, takes you inside the LP's making. Don't miss it. It's a gem.
Related Content:
Depeche Mode Releases a Goosebump-Inducing Cover of David Bowie's "Heroes"
Producer Tony Visconti Breaks Down the Making of David Bowie's Classic "Heroes," Track by Track
David Bowie Performs a Live Acoustic Version of "Heroes," with a Bottle Cap Strapped to His Shoe, Keeping the Beat
David Bowie & Brian Eno's Collaboration on "Warszawa" Reimagined in a Comic Animation