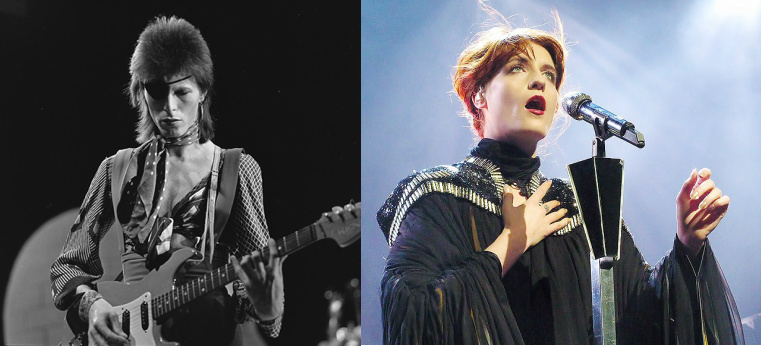 Image by AVRO and Becky Sul­li­van, via Wiki­me­dia Com­mons
As of this moment, you have 22 days left to stream a one-hour radio doc­u­men­tary host­ed by Flo­rence Welch (of Flo­rence + The Machine). It takes a close look at the mak­ing of David Bowie's land­mark album Heroes, released 40 years ago. The doc­u­men­tary (stream­able here) explores "the per­son­al and musi­cal fac­tors that influ­enced the album's writ­ing and record­ing in Berlin in 1977." It also cov­ers, accord­ing to the BBC, the fol­low­ing ground:
Flo­rence will fea­ture [archival mate­r­i­al] of the late David Bowie explain­ing why he chose to live and work in Berlin and the impact the city's his­to­ry had on the mas­ter­piece he cre­at­ed. She'll also meet the album's pro­duc­er Tony Vis­con­ti to get an insight to the unique record­ing tech­niques he employed to inter­pret Bowie's cre­ative vision and how the char­ac­ter­is­tics of the famous Hansa Stu­dios, which are sit­u­at­ed in a huge for­mer cham­ber music con­cert hall, con­tributed to the album's influ­en­tial sounds. Iggy Pop, who was liv­ing with Bowie in Berlin dur­ing the record­ing of the album, recalls how a bat­tle with drug addi­tion, bank­rupt­cy and a legal dis­pute with his ex wife for access to his son all pro­vid­ed inspi­ra­tion for the album's lyrics and Bri­an Eno, who col­lab­o­rat­ed with David through­out the LP's record­ing, explains the unique musi­cal struc­tures he and David employed to com­pose the inno­v­a­tive songs.

Berlin's rad­i­cal cul­tur­al diver­si­ty had always fas­ci­nat­ed Bowie and Flo­rence will explain how the oppor­tu­ni­ty to live and work in the city dur­ing the tur­bu­lent polit­i­cal peri­od pri­or to the fall of 'the Wall' pro­vid­ed the per­fect aus­tere envi­ron­ment for David and his col­lab­o­ra­tors to exper­i­ment with music inspired by sev­er­al Ger­man tech­no bands of the 70's, includ­ing Neu!, Kraftwerk and Can.
When you're done lis­ten­ing, we'd strong­ly rec­om­mend watch­ing this won­der­ful video where Tony Vis­con­ti, the pro­duc­er of David Bowie's 1977 album, takes you inside the LP's mak­ing. Don't miss it. It's a gem.
Relat­ed Con­tent:
Depeche Mode Releas­es a Goose­bump-Induc­ing Cov­er of David Bowie's "Heroes"
Pro­duc­er Tony Vis­con­ti Breaks Down the Mak­ing of David Bowie's Clas­sic "Heroes," Track by Track
David Bowie Per­forms a Live Acoustic Ver­sion of "Heroes," with a Bot­tle Cap Strapped to His Shoe, Keep­ing the Beat
David Bowie & Bri­an Eno's Col­lab­o­ra­tion on "Warsza­wa" Reimag­ined in a Com­ic Ani­ma­tion