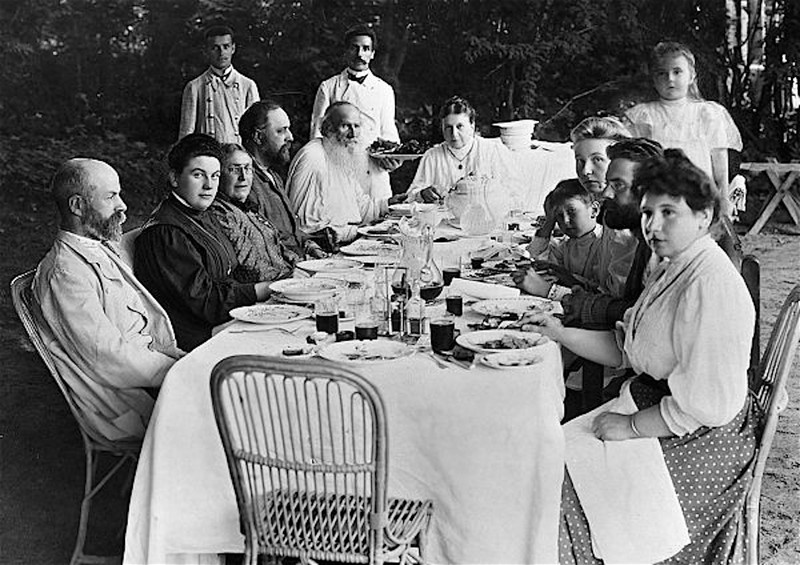 In 1874, Stepan Andreevich Bers published The Cookbook and gave it as a gift to his sister, countess Sophia Andreevna Tolstaya, the wife of the great Russian novelist, Leo Tolstoy. The book contained a collection of Tolstoy family recipes, the dishes they served to their family and friends, those fortunate souls who belonged to the aristocratic ruling class of late czarist Russia. Almost 150 years later, this cookbook has been translated and republished by Sergei Beltyukov.
Available in an inexpensive Kindle format ($3.99), Leo Tolstoy's family recipe book features dozens of recipes, everything from Tartar Sauce and Spiced Mushrooms (what's a Russian kitchen without mushrooms?), to Stuffed Dumplings and Green Beans à la Maître d'Hôtel, to Coffee Cake and Viennese Pie. The text comes with a translation, too, of Russian weights and measures used during the period. One recipe Mr. Beltyukov provided to us (which I didn't see in the book) is for the Tolstoy's good ole Mac 'N' Cheese dish. It goes something like this:
Bring water to a boil, add salt, then add macaroni and leave boiling on light fire until half tender; drain water through a colander, add butter and start putting macaroni back into the pot in layers – layer of macaroni, some grated Parmesan and some vegetable sauce, macaroni again and so on until you run out of macaroni. Put the pot on the edge of the stove, cover with a lid and let it rest in light fire until the macaroni are soft and tender. Shake the pot occasionally to prevent them from burning.
We'll leave you with bon appétit! — an expression almost certainly heard in the homes of those French-speaking Russian aristocrats.
If you would like to sign up for Open Culture's free email newsletter, please find it here.
If you would like to support the mission of Open Culture, consider making a donation to our site. It's hard to rely 100% on ads, and your contributions will help us continue providing the best free cultural and educational materials to learners everywhere. You can contribute through PayPal, Patreon, and Venmo (@openculture). Thanks!
Note: This post first appeared on OC back in 2014.
Related Content:
Leo Tolstoy's 17 "Rules of Life:" Wake at 5am, Help the Poor, & Only Two Brothel Visits Per Month
Rare Recording: Leo Tolstoy Reads From His Last Major Work in Four Languages, 1909
Vintage Footage of Leo Tolstoy: Video Captures the Great Novelist During His Final Days
An Archive of 3,000 Vintage Cookbooks Lets You Travel Back Through Culinary Time
MIT Teaches You How to Speak Italian & Cook Italian Food All at Once (Free Online Course)
The Futurist Cookbook (1930) Tried to Turn Italian Cuisine into Modern Art
Works by Tolstoy can be found in our collections, 800 Free eBooks for iPad, Kindle & Other Devices and 1,000 Free Audio Books: Download Great Books for Free