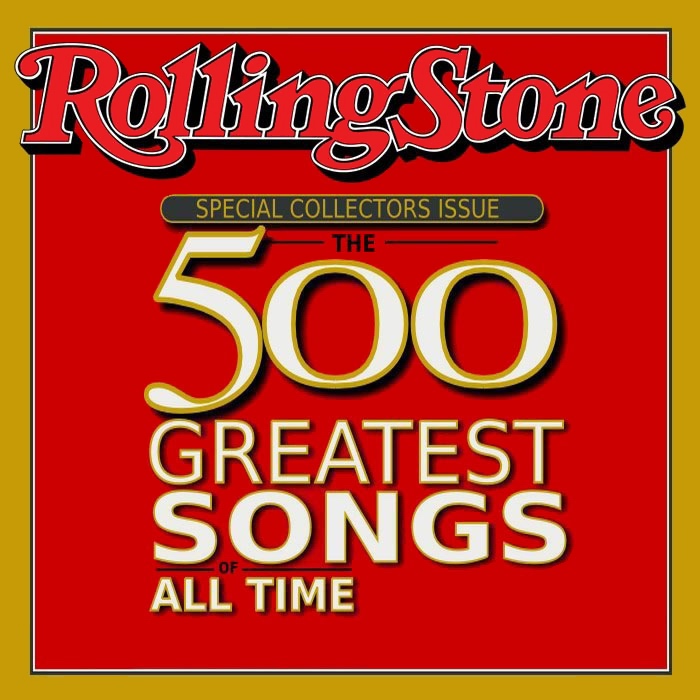 What­ev­er val­ue one places in "best of" or "great­est" lists, it's hard to deny they can be vir­tu­oso exer­cis­es in crit­i­cal con­ci­sion. When run­ning through 10, 50, 100 films, albums, nov­els etc. one can't wan­der through the wild­flow­ers but must make spark­ly, punchy state­ments and move on. Rolling Stone's writ­ers have excelled at this form, and expand­ed the list size to 500, first releas­ing a book com­pil­ing their "500 Great­est Albums of All Time" in 2003 then fol­low­ing up the next year with the "500 Great­est Songs of All Time," a spe­cial issue of the mag­a­zine with short blurbs about each selec­tion.
In 2010, the mag­a­zine updat­ed their mas­sive list, com­piled by 162 crit­ics, for a spe­cial dig­i­tal issue, and it now lives on their site with para­graph-length blurbs intact. Each one offers a fun lit­tle nugget of fact or opin­ion about the cho­sen songs. (Tom Pet­ty, learn­ing that The Strokes admit­ted to steal­ing his open­ing riff for "Amer­i­can Girl," told the mag­a­zine, "I was like, 'Ok, good for you.' It doesn't both­er me.") There's hard­ly room to explain the rank­ings or jus­ti­fy inclu­sion. We're asked to take the Rolling Stone writ­ers' col­lec­tive word for it.
Maybe it's a lit­tle dif­fi­cult to argue with a list this big, since it includes a bit of everything—for the pos­si­ble dross, there's a whole lot of gold. The updat­ed list swapped in 25 new songs and added an intro­duc­tion by Jay‑Z: "A great song has all the key elements—melody; emo­tion; a strong state­ment that becomes part of the lex­i­con; and great pro­duc­tion." Broad enough cri­te­ria for great, but "great­est"? Put on the Spo­ti­fy playlist above (or access it here) and judge for your­self whether most of those 500 songs in the updat­ed list—472 to be exact—meet the bar.
You can see the orig­i­nal, 2004 list, sans blurbs, at the Inter­net Archive. Num­ber one, Dylan's "Like a Rolling Stone" (get it?). Num­ber 500, Boston's "More Than a Feel­ing," which, well… okay. The updat­ed list gives us Smokey Robinson's "Shop Around" in last place (don't wor­ry, Smokey fans, "The Tracks of My Tears" makes it to 50.) Still at num­ber one, nat­u­ral­ly, "Like a Rolling Stone." Find out which 498 songs sit in-between at the online list here. (Wikipedia has a per­cent­age break­down for both lists of songs by decade.) The mag­a­zine may be up for sale, its jour­nal­is­tic cred­i­bil­i­ty in ques­tion, but for com­pre­hen­sive "best of" lists that keep track of the move­ment of pop­u­lar cul­ture, we should­n't count them out just yet.
Relat­ed Con­tent:
89 Essen­tial Songs from The Sum­mer of Love: A 50th Anniver­sary Playlist
The His­to­ry of Punk Rock in 200 Tracks: An 11-Hour Playlist Takes You From 1965 to 2016
Stream 935 Songs That Appeared in "The John Peel Fes­tive 50" from 1976 to 2004: The Best Songs of the Year, as Select­ed by the Beloved DJ's Lis­ten­ers
A Mas­sive 800-Track Playlist of 90s Indie & Alter­na­tive Music, in Chrono­log­i­cal Order
Josh Jones is a writer and musi­cian based in Durham, NC. Fol­low him at @jdmagness