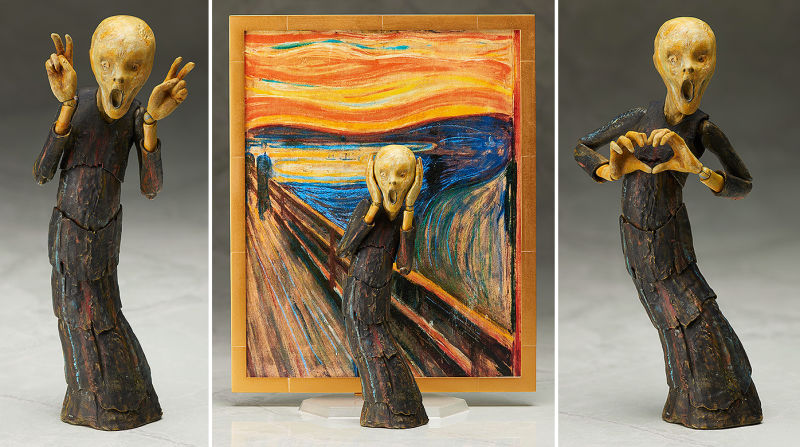 "I was out walking with two friends – the sun began to set – suddenly the sky turned blood red – I paused, feeling exhausted, and leaned on the fence – there was blood and tongues of fire above the blue-black fjord and the city – my friends walked on, and I stood there trembling with anxiety – and I sensed an endless scream passing through nature."― Edvard Munch
That's how painter Edvard Munch described the dread-filled scene that led him to paint "The Scream" in 1910. As Dr. Noelle Paulson notes over at Smarthistory, except for da Vinci's Mona Lisa, Munch's painting "may be the most iconic human figure in the history of Western art. Its androgynous, skull-shaped head, elongated hands, wide eyes, flaring nostrils and ovoid mouth have been engrained in our collective cultural consciousness."
"The Scream" might also be one of the more fetishized and commodified paintings we've seen to date. These days, you'll find "The Scream" on t-shirts, jigsaw puzzles, and non-slip jar grippers. And, thanks to a Japanese company called Good Smile, you can now buy The Scream Action figure. It has posable joints, allowing you to put the figure into different poses (witness above). Or you can stand it alongside the other art history figures in Good Smile's collection–da Vinci's Vitruvian Man, Rodin's The Thinker, and The Venus de Milo. Oh, the fun you could have this weekend.
If you would like to sign up for Open Culture's free email newsletter, please find it here.
If you would like to support the mission of Open Culture, consider making a donation to our site. It's hard to rely 100% on ads, and your contributions will help us continue providing the best free cultural and educational materials to learners everywhere. You can contribute through PayPal, Patreon, Venmo (@openculture) and Crypto. Thanks!
Related Content:
Edvard Munch's Famous Painting "The Scream" Animated to the Sound of Pink Floyd's Primal Music
30,000 Works of Art by Edvard Munch & Other Artists Put Online by Norway's National Museum of Art
Hieronymus Bosch Figurines: Collect Surreal Characters from Bosch's Paintings & Put Them on Your Bookshelf
Salvador Dalí's 1973 Cookbook Gets Reissued: Surrealist Art Meets Haute Cuisine
The Tarot Card Deck Designed by Salvador Dalí
Salvador Dalí Figurines Let You Bring the Artist's Surreal Paintings Into Your Home