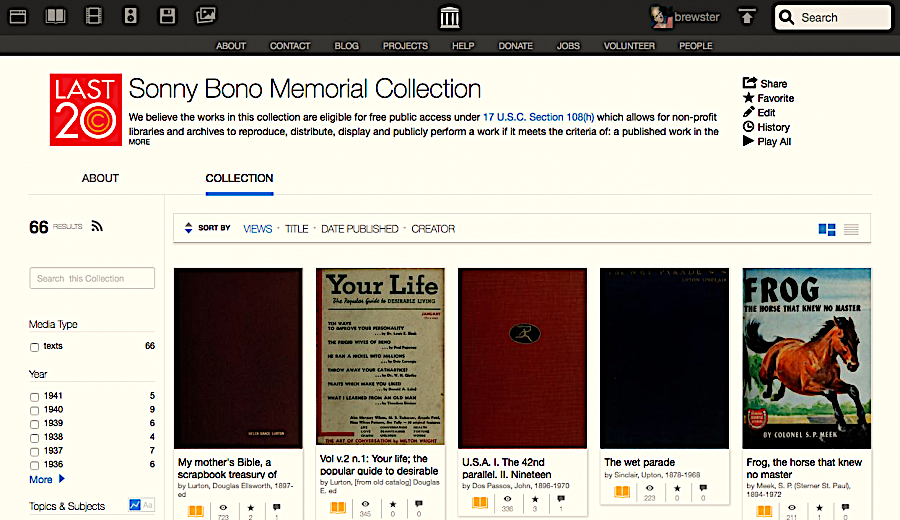 Here at Open Culture, we can never resist the chance to feature books free to read and download online. Books can become free in a number of different ways, one of the most reliable being reversion to the public domain after a certain amount of time has passed since its publication — usually a long time, with the result that the average age of the books freely available online skews quite old. Nothing wrong with old or even ancient reading material, of course, but sometimes one wishes copyright law didn't put quite such a delay on the process. The Internet Archive and its collaborators have recently made progress in that department, finding a legal means of "liberating" books of a less distant vintage than usual.
"The Internet Archive is now leveraging a little known, and perhaps never used, provision of US copyright law, Section 108h, which allows libraries to scan and make available materials published [from] 1923 to 1941 if they are not being actively sold," writes the site's founder Brewster Kahle.
Tulane University copyright scholar Elizabeth Townsend Gard and her students "helped bring the first scanned books of this era available online in a collection named for the author of the bill making this necessary: The Sonny Bono Memorial Collection." Yes, that Sonny Sono, who after his music career (most memorably as half of Sonny and Cher) served in the U.S. House of Representatives from 1994 until his death in 1998.
At the moment, the Sonny Bono Memorial Collection offers such 94-to- 76-year-old pieces of reading material as varied as André Malraux's The Royal Way, Arnold Dresden's An Invitation to Mathematics, René Kraus' Winston Churchill: A Biography, Colonel S.P. Meek's Frog, the Horse that Knew No Master, and Donald Henderson Clarke's Impatient Virgin. Kahle assures us that "We will add another 10,000 books and other works in the near future," and reminds us that "if the Founding Fathers had their way, almost all works from the 20th century would be public domain by now." The intentions of the Founding Fathers may matter to you or they may not, but if you're an Open Culture reader, you can hardly quibble with the new availability of dozens of free books online — and the prospect of thousands more soon to come. Stay tuned and watch the collection grow.
Related Content:
800 Free eBooks for iPad, Kindle & Other Devices
2,000+ Architecture & Art Books You Can Read Free at the Internet Archive
Download 200+ Free Modern Art Books from the Guggenheim Museum
Free: You Can Now Read Classic Books by MIT Press on Archive.org
British Library to Offer 65,000 Free eBooks
74 Free Banned Books (for Banned Books Week)
Based in Seoul, Colin Marshall writes and broadcasts on cities and culture. His projects include the book The Stateless City: a Walk through 21st-Century Los Angeles and the video series The City in Cinema. Follow him on Twitter at @colinmarshall or on Facebook.