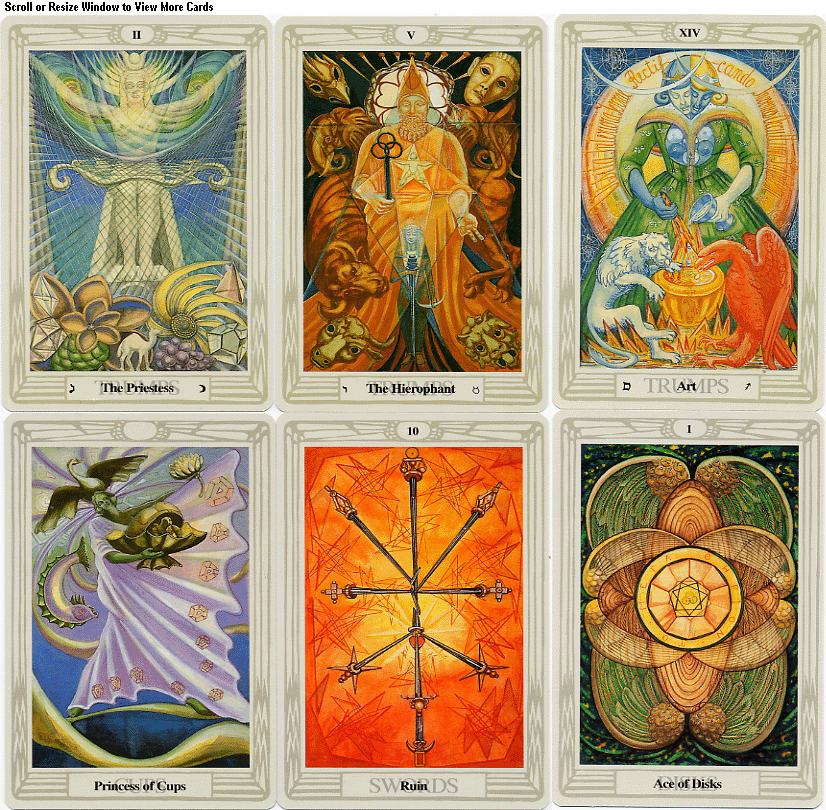 Back in 2014 we featured a short primer and documentary on the life and work of Aleister Crowley, also known — at least to the British press of the time — as "the wickedest man in the world." The name rings a bell to just about everyone, and for many of us summons up vague notions of a life dedicated to the promotion of alternative morality or paganism or trickery or some kind of relished evil, but how many of us can name one of Crowley's works? The best-known occultist-artist-mountaineer of the early 20th century left behind a rich and colorful legacy, and here we have one of its most tangible products: the Thoth tarot deck.
Crowley worked on the deck, says Learntarot.com (itself drawing from Stuart Kaplan's Encyclopedia of Tarot), from 1938 to 1943, according to principles laid out in his Book of Thoth. The artist, Lady Frieda Harris, "worked with Crowley's rough sketches to produce images that would be faithful to his interpretations and her own vision." You can purchase copies of the Thoth Tarot Deck here.
Raven's Tarot Site offers a piece of correspondence from Harris to Crowley dating from 1940, around the middle of the project. "I do not pretend to apprehend it, only it is like music, and the only kind of writing I want to read," she writes of his famously difficult-to-comprehend but (under the right circumstances) entertaining writing on the occult, "only it makes me feel as if I lived in a desert and I am mighty thirsty."
Crowley had — and nearly 70 years after his death, still has — that effect on some people. He inspired Harris, who would become one of the standout disciples, to produce a work of divinatory art whose aesthetics reflect as much his own as those of the Austrian esotericist Rudolf Steiner. Now best known for his role in developing the Waldorf system of childhood education, Steiner also came up with a philosophical system called anthroposophy that posits the human ability to contact the spiritual realm. It may lack the same dangerous and flamboyant black-magic (or rather, black-magick) appeal of Crowley's visions, but both men, in their own way, spent a lifetime striving for ways to tap into a world hidden beneath the surface of existence. For those with an interest in that sort of thing, turning over a few tarot cards remains one of the easiest ways to knock on its door.
Related Content:
Aleister Crowley: The Wickedest Man in the World Documents the Life of the Bizarre Occultist, Poet & Mountaineer
Aleister Crowley & William Butler Yeats Get into an Occult Battle, Pitting White Magic Against Black Magic (1900)      
Carl Jung: Tarot Cards Provide Doorways to the Unconscious, and Maybe a Way to Predict the Future
Alejandro Jodorowsky Explains How Tarot Cards Can Give You Creative Inspiration
H.R. Giger's Tarot Cards: The Swiss Artist, Famous for His Design Work on Alien, Takes a Journey into the Occult
The Tarot Card Deck Designed by Salvador Dalí
Based in Seoul, Colin Marshall writes and broadcasts on cities and culture. His projects include the book The Stateless City: a Walk through 21st-Century Los Angeles and the video series The City in Cinema. Follow him on Twitter at @colinmarshall or on Facebook.