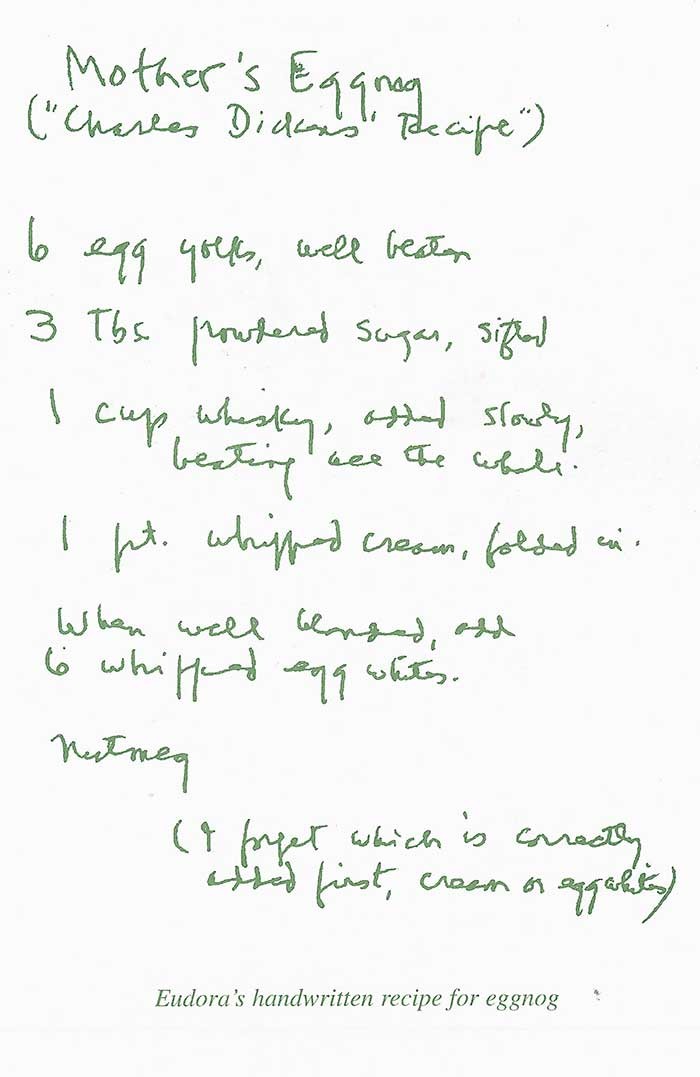 'Tis the sea­son to break out the fam­i­ly recipes of beloved rel­a­tives, though often their prove­nance is not quite what we think.
(Imag­ine the cog­ni­tive dis­so­nance upon dis­cov­er­ing that Moth­er swiped "her" Ital­ian Zuc­chi­ni Cres­cent Pie from Pills­bury Bake-Off win­ner, Mil­li­cent Nathan of Boca Raton, Flori­da…)
When it came to cred­it­ing the eggnog she dubbed "the taste of Christ­mas Day," above, Pulitzer Prize-win­ning author Eudo­ra Wel­ty shared it out equal­ly between her moth­er and author Charles Dick­ens:
In our house while I was grow­ing up, I don't remem­ber that hard liquor was served at all except on one day in the year. Ear­ly on Christ­mas morn­ing, we woke up to the sound of the egg­beat­er: Moth­er in the kitchen was whip­ping up eggnog. All in our bathrobes, we began our Christ­mas before break­fast. Through­out the day Moth­er made batch­es afresh. All our callers expect­ed her eggnog.
It was ladled from the punch bowl into punch cups and sil­ver gob­lets, and had to be eat­en with a spoon. It stood up in peaks. It was rich, creamy and strong. Moth­er gave full cred­it for the recipe to Charles Dick­ens.
Nice, but per­haps Dick­ens is unde­serv­ing of this hon­or? The con­tents of his punch­bowl bore lit­tle resem­blance to Moth­er Welty's, as evi­denced by an 1847 let­ter to his child­hood friend, Amelia Fil­loneau, in which he shared a recipe he promised would make her "a beau­ti­ful Punch­mak­er in more sens­es than one":
Peel into a very strong com­mon basin (which may be bro­ken, in case of acci­dent, with­out dam­age to the owner's peace or pock­et) the rinds of three lemons, cut very thin, and with as lit­tle as pos­si­ble of the white coat­ing between the peel and the fruit, attached. Add a dou­ble-hand­full of lump sug­ar (good mea­sure), a pint of good old rum, and a large wine-glass full of brandy — if it not be a large claret-glass, say two. Set this on fire, by fill­ing a warm sil­ver spoon with the spir­it, light­ing the con­tents at a wax taper, and pour­ing them gen­tly in. Let it burn for three or four min­utes at least, stir­ring it from time to Time. Then extin­guish it by cov­er­ing the basin with a tray, which will imme­di­ate­ly put out the flame. Then squeeze in the juice of the three lemons, and add a quart of boil­ing water. Stir the whole well, cov­er it up for five min­utes, and stir again.
This sounds very like the "seething bowls of punch" the jol­ly Ghost of Christ­mas Present shows Ebenez­er Scrooge in A Christ­mas Car­ol, dim­ming the cham­ber with their deli­cious steam.
It's also veg­an, in con­trast to what you might have been served in the Wel­ty ladies' home.
Why not serve both? In the words of Tiny Tim, "Here's to us all!"
Eudo­ra Welty's Mother's Eggnog (Attrib­uted, Per­haps Erro­neous­ly, to Charles Dick­ens)
6 egg yolks, well beat­en
Add 3 tbsp. pow­dered sug­ar
Add 1 cup whiskey, added slow­ly, beat­ing all the while
Fold in 1 pint whipped cream
Whip 6 whipped egg whites and add to the mix­ture above.
Charles Dick­ens' Hol­i­day Punch (adapt­ed from Punch by David Won­drich)
3/4 cup sug­ar
3 lemons
2 cups rum
1 1/4 cups cognac
5 cups black tea (or hot water)
Gar­nish: lemon and orange wheels, fresh­ly grat­ed nut­meg
In the basin of an enam­eled cast-iron pot or heat­proof bowl, add sug­ar and the peels of three lemons.
Rub lemons and sug­ar togeth­er to release cit­rus oils. For more greater infu­sion, let sit for 30 min­utes.
Add rum and cognac to the sug­ar and cit­rus.
Light a match, and, using a heat­proof spoon (stain­less steel is best), pick up a spoon­ful of the spir­it mix.
Care­ful­ly bring the match to the spoon to light.
Care­ful­ly bring the lit spoon to the spir­its in the bowl.
Let the spir­its burn for about three min­utes. The fire will melt the sug­ar and extract the oil from the lemon peels.
Extin­guish the bowl by cov­er­ing it with a heat­proof pan or tray.
Skim off the lemon peels (leav­ing them too long in may impart a bit­ter fla­vor).
Squeeze in the juice of the three peeled lemons, and add hot tea or water.
If serv­ing the punch hot, skip to the next step. If serv­ing cold, cool punch in the refrig­er­a­tor and, when cooled, add ice.
Gar­nish with cit­rus wheels and grat­ed nut­meg.
Ladle into indi­vid­ual glass­es.
Learn more about these and oth­er fes­tive hol­i­day drinks in Mas­ter of Wine Eliz­a­beth Gabay's essay "Cel­e­brat­ing Christ­mas and New Year With Punch."
Image above via Gar­den and Gun
Relat­ed Con­tent:
Charles Min­gus' "Top Secret" Eggnog Recipe Con­tains "Enough Alco­hol to Put Down an Ele­phant"
Blue Christ­mas: Feed Your Sea­son­al Depres­sion with Hol­i­day Mas­ter­pieces
Ayun Hal­l­i­day is an author, illus­tra­tor, the­ater mak­er and Chief Pri­ma­tol­o­gist of the East Vil­lage Inky zine. Fol­low her @AyunHalliday.