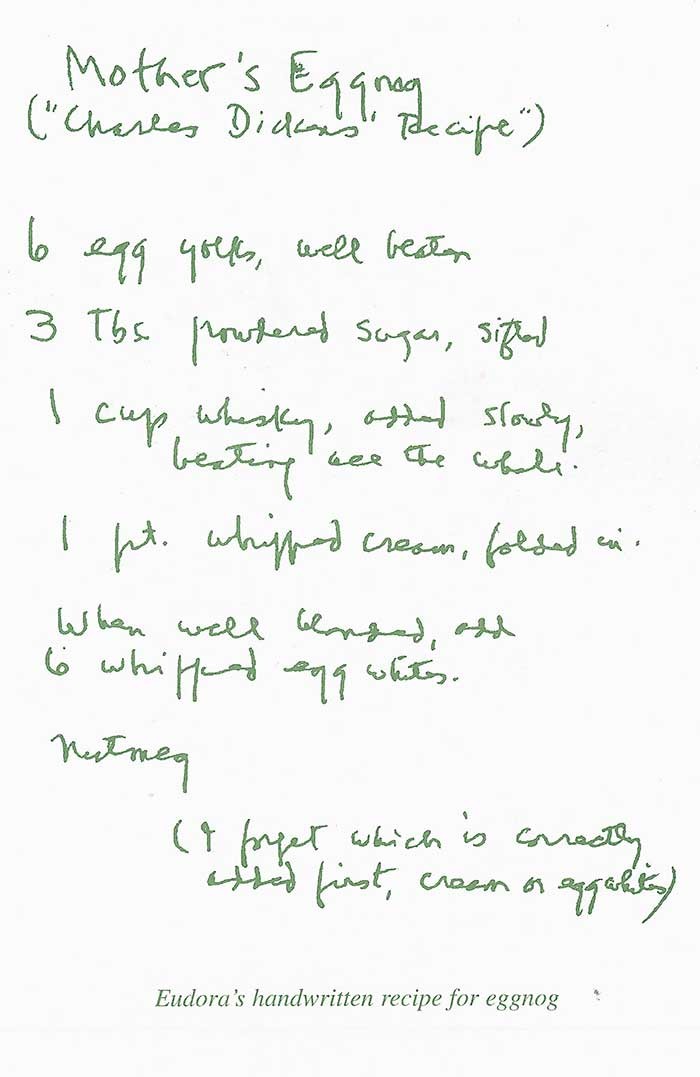 'Tis the season to break out the family recipes of beloved relatives, though often their provenance is not quite what we think.
(Imagine the cognitive dissonance upon discovering that Mother swiped "her" Italian Zucchini Crescent Pie from Pillsbury Bake-Off winner, Millicent Nathan of Boca Raton, Florida…)
When it came to crediting the eggnog she dubbed "the taste of Christmas Day," above, Pulitzer Prize-winning author Eudora Welty shared it out equally between her mother and author Charles Dickens:
In our house while I was growing up, I don't remember that hard liquor was served at all except on one day in the year. Early on Christmas morning, we woke up to the sound of the eggbeater: Mother in the kitchen was whipping up eggnog. All in our bathrobes, we began our Christmas before breakfast. Throughout the day Mother made batches afresh. All our callers expected her eggnog.
It was ladled from the punch bowl into punch cups and silver goblets, and had to be eaten with a spoon. It stood up in peaks. It was rich, creamy and strong. Mother gave full credit for the recipe to Charles Dickens.
Nice, but perhaps Dickens is undeserving of this honor? The contents of his punchbowl bore little resemblance to Mother Welty's, as evidenced by an 1847 letter to his childhood friend, Amelia Filloneau, in which he shared a recipe he promised would make her "a beautiful Punchmaker in more senses than one":
Peel into a very strong common basin (which may be broken, in case of accident, without damage to the owner's peace or pocket) the rinds of three lemons, cut very thin, and with as little as possible of the white coating between the peel and the fruit, attached. Add a double-handfull of lump sugar (good measure), a pint of good old rum, and a large wine-glass full of brandy — if it not be a large claret-glass, say two. Set this on fire, by filling a warm silver spoon with the spirit, lighting the contents at a wax taper, and pouring them gently in. Let it burn for three or four minutes at least, stirring it from time to Time. Then extinguish it by covering the basin with a tray, which will immediately put out the flame. Then squeeze in the juice of the three lemons, and add a quart of boiling water. Stir the whole well, cover it up for five minutes, and stir again.
This sounds very like the "seething bowls of punch" the jolly Ghost of Christmas Present shows Ebenezer Scrooge in A Christmas Carol, dimming the chamber with their delicious steam.
It's also vegan, in contrast to what you might have been served in the Welty ladies' home.
Why not serve both? In the words of Tiny Tim, "Here's to us all!"
Eudora Welty's Mother's Eggnog (Attributed, Perhaps Erroneously, to Charles Dickens)
6 egg yolks, well beaten
Add 3 tbsp. powdered sugar
Add 1 cup whiskey, added slowly, beating all the while
Fold in 1 pint whipped cream
Whip 6 whipped egg whites and add to the mixture above.
Charles Dickens' Holiday Punch (adapted from Punch by David Wondrich)
3/4 cup sugar
3 lemons
2 cups rum
1 1/4 cups cognac
5 cups black tea (or hot water)
Garnish: lemon and orange wheels, freshly grated nutmeg
In the basin of an enameled cast-iron pot or heatproof bowl, add sugar and the peels of three lemons.
Rub lemons and sugar together to release citrus oils. For more greater infusion, let sit for 30 minutes.
Add rum and cognac to the sugar and citrus.
Light a match, and, using a heatproof spoon (stainless steel is best), pick up a spoonful of the spirit mix.
Carefully bring the match to the spoon to light.
Carefully bring the lit spoon to the spirits in the bowl.
Let the spirits burn for about three minutes. The fire will melt the sugar and extract the oil from the lemon peels.
Extinguish the bowl by covering it with a heatproof pan or tray.
Skim off the lemon peels (leaving them too long in may impart a bitter flavor).
Squeeze in the juice of the three peeled lemons, and add hot tea or water.
If serving the punch hot, skip to the next step. If serving cold, cool punch in the refrigerator and, when cooled, add ice.
Garnish with citrus wheels and grated nutmeg.
Ladle into individual glasses.
Learn more about these and other festive holiday drinks in Master of Wine Elizabeth Gabay's essay "Celebrating Christmas and New Year With Punch."
Image above via Garden and Gun
Related Content:
Charles Mingus' "Top Secret" Eggnog Recipe Contains "Enough Alcohol to Put Down an Elephant"
Blue Christmas: Feed Your Seasonal Depression with Holiday Masterpieces
Ayun Halliday is an author, illustrator, theater maker and Chief Primatologist of the East Village Inky zine.  Follow her @AyunHalliday.