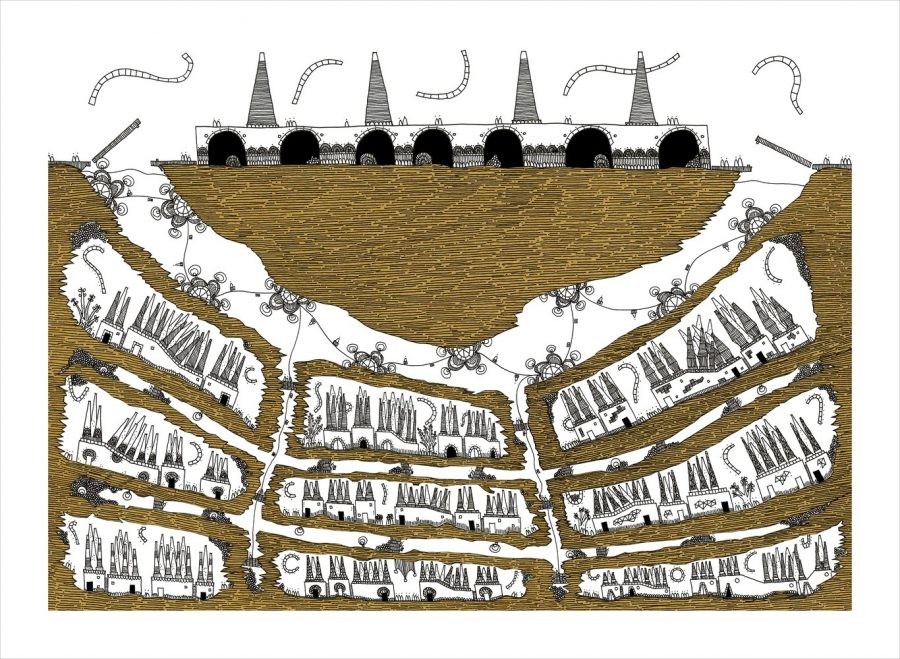 If you want to read a book about cities, you still can't do much better than a slim, plotless work of fiction by Italo Calvino wherein the explorer Marco Polo tells the emperor Kublai Khan of what he's seen in his travels across the world. Originally published in Italian in 1972, Invisible Cities has inspired generations of readers, hailing from all across the world themselves, to think in entirely new ways not just about cities but about travel, place, perception, reality, myth, and literature itself. Though very much a work concerned with what's seen only in the imagination, the book has also inspired artists to try their hand at rendering the 55 fictitious cities Polo describes within.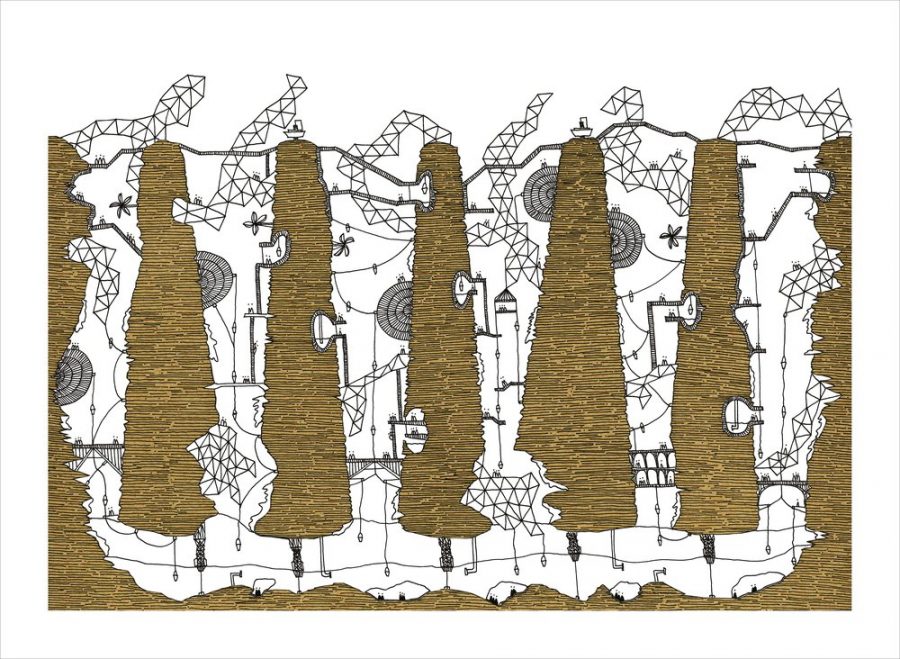 A few years ago we featured "Seeing Calvino," a joint effort by artists Matt Kish, Leighton Connor, Joe Kuth to illustrate, among other elements of the Calvino canon, each and every one of Invisible Cities' fantastical, often impossible collections of structures, lives, and, ideas. More recently, the Peru-based architect and artist Karina Puente has, with her Invisible Cities Project, put herself to work on a similar endeavor. Each of Puente's intricate renderings takes about a week to produce, and as she tells Archdaily, "they are not only drawn – I use different types of paper and draw on each one before cutting them out with exacto knives. All the drawings are composed of layers of paper which are cut out and glued."
At the top we have Puente's city of Dorotea where, bearing in mind the rules of its infrastructural division by gates, drawbridges, and canals and those of the marriages between the trading families that reside there, "you can then work from these facts until you learn everything you wish about the city in the past, present, and future." In the middle is Isaura, a city built on a deep subterranean lake whose gods, "according to some people, live in the depths," and to others live in the associated buckets, pump handles, windmill blades, pipes, and every other built element of this "city that moves entirely upward."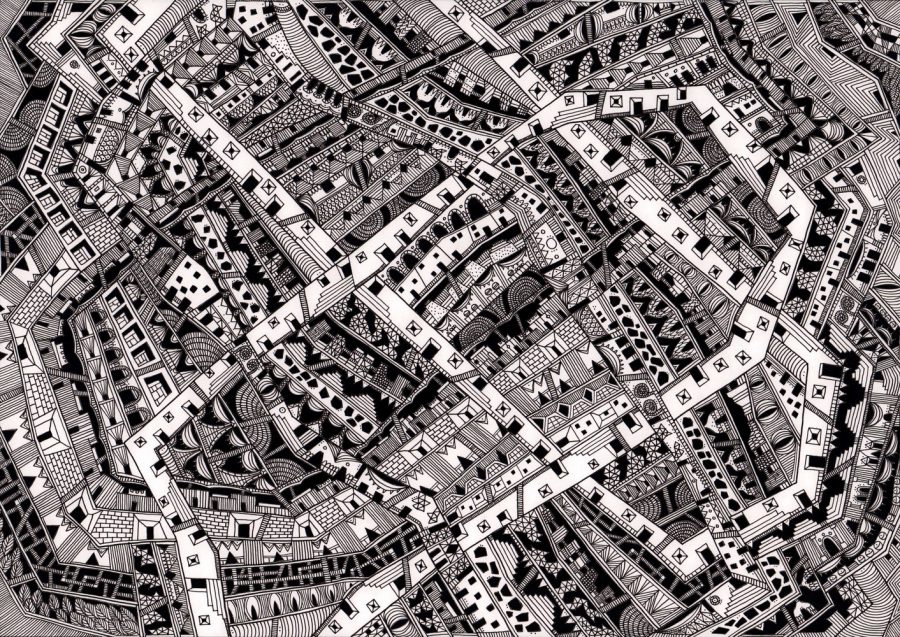 Just above you can see Zobeide, laid out according to a series of dreams of "a woman running at night through an unknown city," pursued but never found, altered to conform to each dream until new arrivals "could not understand what drew these people to Zobeide, this ugly city, this trap." While at first Polo's descriptions of the cities all across Khan's empire may strike readers as completely fantastical, they'll soon hear echoes of the places they live in in these metaphorical metropolises. And if they take a look at Puente's illustrations as they read, they'll see them as well.
Visit Puente's Invisible Cities Project here.
via Archdaily
Related Content:
Invisible Cities Illustrated: Three Artists Paint Every City in Italo Calvino's Classic Novel
Hear Italo Calvino Read Selections From Invisible Cities, Mr. Palomar & Other Enchanting Fictions
Experience Invisible Cities, an Innovative, Italo Calvino-Inspired Opera Staged in LA's Union Station
Watch Animations of Two Italo Calvino Stories: "The False Grandmother" and "The Distance from the Moon"
Italo Calvino Offers 14 Reasons We Should Read the Classics
Based in Seoul, Colin Marshall writes and broadcasts on cities and culture. His projects include the book The Stateless City: a Walk through 21st-Century Los Angeles and the video series The City in Cinema. Follow him on Twitter at @colinmarshall or on Facebook.